September 21, 2007 "In The Crosshairs"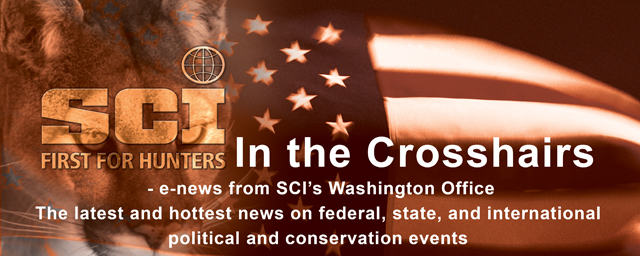 September 21, 2007
All, The email we just sent out for the polar bear letter was apparently incorrect so the correct one is: polar_bear_findings@fws.gov


 Urgent Firearm Policy from American Airlines


It has come to SCI's attention that American Airlines has dramatically changed their policy on carrying firearms as part of your checked baggage on international travel. This is the official language from the American Airlines website: "Effective with tickets purchased on/after September 24, 2007, American Airlines will no longer accept firearms in checked baggage to/from any European or Asian destination (except for military/government personnel with proper documentation)."
SCI wants you to be aware of this new regulation and to know that we are working alongside other hunting and firearm organizations to have this policy rescinded. http://www.aa.com


 SCI Pres at Tanzania Gala in US


SCI President Dennis Anderson attended The Africa-American Institute Gala Dinner honoring the President of Tanzania H.E. Jakaya Mrisho Kikwete in New York on September 19th. The black tie affair was also attended by several Tanzania Officials and Anderson was able to meet with Jumanne A. Maghembe (MP) the Tanzania Minister for Natural Resources & Tourism and discuss current issues & challenges facing the Safari Community.

 
Refuge News


"The Migratory Bird Conservation Commission's approval today of refuge acquisitions secured resting and feeding habitat at eight National Wildlife Refuges located in six states. In addition, the Commission approved the acquisition of a permanent easement of Grasslands Wildlife management Area in California. The fund receives revenue from Duck Stamp Sales, Import Duties on firearms and ammunition, and right-of-way payments to the refuge system." A list of the newly protected areas can be found here.

 
Conservation Office of the Year


Safari Club International Foundation is currently seeking exceptional wildlife professionals to be considered for "Conservation Officer of the Year". This award is presented to an outstanding law enforcement official who has demonstrated a continuous dedication to conservation. To nominate a candidate, please send an official nomination letter and additional information on the nominee, such as a CV, resume, or short biography to Shalane Brower at sbrower@sci-dc.org or call 800-711-8315.
HAPPY NATIONAL HUNTING AND FISHING DAY (Sep 22)