September 21, 2009 "In The Crosshairs"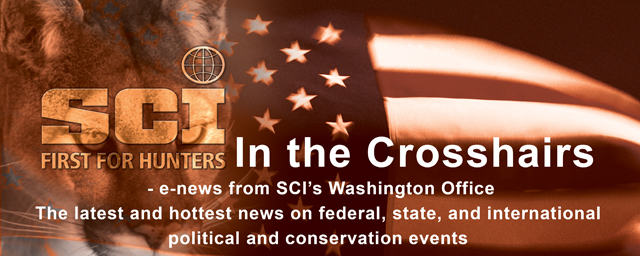 September 21, 2009 - Special Edition


SCI's Dr. William Moritz To Testify Before Congress On Polar Bear Importation

Safari Club International is proud to announce that tomorrow SCI Foundation Director of Science-Based Conservation Programs and Research, Dr. William Moritz will testify before the House of Representatives Committee on Natural Resources' Subcommittee on Insular Affairs, Oceans and Wildlife in support of H.R. 1054.
Introduced by Congressman Don Young (R-AK), this legislation would restore the lawful importation of legally harvested polar bears -- but only for those bears that had already been hunted prior to the immediate listing of polar bears as "threatened" under the Endangered Species Act in May of 2008.
This listing had the effect of depriving numerous individuals of their rightful property and this bill will simply provide those citizens relief from this regulatory "taking." Dr. Moritz's testimony is based in the conservation benefits that would result from rectifying this unfortunate situation.
H.R. 1054 will not change the importation status of any bears hunted subsequent to the listing, but SCI is pursuing that science-based conservation goal through other means including legislation and litigation.
To watch a live webcast of the hearing at 10am EDT, tomorrow, September 22nd, please go to http://resourcescommittee.house.gov/index.php  and click on "View Live Webcasts".