September 27, 2007 "In The Crosshairs"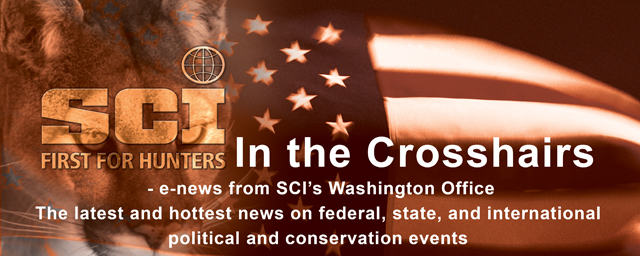 September 27, 2007

 
American Airlines Policy Rescinded!


Thanks to the vigilance of SCI members, Safari Club International was alerted immediately when American Airlines changed its policy on firearms to prohibit them on flights to Europe and Asia. The change was made effective on September 24, 2007. Working closely together with the National Rifle Association, SCI lobbyists made contact with American Airlines and requested an immediate review of the new regulation and its scope. Some seventy-two hours later, American Airlines has announced it is lifting its blanket prohibition on firearms on flights to Europe and Asia. Regrettably, due to onerous restrictions in the United Kingdom , American is currently unable to lift the prohibition for flights destined for the UK. However, discussions between American, SCI and the NRA continue, with the goal of resolving this issue as well.
SCI President Dennis Anderson lauded the speedy turn-around, saying "This accomplishment illustrates the power of sportsmen when we work together. SCI is pleased with the progress we have made on this issue, working cooperatively with the NRA, and we remain committed to resolving the issues that remain." American Airlines has issued a press release and its text follows here. It can also be accessed on its website.
"American Airlines recently implemented a policy, effective for tickets purchased on or after Sept. 24, 2007, that it would no longer allow the transportation of civilian firearms in checked luggage to Europe and Asia, as a result of onerous restrictions in the United Kingdom.
After hearing from our customers and interested parties, including the National Rifle Association (NRA) and Safari Club International (SCI), American has determined that it can modify its policy to allow legally declared firearms to be transported on nonstop flights to other destinations in Europe outside of the UK , and to our Asian destinations. We regret that, at this time, as a result of UK policies we can not allow civilian transport of firearms into the UK.
We look forward to working with the NRA, SCI, and other industry groups in an attempt to resolve those issues in the hopes of allowing civilian firearms to be transported to the UK on American Airlines in the near future."

 
SCI Continues to Fight the Battle Over Black Bear Hunting in New Jersey

Safari Club International, and other sporting groups, is considering whether to appeal Thursday's decision by the New Jersey Appellate Division that invalidates the state's Comprehensive Black Bear Management Policy, adopted in November of 2005. The Court determined that the State had failed to adopt the 2005 Policy in accordance with state procedural requirements. Consequently, the state currently has no Black Bear Management Policy in effect and cannot go forward with a 2007 black bear season.

 
Congress To Create Wilderness Areas


"The Democratic-controlled Congress, stepping up a push that gained little ground when Republicans were in the majority, is on the verge of walling off as many as three millions more acres of the nation's wilderness from commercial and recreational development. Lawmakers are moving to designate nearly as much land as wilderness area over the next year as they did during the Republican Party's recent 12-year tenure in the leadership. During that period, some of the party's more conservative members held key congressional posts, and blocked efforts to add much to the 107 million acres nationwide officially considered wilderness. By declaring vast swaths of undeveloped land from Virginia to Oregon as wilderness areas, the current flurry of bills would close them to the timber, oil and mining industries. Although few of the often-remote areas involved are at active risk of development, some of them contain commercially valuable timber and others, such as the wild canyon lands of Utah , could harbor reserves of natural gas. As a result, the bills are provoking bitter complaints from some business interests including the oil industry. They also face opposition from property-rights advocates and users of off-road vehicles, such as snowmobiles, which are barred from wilderness areas." For the full article, visit the Wall Street Journal. (Source: WSJ.com - subscription required)

 
A Flurry of D.C. Activity


SCI is watchingquite a few new hunting bills in Washington, D.C. HCR193 by Rep. Carney (D-Pennsylvania) offers a resolution "recognizing all hunters across the U.S. for their continued commitment to safety." HRES79 by Rep. Gingrey (R-Georgia) recognizes "the establishment of Hunters for the Hungry programs" and HRES634 from Rep Gillibrand (D-New York) supports "the efforts of hunters and fishermen toward the scientific management of wildlife and conservation of the natural environment." Senator Orrin Hatch of Utah has introduced S. 2072 which would sell off some public lands in the west with the proceeds going to support rural public education. Also, Rep. Miller (D-California) has introduced HR3663, the Protect America's Wildlife Act (PAW). This would federally end aerial hunting of wolves in Alaska. SCI is tracking these and many other bills and will keep you posted.

 
A Force to be Reckoned With


"A new report released by the Congressional Sportsmen's Foundation demonstrates that by any measure, America 's 34 million hunters and anglers are among the most prominent and influential of all demographic groups. Spending more than $76 billion a year on hunting and fishing, America 's hunters and anglers would rank in the top 20 list on the Fortune 500. In fact their spending is greater than the revenues of high-tech giants Microsoft, Google, eBay and Yahoo - combined. These latest figures demonstrate that season after season hunters and anglers are an economic powerhouse, driving the economy from big businesses to rural towns, through booms and recessions. They directly support 1.6 million jobs, which is twice as many jobs as the combined civilian payrolls of the Air Force, Army, Navy and Marine Corps; broken down to a daily spending figure, the economic stimulus of hunting and fishing comes out to an astounding $208 million a day; spending by sportsmen generates $25 billion in federal, state and local taxes; hunters and anglers spend a total of $1.8 billion in motorboat fuel on hunting and fishing activities. The report: Hunting and Fishing: Bright Stars of the American Economy ~ A force as big as all outdoors along with FAST FACTS are available on the web at www.sportsmenslink.org and www.nssf.org" (Source: CSF)

 
CRP Lands in Jeopardy?


"The Agriculture Department may allow farmers to plow up land in conservation agreements to plant row crops, despite a record corn crop this year, fueled by the ethanol industry's thirst for the feedstock. Acting Secretary Chuck Conner told reporters this week that USDA is considering releasing some land currently enrolled in the Conservation Reserve Program, which pays farmers to idle nearly 34 million acres of land for wildlife habitat or soil or water conservation. Conner said he is monitoring the situation and would likely make a decision "within two to three weeks" whether to allow some farmers to cancel their seven-year contracts early without penalty. Farmers, livestock groups and the ethanol industry have been eyeing the millions of acres of land in CRP for crops. But hunting and wildlife groups, which call CRP the "holy grail" for wildlife, oppose any loosening of the contracts. The 20-year-old program provides more habitat for birds and other species than all of the national wildlife refuges combined." (Source: E&E Daily)

 
New Convention Website Up and Running


Are you ready for the best convention yet? "Own the Adventure" and begin your journey towards the Ultimate Hunters' Market by visiting SCI's new Convention website, located at www.safariclub.org. You can find registration and hotel information, your favorite outfitter or hunting guide, the evening entertainment lineup and much more. SCI First for Hunters hopes to see you January 23-26 in Reno , Nevada for the 36th Annual SCI Convention.