September 30, 2009 "In The Crosshairs"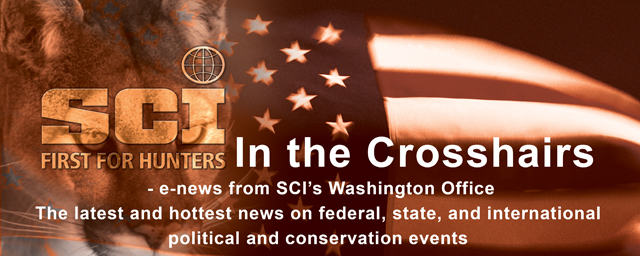 September 30, 2009 - International Hunting Update


SCI's Effective Communication with Ethiopian Government Helps Hunting Community

Attention All Members & International Hunters:
In early 2009, Safari Club International (SCI) learned that trophy fees were being immediately increased by the Ethiopian Government.  Many SCI members will recall the letter sent on April 6, 2009 by SCI requesting a reversal of these fee increases and asking that a significant portion of the trophy revenue should be reinvested in local communities to help sustainable use conservation (here).  
SCI received a response from the Ethiopian Wildlife and Conservation Authority (EWCA) (here) and continued follow-up communications with the Director General of the EWCA (here). 
At the recent symposium on the Ecological and Economic Benefits of Hunting sponsored by the World Forum of the Future of Shooting Sports Activities, SCI representatives had an opportunity to speak face to face with Ethiopia 's Fetene Hailu Buta, Director of the Wildlife Utilization Directorate, EWCA.  Director Hailu Buta expressed Ethiopia 's appreciation to SCI for addressing the economics of hunting in Ethiopia and SCI's willingness to work with their government to improve communication to the greater international hunting community. SCI is encouraged by the willingness of the government to work with the hunting community and is pleased to provide our members with the following information concerning trophy fees for key Ethiopian species.
According to an email sent to SCI on Tuesday, September 29, 2009, the amended prices for year (July 2009 to end of June 2010) are as follows:
1. The price of Mountain Nyala is reduced from USD 15,000 to USD 10,000;
2. The price of Menelik's bushbuck is reduced from USD 6,000 to USD 4,000;
3. The price to be added on top of concession fee of each huntable species reduced from 5% to 3%;
4.Concession fee to be paid after the outfitter secured a safari for a specific controlled hunting area.
SCI is also pleased to report that the most recent version of the Ethiopian hunting regulations direct the EWCA to "transfer to the concerned regions 85% of the revenue collected from trophy hunting, live export and filming."  This policy increases the value of wildlife to local communities and goes a long way towards promoting sustainable use conservation.  Finally, Safari Club International would like to thank the Ethiopian Wildlife Conservation Authority for their continued effort to expand hunting opportunities within their country, for their great willingness to engage SCI and the hunting community by amending their trophy fees and looks forward to continuing the dialogue with the EWCA for years and hunting seasons to come.