October 01, 2010 "In The Crosshairs"
October 01, 2010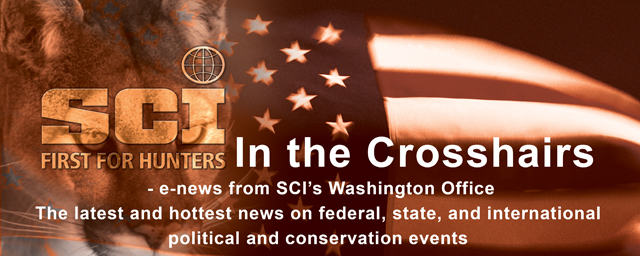 Statement From SCI President Dr. Larry Rudolph In Support Of Arizona Prop 109
Safari Club International released a statement from its President Dr. Larry Rudolph to set the record straight on Arizona's Proposition 109, pending on the ballot this year.
"The Humane Society of the United States' (HSUS) President and CEO Wayne Pacelle has launched yet another attack against our hunting heritage, this time in the state of Arizona. HSUS is working to strip voter support from Proposition 109, a pending ballot initiative that would guarantee the right to hunt and fish. Proposition 109 further specifies that wildlife management decisions should be based on sound science, not the sentiment inspired by radical animal 'rights' groups like HSUS." FULL RESPONSE.

SCI Appeals Northern Rocky Mountain Wolf Ruling
On Oct.1, 2010, SCI filed a Notice of Appeal of the Montana federal district court's ruling against the delisting of Montana and Idaho's wolves. SCI will take their appeal of the ruling to the Ninth Circuit Court of Appeals. SCI is joined in the appeal by the National Rifle Association of America. Also filing appeals are the U.S. Fish and Wildlife Service, State of Idaho, State of Montana and several other sportsman's groups that participated in defense of the delisting in the district court case.

Lincoln Leads Charge To Stop Ban On Lead Ammunition And Lead Fishing Tackle
"Washington — U.S. Senator Blanche Lincoln (D-Ark.), Chairman of the U.S. Senate Committee on Agriculture, Nutrition, and Forestry, today introduced legislation to protect the use of lead in the manufacturing of ammunition and fishing tackle. Lincoln's bill would exempt lead ammunition and lead fishing tackle from being banned under the U.S. Environmental Protection Agency's Toxic Substances Control Act. 'Banning lead ammunition and fishing tackle would significantly drive up manufacturing costs, directly hurting the thousands of Arkansans who enjoy hunting, fishing, and recreational shooting. This ban would also be a blow to more than 20,000 Arkansans who depend on fishing tackle and ammunition manufacturing for their livelihoods,' said Lincoln. 'My bill simply clarifies that the components used in manufacturing shells, cartridges, and fishing tackle are exempt from EPA regulation under the Toxic Substances Control Act. Taking this simple step will provide certainty to these critical industries and prevent EPA and activist litigators from dragging this issue out through the courts for years.'" (Source: Senate Agriculture Committee Press Release) Read the full article at http://bit.ly/ds7ct0.

Congressional Sportsmen's Caucus Fights Proposed Ban Of Lead Fishing Tackle
"Washington, DC – Seventy-eight members of the Congressional Sportsmen's Caucus (CSC) signed a letter delivered last Thursday to Lisa Jackson, Administrator of the U.S. Environmental Protection Agency (EPA), urging the agency to dismiss the petition to ban the use of lead in fishing products. The CSC members state in the letter, 'There are 60 million recreational anglers in America that contribute $125 billion to our economy annually, and penalizing these men, women and children that are the best stewards of our environment, as well as the financial backbone to fish and wildlife conservation in our country, would be a terrible and unnecessary injustice.'" Read the full letter at http://bit.ly/c2wPQs (Source: Ammoland.com)

FL Delays Giving Nearly 30,000 Acres To Feds
"TALLAHASSEE, Fla. -- A proposal to donate nearly 30,000 acres of state land to the Big Cypress National Preserve hit a snag Tuesday over fears the federal government may ban such activities as hunting, invasive species eradication and the use of mechanical firefighting equipment." Read more: http://bit.ly/9SgTjU (Source: Miami Herald)
"Dawie Groenewald, owner of Out of Africa Adventure Safaris company, and his wife, Sariette, were arrested on Monday in South Africa, for allegedly being the masterminds behind an illegal rhino poaching gang. Nine other people, including veterinarians and hunters, were also arrested for poaching. The gang appeared before a magistrate in South Africa on Wednesday, which is ironically also the day declared International Rhino Day by the World Wildlife Fund (WWF). The case was postponed until April 11, 2011, after Groenewald reportedly posted bail of about one million rand, with the others paying less." (Source: AllAfrica.com) http://bit.ly/cVOsYN.
· The arrest of Dawie Groenewald in the USA in January 2010 and the subsequent conviction in a U.S. court could have led to an internal SCI Ethics Investigation and subsequent expulsion from SCI. Both brothers resigned from SCI before SCI could investigate their conduct. Additionally, Out of Africa Adventurous Safaris has officially been denied entrance at all future Safari Club International Conventions in the USA.

SCI Wants to Know If You Hunt Lesser Prairie Chicken
Currently, the lesser prairie chicken is designated by the U.S. Fish and Wildlife Service (FWS) as a "candidate species." As long as the species is listed as a "candidate" it remains under state rather than federal management. "Candidate" classification allows states to continue regulating sustainable hunting for the species. Kansas is currently the only state that allows hunting for the lesser prairie chicken. An animal rights group, WildEarth Guardians, has filed suit in U.S. District Court in Denver, Colorado to try to force the FWS to put the lesser prairie chicken on the "endangered" or "threatened" species list. If the suit is successful, Kansas will be forced to discontinue hunting for the species. If you hunt lesser prairie chicken in Kansas, plan to do so again in the near future, and if you would be willing to sign a declaration that would help Safari Club International demonstrate our interest in the species to the federal court, please contact Anna Seidman, Director of Litigation at aseidman@safariclub.org.

SCI Moves to Join As Amicus In Cases That Threaten Hunting in California and Alaska
Late last week, SCI filed motions to participate as amicus to defend hunting opportunities in the Mojave National Preserve (MNP) in California and Unimak Island in Alaska. In the MNP case, Public Employees for Environmental Responsibility seek regulations to end varmint and predator hunting and to limit hunting seasons for other species in the preserve. In the Unimak Island case, the U.S. Fish and Wildlife Service prohibited the State of Alaska from lethally removing wolves that were jeopardizing the survival of the island's caribou herd. If the two courts grant SCI's amicus motions, SCI will file briefs to represent the hunting community's interests in hunting and sustainable use conservation in each of these areas.