October 4, 2007 "In The Crosshairs"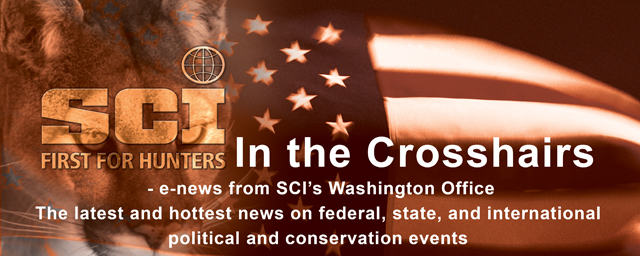 October 4, 2007

 
Polar Bear Deadline Extended


Thanks in part to the efforts of SCI and many other sportsmen's groups, "the U.S. Fish and Wildlife Service announced that it will give the public additional time to review and comment on nine new research papers analyzing polar bear population status and threats by extending its currently open public comment period until October 22, 2007. This research, recently completed by the U.S. Geological Survey, will be used by the Service in conjunction with other scientific information gathered over the past year in reaching a final decision on whether to protect the polar bear as a "threatened" species under the Endangered Species Act. The USGS studies can be found here. The reopened comment period was scheduled to close on October 5, but will now remain open until October 22. The Service has limited this additional comment period because of statutory deadlines which require the agency to make a final listing determination within one year of the January 9, 2007 publication of the proposed rule to protect the polar bear as a threatened species." (Source: USFWS)

 
New Zimbabwe Warnings Issued by State Department


A Public Announcement was issued by the State Department yesterday to update travelers on security concerns in Zimbabwe and to advise Americans to consider the risks of travel to Zimbabwe at this time. The Public Announcement supersedes the Public Announcement issued on July 12, 2007, and expires on December 30, 2007. To read the announcement, click
here
.


 South African Airlink Airlines Recognizes Importance of Hunting Industry.

SCI has learned that SA Airlink Airlines recently limited the number of their airports that will handle firearm transportation due to new South African regulations on handling procedures effective November 1. Their policy states that SA Airlink Airlines will stop the transportation of firearms effective November. However in an official statement by aviation security manager, Mac Makkink stated "We recognize that the hunting industry, a valuable tourist attraction and economic factor, is an important user of our airline. We will therefore attempt to accommodate hunters by transporting their rifles to destinations where they can be legally handled." From November 1, only hunting rifles will be transported to and from OR Tambo International, Johannesburg , Cape Town Durban, Port Elizabeth , Kimberly, Polokwane, Phalaborwa, Kruger Mpumalanga International Airport and Nelspruit. They also stated that until November 1, they will continue to transport firearms to all their destinations excluding Mafikeng , Mthatha, Phalaborwa and Pietermaritzburg. For more information, click here.


 Avian Flu Forces Hunters to Give up Saskatchewan Fowl


" U.S. hunters returning from waterfowl hunting trips to Saskatchewan were forced to dispose or give away all ducks and geese they shot because of an outbreak of avian flu in a commercial chicken farm in the Canadian province. The U.S. Department of Agriculture's Animal and Plant Health Inspection Service (APHIS) issued an order last Thursday afternoon preventing the importation of "unprocessed avian products" following the discovery of avian influenza virus H7N3 in a chicken farm near Regina . That order apparently was interpreted to include game birds being brought back by hunters. But Saturday afternoon, the federal agency issued a revised release saying hunter-harvested wild birds were not affected by the ban. Officials conceded Monday that they weren't sure if that word reached all Customs officials at border crossings over the weekend. Some 11,000 U.S. residents hunt in Saskatchewan each fall." A new release and order from APHIS will include the following statement: "Hunter harvested wild birds and wild bird products are not affected by this ban and will be allowed entry." We will keep you posted. (Source: Minneapolis StarTribune.)


 Carolina Gators


"The South Carolina Senate has passed legislation calling for an alligator hunt in that state. The proposed hunting law is modeled after Georgia , which has an estimated gator population of 200,000 and has allowed hunting since 2003. Last year, hunters legally took only 175 gators." (Source: Outdoor Wire)

 
WashingtonState Supreme Court Rules Against Mandatory Buffers


"In an 8-1 decision, the Washington Supreme Court recently ruled that the Growth Management Act does not require mandatory buffers along streams and rivers. In addition, after years of wrangling over the issue of what "Best Available Science" means and how it should be applied, the Supreme Court clearly stated that local governments are not required to follow so-called "Best Available Science" (BAS). The case involved a challenge by the Swinomish Indian Tribe and Washington Environmental Council (WEC) against Skagit County over its buffer sizes. The Tribe and WEC argued that "Best Available Science" required mandatory buffers along streams and rivers. The Tribe claimed farmers were required to plant 200-foot buffers on their property along streams, which had been cleared over a century ago to make way for farming. The County and farmers argued that the GMA does not force local governments to follow the so-called BAS. Instead, they argued the GMA only requires they "include" the science in their decision-making process when enacting critical areas ordinances. The State Supreme Court agreed with farmers and Skagit County in holding, "The GMA does not require the county to follow BAS; rather, it is required to "include" BAS in its record. Thus, the county may depart from BAS, if it provides a reasoned justification for such a departure." The Supreme Court also ruled the GMA only requires that local jurisdictions "protect" critical areas, not "enhance" critical areas. For years Indian tribes have attempted to argue that landowners not only have a duty to "protect" critical areas on their property, but are required to enhance critical areas through huge buffers and taking other onerous actions. In addition, the Court ruled the GMA does not require local governments to impose mandatory riparian buffers." (Source: NM Farm & Livestock Bureau)


 Moose Researchers Request Hunters Help


"In order to better understand the province's moose populations, researchers at Trent University ( Canada ) are asking for the assistance of Ontario hunters. Trent University is working with the Ministry of Natural Resources on a comprehensive three-year study of the factors that affect the province's moose population in its southern range. The larger study is investigating the role of predators, parasites, habitat, and possibly climate change on moose health and productivity. In support of the study, the Ontario Federation of Anglers and Hunters (OFAH) is asking successful moose hunters to submit small samples of fresh or frozen moose meat to researchers. The tissue samples collected will help biologists determine historic interactions between moose populations. Samples can be submitted any time from the beginning of the moose season into January of 2008. The sampling process is fast and easy, and can be done as the moose meat is being prepared for cooking. Interested moose hunters are asked to contact Glynis Price at Trent University to request a sample kit at 705-748-1011 ext 7437, or by email at glynisprice@trentu.ca." (Source: OFAH)


 Schefferville Blockade Follow Up


To follow up on the Caribou blockade situation in Quebec , SCI has been in close contact with the Quebec Outfitters Federation (QOF) and other entities in that Province. In a letter sent by the QOF, SCI has learned that that the QOF are putting " all of its efforts to help resolve the situation and have worked closely with its members and with the government officials. The QOF also took care of most of the extra costs generated by hunters' overnight stays in Montreal . In spite of that, they are not done yet." The situation in Schefferville does not affect other hunting destinations in Quebec or all of Canada and all winter caribou hunts for the 2007-08 season are to take place as scheduled. If you would like to contact the QOF directly, they can be reached at www.qof.ca or 1-800-567-9009. (Source: QOF)

 
National Archery in the Schools Program


SCI recently attended the Congressional Sportsmen's Foundation Breakfast on the Hill series which, this week, focused on the National Archery in the Schools Program. The NASP program is in over 4,000 schools across the U.S reaching just over 2.3 million students, 27% of whom have gone out and purchased their own archery equipment. Currently 44 U.S. states (and Canada and Australia ) have adopted this program into their school curriculum and 5 more states are expected to be online by early 2008. Start-up costs are roughly $2,900 per school. If you are interested in learning more about this program or becoming a sponsor at the chapter level, please contact Tom Bennett of the NASP at tbennett@nasparchery.com or visit their website.