October 9, 2009 "In The Crosshairs"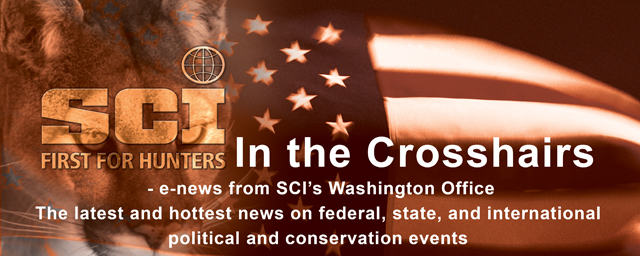 October 9, 2009


eBay.com Rejects U.S. Fish & Wildlife Service Science


It has come to our attention that the online auction site eBay has apparently taken it upon itself to enforce its own interpretation of the Endangered Species Act. SCI would like to make you, your friends, chapter members and ALL hunters aware of a policy statement that eBay recently posted in response to a query about auctioning an Idaho governor's wolf tag. 

The following email, in which eBay stated it that considers "all wolves within the U.S. as endangered, regardless of their actual designation," came directly from an eBay.com customer representative.

----------------------

Thank you for writing eBay in regard to listing your charitable item.  In general, hunts for non-endangered animal species are permitted on eBay. However, eBay has made the decision to treat all wolves within the U.S. as endangered, regardless of their actual designation. As a result, you will not be able to list your wolf hunt on eBay. We apologize for any inconvenience this may cause you. To find out more about our policy, visit: http://pages.ebay.com/help/policies/wildlife.html. It is my pleasure to assist you. Thank you for choosing eBay. Sincerely,               
Rolf eBay Customer Support


Safari Club Attends Supreme Court Hearing On Animal Cruelty Case


Safari Club International (SCI) was in attendance when the Supreme Court's Oct. 6 heard oral argument in a case involving a federal law (16 U.S.C. § 48, or "Section 48") that potentially criminalizes the distribution of certain hunting videos.  SCI filed an amicus brief that supported striking down the law.  Section 48 makes it a crime (punishable by up to five years in prison) to distribute or sell a depiction of animal cruelty.  The problem with Section 48 is that it is too broadly written.  It defines "depiction of animal cruelty" as an image (e.g., a video) showing the wounding or killing a live animal if the conduct in the video would be illegal under any federal or state law.  Thus, a video of a legal black bear hunt in Pennsylvania would potentially violate Section 48 if sold in New Jersey (where bear hunting is illegal).  Based on the questions they asked during the hearing, the Justices were obviously aware that Section 48 potentially criminalizes the distribution or sale of some hunting videos or TV shows.  The attorney who presented the argument against Section 48 mentioned Safari Club International by name and many of the Justices' questions appeared drawn from examples identified in SCI's amicus brief.  SCI expects a decision from the Court within the next 3-6 months.  Here is a link to the transcript of the Supreme Court hearing:  http://www.supremecourtus.gov/oral_arguments/argument_transcripts/08-769.pdf


National Park Service Continues Pressing Employees And Public On Traditional Ammunition

If you will recall, SCI provided members with a press release last Spring from the National Park Service (NPS) stating that they were banning all of their employees from using lead ammunition in firearms training and all lead from fishing tackle.  They went forward with this proposal without any consultation with the hunting or fishing community. In response to the NPS's continued assault on traditional ammunition and fishing tackle, the 2nd Amendment Task Force sent a letter to the Secretary of the Interior, Ken Salazar. House letter (HERE) & Senate letter (HERE). SCI recently met with NPS and Administration officials in Austin, Texas at the Association of Fish and Wildlife Annual Meeting.  At this meeting, the NPS representative was reminded that the Service had not produced scientific documents to back up their claims of a scientific need.  Hopefully at future meetings the hunting and fishing organizations that represent both the equipment manufacturers and the actual hunters and fishers of America.  You can read the National Shooting Sports Foundation statement here and the statement by the Congressional Sportsmen's Foundation here.


SCI's Effective Communication With Ethiopian Government Helps Hunting Community

In early 2009, Safari Club International (SCI) learned that trophy fees were being immediately increased by the Ethiopian Government.  Many SCI members will recall the letter sent on April 6, 2009 by SCI requesting a reversal of these fee increases and asking that a significant portion of the trophy revenue should be reinvested in local communities to help sustainable use conservation (here).  SCI received a response from the Ethiopian Wildlife and Conservation Authority (EWCA) (here) and continued follow-up communications with the Director General of the EWCA (here).


More Women Hunt, Seeking Food And Togetherness


Around America this fall, hunters are stalking everything from birds to bears. An estimated 12.5 million Americans hunt — a number that has fallen in the past 15 years. But the number of female hunters has held steady — and more young girls than ever are hunting.  (Source: NPR Online) View the entire story HERE.


SCI Announces Third Annual Continuing Legal Education Course for Lawyers


SCI's Litigation Department will be sponsoring its third annual Continuing Legal Education course for lawyers at the SCI annual convention in 2010.  The course will be held on Friday, January 22, 2010, from 1:00 to 4:15 P.M.  at the Atlantis Casino Resort Spa in Reno, Nevada.  Stay tuned for additional details in upcoming Crosshairs.  If you have any questions, please direct them to Anna M. Seidman at aseidman@safariclub.org.
Weather and Wildlife offers a computer software program designed to help hunters and anglers find the best times to hunt and fish.  To show their support of SCI's mission to protect the freedom to hunt, Weather and Wildlife will be donating a portion of every purchase made through this link to SCI.  Please visit http://www.weatherandwildlife.com/scilink.aspx for more information.


SCI Radio Announces Newest Affiliate


KRCM, 550 AM based in Salina, Kansas is SCI Radio's latest affiliate.  KRCM brings the show dedicated to weekly news and information from the world of hunting and conservation to an audience throughout Kansas and parts of Oklahoma and Colorado.  Affiliate stations are now located in Nevada, Idaho and Colorado.  Listeners around the world can hear the show each week at www.safariclub.org/radio.