October 11, 2007 "In The Crosshairs"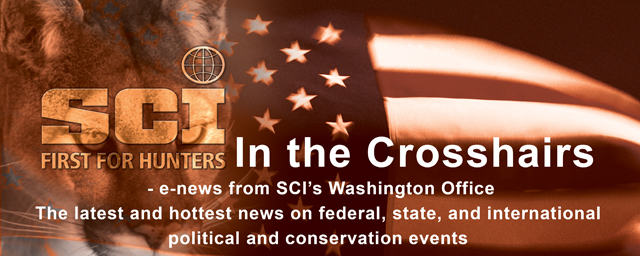 October 11, 2007

 
U.S. Publishes New CITES Regulations That Could Pose Problems for Sportsmen

After 7 years, an extensive revision of the CITES regulations came into effect in late September, 2007. Although the FWS reacted favorably to some of SCI's comments, in general the regulations have become more rigid and may put sportsmen at an increased risk of unintentional violations resulting in the loss of trophy shipments. SCI has analyzed the full regulations and below are some of the proposed changes. For a full report, click here or check out your next issue of Safari Times.
New regulations will allow for the correction of an erroneous permit under certain, limited circumstances where the problem was caused by the authority issuing the permit or for an item for personal use where there was a genuine error.
FWS rejected SCI's proposal to not utilize the 'stricter domestic legislation' provision of CITES, which allows them to reject shipments even when they are approved by CITES quotas or carry permits from the exporting country that are valid on their face; FWS also rejected SCI's suggestion to notify the public and allow comments when they are going to take a "stricter" view
The FWS took a more restrictive view of what constituted a hunting trophy.
The donation of an imported hunting trophy that resulted in a charitable tax deduction might turn the original importation into an illegal "commercial" transaction because there is some financial benefit to the donor. It could also prevent institutions that receive donated trophies from selling them. The FWS regulation was vague on this point, saying on the one hand that getting a tax deduction might be considered financial gain, and then saying, in response to SCI's criticism, that "nothing in this section prevents a person from donating or transferring an Appendix I specimen….These specimens can still be donated …so long as there is no economic use, gain or benefit by either the person or the institution receiving the donation or the person making the donation." This does not really answer the question as to whether they will consider a tax deduction to be an "economic use, gain or benefit."


 State, Sporting Groups, and Antis Settle Maine Trapping Lawsuit


In the Maine trapping case, in which SCI participated as amicus curiae in support of trapping, the parties have settled on relatively favorable terms. The anti-trapping, anti-hunting group brought a claim that the State is "taking" threatened lynx under the Endangered Species Act by allowing certain trapping practices that occasionally catch and harm lynx. The settlement provides for some relatively minor restrictions on certain trapping activities in those parts of the State where lynx are known to reside in great number. Even these restrictions would be eliminated if the State obtains the permit it is seeking from the U.S. Fish and Wildlife Service that would authorize the incidental take of lynx through the trapping program. A similar lawsuit in Minnesota, in which SCI is also an amicus, continues to be litigated. SCI will actively monitor the situation in Maine.

 
Traveling to Canada?


(Editors note: this originally appeared in the 7-12-07 edition of In the Crosshairs but the D.C. office has recently received numerous calls on this topic so we are running it again.)
If you are traveling between the U.S. and Canada for recreational activities, a very useful website for you to visit is www.canadawelcomesyou.net. This comprehensive site covers most questions you might have about crossing the border; everything from what you can bring, what is prohibited, DUI issues, their firearms policy and general information. Note that if you have any sort of conviction on your record in the U.S., it can be very difficult to get into Canada. There is a process, however, that you can go through to enter Canada and this website has all the details.


 New Zealand Hunting Survey


The government of New Zealand has convened a "Ministerial panel…to explore how to manage deer, chamois, tahr and pigs in a way that improves the conservation of native habitats but also recognises the importance of the four species to recreational hunters. The panel has been established as part of the Labour-led Government's confidence and supply agreement with United Future." There is a questionnaire involved and if you have hunted New Zealand, you are encouraged to participate. The survey can be found here. (Source: NZ Gov't)


 Conservationist of the Year


Quick Reminder - By voting for Lowell Baier for Conservationist of the Year, you could add $50,000 to the habitat restoration fund to improve the viewshed of the Theodore Roosevelt National Park, a project supported financially by SCI. This is the place where Theodore Roosevelt lived for 3 and a half years and conceived the very idea of conservation of our natural resources. This is the cradle of conservation in America, a land sacred to the conservation movement. Lowell Baier spent 24 months in an epic battle to purchase these lands—some 23,550 acres—on behalf of the Federal government to be protected in perpetuity. Hunting will still be allowed on this new land!
The purchase was facilitated with a $500,000 acquisition challenge grant from the National Fish and Wildlife Foundation. The $50,000 prize Lowell would receive if he won Conservationist of the Year would be the final piece needed to meet the goal of the challenge grant, clearing the way for more funding for a habitat renewal fund to become operative deploying more funding for habitat and riparian restoration efforts. These efforts would utilize native grasses and plants, grass banking for neighboring ranches in time of drought or grass fires, environmental mitigation, and conducting educational and interpretive programs. In effect, the $50,000 prize would have a significant multiplier effect on future funding for the enhancement of this historic landscape project. The winner of this competition is selected by national balloting, which ends November 30, 2007. It is now your turn to help Lowell Baier win the $50,000 prize and further the historic conservation legacy of Theodore Roosevelt's Elkhorn Ranch. To vote for Lowell, and to learn about his involvement with SCI's International Wildlife Museum, go to the Boone and Crockett website.