October 15, 2007 "In The Crosshairs"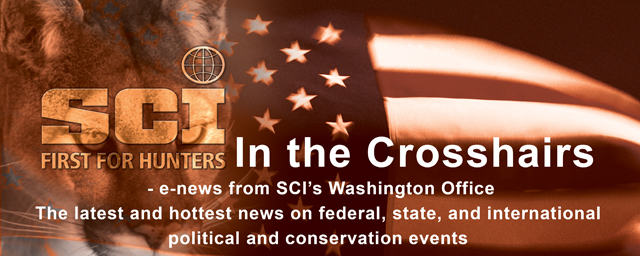 October 15, 2007

 
Governor Schwarzenegger Signs Bills to Allow Microstamping and to Ban Lead Ammunition!

In a moveopposed by SCI, California Governor Arnold Schwarzenegger signed alaw on Saturday banningleadcenterfire ammunitionin therange of the endangered California condor.The law, called the Ridley-Tree Condor Preservation Act (introduced by Pedro Nava, D-Santa Barbara), usurps some of the authority of the State Fish and Game Commission to regulate hunting in the State. The purported purpose of the Act is to protect endangered condors from lead ingestion.The Act mandates non-leadammunition for big-game and coyote hunting in condor range.The Act defines condor range in an overbroad fashion using deer zones and highways inanarea of south andcentral California.The CaliforniaFish and Game Commissionrecently proposed a similar ban, buta more carefullycrafted ban. For example, under the Commission's proposal, the"range" in which the ban would applymore accurately reflectedwhere the bird currently exists, an exception was made forgun types for which non-lead ammunition does notcurrently exist, and recognition was made that copper ammunition contains traceelements of lead.The Act, on the other hand,requirescompletely lead-free ammunition, whichdoes not currently exist, according to testimony given to the Commission.The Act authorizes a program to provide free or discounted ammunition, but does not guarantee funding.Violations of the Act can result in fines of up to $5,000.The Act requires that the ban go into effect on July 1, 2008.
Gov. Schwarzenegger also signed an unprecedented measure Saturday "requiring that certain pistols sold in the state be equipped to mark each cartridge when fired so police can more easily trace the weapons. The bill requiring that semiautomatic pistols be equipped with microstamping devices by 2010 is the first in the nation." (Source: L.A. Times / Outdoor Wire)

 
Cracks in the Armor?


The National Animal Interest Alliance issued a scathing diatribe on the Humane Society of the United States, calling them "corrupt to the bone" and showing how "HSUS constantly engages in deceptive propaganda, half-truths and outright lies in well-funded media campaigns to win its political and legislative battles." For the full article, Google the Long Beach Press Telegram under "Critic Speaks Against HSUS" or click here. (Source: Long Beach Press Telegram)

 
New Sport Fishing and Boating Council Announced


"Secretary of the Interior Dirk Kempthorne today announced 24 appointments to the Sport Fishing and Boating Partnership Council, an advisory panel created in 1993 to offer counsel to the Secretary on nationally significant recreational fishing and boating and aquatic resource conservation issues. The announcement was made in Sanibel, Florida, at the Sportfishing Summit, the annual business meeting of the American Sportfishing Association. The new members will begin their terms in November, and Kempthorne told Summit attendees he is looking forward to working with the Council in the months ahead to address issues such as boating and fishing access and participation. "For more than 100 years, anglers have been among our nation's foremost conservationists. It is impossible to overstate the vital role they and the sportfishing industry play in the conservation of our lands, waters and wildlife," said Kempthorne, commending the Council for its work in helping increase recreational fishing opportunities." Source: http://www.fws.gov/


 Latest Deer Collision Info


"An estimated 1.5 million deer-vehicle crashes occur on U.S. roadways each year, resulting in $1.1 billion in vehicle damage. The average cost per insurance claim for collision damage is $2,800. That rises to $10,000 when claims with bodily injury are factored in. From State Farm only: Estimated number of deer/elk/moose claims; 2006-2007 - 207,420; 2005-2006 - 192,877. States with the highest number of (State Farm) claims 2006-2007: Pennsylvania – 19,171, Michigan – 13,696, Illinois – 12,627, Ohio – 11,376, Georgia – 9,749. The number of fatal crashes involving animals has increased, according the Insurance Institute for Highway Safety. On average, 155 vehicle occupants died each year from 1998-2002." (Source: State Farm)