October 16, 2008 "In The Crosshairs"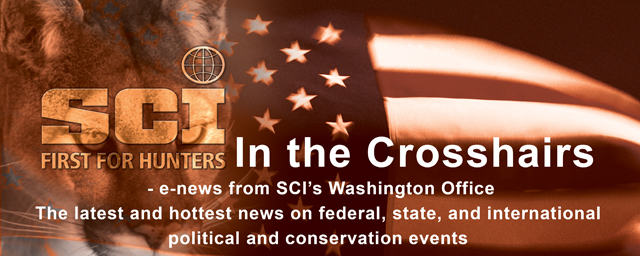 October 16, 2008

 
South Africa will sell ivory to Japan, China


"CAPE TOWN, South Africa (AP) — The South African government will press ahead with plans to sell just over 51 tons of ivory to China and Japan under a special exemption to the international ban on the trade…The Convention on International Trade in Endangered Species ruled last year that Botswana, Namibia, South Africa and Zimbabwe would be able to make a one-off sale of 108 tons of government stocks… After the sale, South Africa and its neighbors will not be allowed to export ivory again for nine years and must use the sale proceeds for programs to protect their elephant populations." (Source: AP Online) Read the full article at http://ap.google.com/article/ALeqM5jJeQiCamLK0GqtVw2ESLNrHV17wQD93N30LO0.

 
IUCN Meets in Barcelona, Sets Environment Action Agenda


"While the world struggles with the turmoil of a market crisis, IUCN's World Conservation Congress defined the way forward in solving the environmental crisis. Participants in the Congress underlined that the cost of biodiversity losses are not only greater than those of the current financial problems, but in many cases, they are irreparable… 'We have made substantial decisions here in Barcelona; we're showing how saving nature must be an integral part of the solution for any world crisis,' says Julia Marton-Lefèvre, Director General of the International Union for Conservation of Nature… 'The clear message coming out of this meeting is that biodiversity underpins the well-being of human societies and their economies. But conservation can only succeed if we attack the underlying causes of biodiversity loss, and action is taken at the same time to reduce the impacts of that loss.'" (Source: www.IUCN.org) Read the full release on the week's conference at http://www.iucn.org/news_events/events/congress/index.cfm?uNewsID=1946.

 
Annie, Get Your Gun


"What might seem fun to most 9-year-old girls doesn't hold much interest for 9-year-old Carolyn White from Dallas, Texas. She thinks Barbie dolls and trips to the mall are boring. She prefers spending Saturdays hunting with her father… 'It's wonderful. You feel like you can do anything and it's really cool.' This particular Saturday, Carolyn killed her first deer, as part of an all-girls hunting trip at Wildcat Mountain Ranch in Robert Lee, Texas. It is one of a number of supervised all-girls hunting trips that state wildlife officials are organizing around the country in an effort to attract girls to try to help keep hunters from becoming an endangered species. According to a survey by the U.S. Fish And Wildlife Service, there has been an 11 percent decline in the number of hunters nationwide from 1991 to 2006. 'Girls and women has been an untapped resource for us,' says Greg Simons, director of the Texas Wildlife Association. 'And that's one of the reasons we now have some unique programs that are designed to facilitate and cultivate that interest.'" (Source: ABC News Online) Read the full article at http://abcnews.go.com/WN/story?id=6016291&page=1.

 
South Africa: White Lions Make History At Reserve


"Rare white lions have been released into the wild at Sanbona wildlife reserve, making the Klein Karoo wildlife reserve home to what's believed to be the only free-roaming white lions in the world…The reserve, in 2003, procured two white lions, one male and one female, as the basis for an ambitious project - to re-establish the first wild, self sustaining white lions since their removal from the Timbavati region in the 1970s…Spokesperson Veronique von Rehbinder said white lions had been isolated to breeding programmes and circuses over the past few decades and there had been few reported sightings of the rare big cats in natural environments." (Source: AllAfrica.com) Read the full article at http://allafrica.com/stories/200810131177.html.

 
Firearms and Ammunition Industry Responds to Minnesota DNR Preliminary Ammunition Study


"NEWTOWN, Conn. – Yesterday, the Minnesota Department of Natural Resources (DNR) released the preliminary results of study of a small sampling of traditional hunting bullets and other types of projectiles used by hunters to look at whether they fragment upon impact and, if so, how far fragments might travel from the wound channel. The DNR was quick to point out that its report was "preliminary," had not been peer-reviewed and required further analysis. In response to the report, the National Shooting Sports Foundation (NSSF) – the trade association for the firearms industry – released the following statement: The preliminary report found varying results among bullet types, but noted that in some instances fragments were detected 'further from the wound channel than many hunters might assume.' The DNR did not, however, conclude that hunters should not use traditional ammunition. Nor did they conclude that the use of traditional hunting ammunition presents a human health risk to hunters. The DNR noted that its goal was to provide hunters with science-based information on which they can make informed choices and the Minnesota Department of Agriculture encouraged hunters to continue to donate venison to the state's venison donation program." (Source: www.NSSF.org) Please read the full article at http://www.safariclub.org/articles/index.cfm?action=view&Article_ID=3389.

 
Second Annual Wildlife Law Course For Lawyers To Be Held at the Safari Club International Convention in Reno

Safari Club International, in conjunction with the State Bar of Nevada, will be holding the second annual Wildlife Law Continuing Legal Education (CLE) course for lawyers at the 2009 Safari Club International Convention in Reno, Nevada. The CLE course will be held on Saturday, January 24, 2008 from 8:45 A.M. through noon at the Atlantis Casino Resort Spa, 3800 S. Virginia Street, Reno, Nevada. The cost of attendance is $129.00. Attendees will be granted free admission to the SCI Convention for Saturday afternoon. Topics to be discussed include Climate Change Laws and Litigation; Participation and Standing in Wildlife Cases; The Role of Water in Wildlife Management and Conservation; and International Laws and Treaties. Attendance will be limited to 50 participants. Registration is being conducted by the State Bar of Nevada. To download the registration form, please go to www.nvbar.org/cle/pdf/2009wildlife.pdf and for additional information, please contact SCI Director of Litigation, Anna M. Seidman at aseidman@safariclub.org.

 
Budweiser Conservationist of the Year – Voting ends Nov 30th.


Please take the time to vote for one of these SCI members and make sure to encourage your family, friends and co-workers to do the same. To vote for Cliff McDonald or Phil Taunton, please go to the Budweiser website at www.budweiser.com. After entering the site by inserting your birth date, you then click on the Budweiser button and from the dropdown list, choose "Great Outdoors." Click the "Vote for Conservationist of the Year" button. Locate either Cliff McDonald or Phil Taunton's bio and vote for your choice. Alternatively, you can vote by mailing a 3" X 5" card or paper to Budweiser. Cards should be addressed to "2009 Budweiser Conservationist of the Year; P.O. Box 750088, El Paso, TX 88575-0088." The card should include your name, age, address and the name of the candidate for whom you are voting. The voting deadline is Nov. 30. Persons voting must be 21 years old or older and there is a limit of one vote per person.