OCT, 2011 "In The Crosshairs"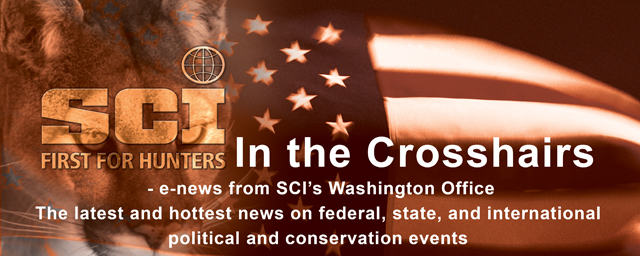 Oct 18, 2011


ENDANGERED SPECIES ACT ACTION ALERT
SCI Members:
On Thursday Oct. 13 the Subcommittee on Investigations and Oversight of the Committee on Science, Space and Technology held a hearing on the proper role of science and policy in implementing the Endangered Species Act. This hearing was held in light of the recent claims of false testimony by U.S. Fish and Wildlife Service (Service) personnel and the unprecedented settlement agreement recently entered into by the Service which essentially cedes control of the endangered species program to litigious environmental groups for the next six years. SCI believes that this agreement does not use the best science and could harm wildlife and therefore SCI has actively opposed this settlement agreement in the current form.
Congressman Paul Broun of Georgia chaired the hearing which explored the manipulation of scientific data and how this influences on policy decisions. Several points were brought up about how the ESA limits endangered species conservation due to the burden it places on private landowners. The hearing also highlighted the appalling rate at which the ESA delists species, the misleading and deceptive testimony in Court by federal scientists, as well as the costs associated with environmental groups' ESA litigation. Several species in particular were the topic of discussion, including the outlandish listing guidelines for polar bears and gray wolves. Rep. Dan Benishek and Rep. Sandy Adams also asked pointed questions about the Western Great Lake wolf delisting and the anti-hunting policies used by the Service in implementing the ESA.
SCI has made the modernization of the Endangered Species Act (ESA) one of our top long-term priorities. For years the ESA has failed to recover species and has been used as a tool to prevent hunting even when hunting has been shown to be beneficial to species conservation. It is time that the Act is updated in light of recent science and improved best practices in wildlife management. This hearing is an important step in the long-term process of ESA modernization.
Safari Club International would like to thank Rep. Paul Broun for his continued participation in matters pertaining to effective wildlife conservation. He has been a true leader on protecting hunting and promoting sound wildlife management. Please email Congressman Broun and thank him for holding this hearing and highlighting the ESA's problems. You can contact him here: https://brounforms.house.gov/Contact/ContactForm.htm.