October 19, 2007 "In The Crosshairs"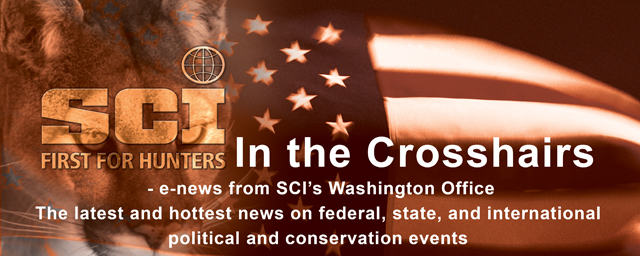 October 19, 2007

 
DC Activity


SCI is tracking a lot of new and continuing legislation in Washington, D.C. Reps. Cohen (D-Tennessee) and Whitfield (R-Kentucky) are looking to "prohibit certain interstate conduct relating to exotic animals" with HR3829. Rep. Maloney (D-New York) has introduced HR1975 which would turn over 29 million acres in western states into wilderness areas. Senators Warner (R-Virginia) and Lieberman (D-Connecticut) have introduced The America's Climate Security Act which seeks to "establish the core of a federal program to reduce U.S. greenhouse gas emissions substantially enough between 2007 and 2050." There are provisions in this legislation to help states pay for wildlife mitigation that result from potential climate change issues. Chairman Rahall (D-W. Virginia) is trying to clean up the mining industry with HR2262. Finally, negotiations over the 2007 Farm Bill are heating up with a myriad of bills and amendments from all affected sectors of our society. SCI and other conservation groups have been watching this one very closely since the majority of national conservation dollars comes out of this legislation. The Senate version also contains a provision for "Open Fields" for hunting habitat on private land, something SCI has lobbied on for many years. We will keep you posted on all these bills and more or you can download our legislation tracker at www.safariclub.org under Governmental Affairs. (Source: CQ Daily)


 National Geographic on Hunting


In the October edition of National Geographic, many hunters will be pleased to find an article entitled "Hunters, for the Love of Land." Some of the quotes from the article include: "It's the hunters who keep most of these species going. They put in the money and put in the hours. Hunters really care about what happens." - Jim Clay, teacher and hunter; and "The irony is that many species might not survive at all were it not for the hunters trying to kill them. The nation's 12.5 million hunters have become essential partners in wildlife management." - Robert M. Poole author of the article. Check it out on newsstands soon or click here. If you enjoyed the article, be sure to let National Geographic know at ngsforum@nationalgeographic.com or fax at 202-828-5460.

 
SCI/SCIF to Submit More Comments Opposing Polar Bear Listing


On October 22, 2007, SCI and SCIF will submit additional comments opposing the proposed listing of the polar bear as threatened under the Endangered Species Act (SCI already has submitted several sets of comments earlier in the process). These latest comments address nine new reports created by the U.S. Geological Society concerning the polar bear, including predictions of its population status in 45 years. SCI hired an expert to help demonstrate that there remains too much uncertainty about the future status of the polar bear to meet the strict standard for listing a species as threatened under the ESA. The FWS is expected to make a final decision on the listing in early January 2008, unless it takes additional time, as SCI has urged. Look for these latest comments next week at www.safariclub.org.


SCI Welcomes Return of Pheasant Hunting in Cape Code National Seashore

Thanks to a long process in which SCI submitted several sets of comments, Cape Cod National Seashore will reestablish pheasant hunting in this Park unit. A court decision several years ago halted the pheasant hunt, but allowed the rest of the hunting program to continue, until the Park Service prepared environmental documents analyzing the hunting program, including the pheasant hunt. The Park Service recently announced its decision to reinstate and pheasant hunt and make other improvements to the hunting program. Although SCI generally supports these actions, we continue to oppose the decision to phase out the pheasant hunting program – in favor of increased opportunities to hunt native birds – in no more than 17 years. The decision documents are available at http://www.nps.gov/caco/parkmgmt/planning.htm.

 
SCI Litigation Counsel to Address N.J. Bear Situation on NRA News Radio

SCI litigation counsel Doug Burdin has been invited to appear on the Cam and Company radio show on NRA News at 10:20 p.m. Eastern time tonight (Friday) to discuss black bear management and hunting issues in New Jersey. You can listen to the broadcast through the NRA News website: http://www.nranews.com/nranews.aspx and on Sirius channel 144.

 
CSF Teams with Richard Childress Racing to Champion Sportsmen's Issues

"Celebrating 'Wine, Wheels & Wildlife,' NASCAR, hunting and fishing enthusiasts came from across the country to enjoy an evening of outdoor activities including archery, casting, wildlife calling and skeet shooting. Legislators from South and North Carolina attended the event, as well as notable leaders from the hunting, fishing and NASCAR community. Among the who's who of the racing and outdoor world in attendance were executives from the National Rifle Association, National Wild Turkey Federation, Bass Pro, Triton Boats, Grady-White Boats, Realtree, SCI, Rocky Mountain Elk Foundation, AT&T, Reese's, Shell Oil, and BB&T. 'Your support tonight has helped NASC and state sportsmen's caucuses achieve amazing success in just a few short years. You can rest assured that through the efforts of CSF at the federal level and National Assembly of Sportsmen's Caucuses at the state level the voice of hunters and anglers is loud and clear and policymakers are paying attention,' stated CSF president Jeff Crane, speaking to the attendees." (Source: www.sportsmenslink.org)


 Unexpected Gift in Kofa Bighorn Case


SCI had a pleasant surprise yesterday at a status conference in federal court in Phoenix. Wilderness groups who have brought suit to challenge the restoration of two artificial water developments needed for bighorn sheep conservation announced their decision to withdraw their request for a temporary restraining order. Although plaintiffs are continuing their suit to challenge the legality of these water developments, they have decided to abandon their efforts to have the waters from these developments shut off while the case is being litigated. Plaintiffs' announcement brings an unexpected victory to SCI, who, with other national and local conservation and sporting groups, are seeking to intervene to defend these water sources. "It's good to see that Plaintiffs have come to their senses," said SCI President Dennis Anderson, "and that they no longer seek to sacrifice any more of the dwindling numbers of Kofa bighorn sheep, while they pursue their legal challenge."

 
Are You Watching Your ESTV?


SCI's award-winning Expedition Safari TV show continues to air new shows on the Versus Network this week. "Argentina Fallow and Red Deer" airs today. "Africa Kudu and Nyala" airs Saturday, Monday, Wednesday and Friday."Alaska Black Bear and Brown Bear" airs Friday and Saturday. SCI aims to provide an entertaining show that informs viewers about the important role that SCI plays in conservation and protecting the freedom to hunt. For updated show listings and to find Versus in your area, log on to www.sciexpeditionsafari.com or contact Gary Swingle at gswingle@safariclub.org.