October 23, 2009 "In The Crosshairs"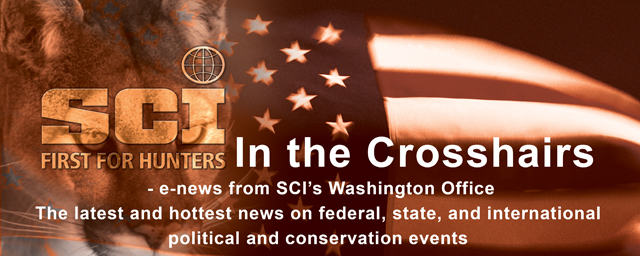 October 23, 2009


SCI & New Jersey Sporting Groups File Suit To Force NJ Bear Hunt Decision


Washington, D.C. – Safari Club International (SCI) and the New Jersey State Federation of Sportsman's Clubs Inc. (Federation) filed suit on Oct. 13th in New Jersey to force action on black bear management…SCI President Larry Rudolph said, "A well regulated hunt is essential for the sound and responsible management of black bear in New Jersey and for the safety of the general public. The goal of our lawsuit is simply to put legal pressure on the Commissioner and the Council to take the necessary action to adopt a Black Bear Policy.  Forcing action on a policy will allow the Council -- the people entrusted under New Jersey law to manage wildlife -- to decide whether a hunt is both the appropriate means of managing the state's bear population and a valued recreational experience." HERE.
Listen to SCI President Elect Kevin Anderson discuss the proceedings and the need for SCI to be involved in this litigation on NRA News.  You can go to www.nranews.com and then click on the Program Archive button above the Video Player.  You can then click on Tuesday's archive (10/20).  The show is broken down into segments and it is labeled Kevin Anderson.


Safari Club International's Treasure Valley Chapter Receives Two Wolf Tags For Auction And Sweepstakes

Boise, Idaho – Safari Club International's Treasure Valley Chapter is set to receive a piece of hunting history as the Idaho Fish & Game Commission authorized the award of two Gray Wolf conservation tags commemorating the first public wolf hunt in state history.
Ten commemorative tags, bearing serial numbers 1 through 10, which will allow hunters to harvest one wolf, are being used to help promote gray wolf conservation and management in the state. The tags will be auctioned or raffled by six different conservation organizations with the proceeds going towards continued wolf conservation and management efforts based on sound-science in the state to help ensure that that hunters in Idaho can continue hunting wolves under state regulated seasons.
The Treasure Valley Chapter will offer Commemorative Tag Number 2 through an on-line auction on the Internet ending on Nov. 1 at 10:00 p.m. Eastern Time.  To place a bid please go to: http://www.safariclub.org/wolftag.


SCI Opposes United States' Proposal to Uplist Polar Bear to CITES
Appendix I

SCI continues to oppose the United States' official proposal to change the polar bears status under CITES from Appendix II to Appendix I.  Such a change would adversely affect conservation efforts and undermine efforts to allow imports into the United States.  Last month, SCI and SCIF submitted extensive comments explaining why the uplisting was not justified under the CITES criteria and how it would harm polar bear management and conservation efforts.  The United States nonetheless formally submitted a proposal to the CITES Conference of the Parties ("CoP":  the body of countries that considers changes to species' status under CITES) that the polar bear be uplisted to Appendix I, the highest level of protection.  Of the other four polar bear range countries, Canada and Russia oppose the proposal, Norway believes the proposal is premature, and Denmark (Greenland) has not taken a position.  The CoP will meet in March 2010 to consider the proposal, which will be voted on by all 175 country parties to CITES.  SCI and SCIF will continue to actively oppose this proposal.


Recreational Fishing & Hunting Heritage Opportunities Act Introduced


Washington, DC – SCI Life Member and Congressional Sportsmen's Caucus House Co-Chair, Rep. Dan Boren introduced H.R. 3749, the Recreational Fishing and Hunting Heritage and Opportunities Act, in conjunction with the Congressional Sportsmen's Foundation 20th Anniversary Banquet.  H.R. 3749 would direct the U.S. Forest Service and the Bureau of Land Management to utilize the "multi-use" mandates in their agencies' respective land management plans to promote sportsmen's access to forest and public lands, enhancing the ability of Federal land managers to provide, promote, and plan for recreational uses that balance the needs and interests of all outdoor enthusiasts. HERE.


SCI Files Opening Briefs In Polar Bear ESA Listing Case


On Oct. 20, SCI filed opening briefs in its challenge to the listing of the polar bear as a threatened species under the ESA.  This listing led directly to the U.S. Fish and Wildlife Service instituting a ban on the import of legally hunted polar bear trophies from Canada.  This ban even covers bears hunted before the listing went into effect.  SCI joined with the State of Alaska, Conservation Force, and the California Cattlemen's Association in one brief, and filed its own brief in support of its claims.  Both briefs question the science on which the FWS relied, the conclusions the FWS drew from that science, and the FWS's legal conclusions.  Briefing on this complex case will continue through May 2010.  Next month, SCI will begin briefing on its separate challenge to the FWS's legal determination that the ESA listing creates the import ban.


 Schwarzenegger Signs Ammo-Regulation Bill


SACRAMENTO -- People buying ammunition in California will soon have to be thumb printed and dealers will have to keep records of sales, under legislation that Gov. Arnold Schwarzenegger signed into law… The measure is California's first statewide regulation of ammunition sales. It survived close votes in both the Assembly and state Senate and strong opposition from gun-rights organizations, which succeeded in stripping a provision that would have required sellers of more than 50 rounds of ammunition a month to be licensed by the state. (Source: San Francisco Chronicle Online) Read the full article HERE.


Montana Wildlife Officials Closed Wolf Hunting in Southern Montana's Wolf Management Unit 3

Montana Fish, Wildlife & Parks closed hunting in the backcountry area of Montana Wolf Management Unit 3 on Oct. 9th. The backcountry area is in the Absaroka-Beartooth Wilderness, north of Yellowstone National Park. The state closed hunting in the area as a response to a harvest of 9 of the 12 wolf quota for the unit that extends across the southern tier of Montana from Dillon east to the Montana border.  The closure demonstrates Montana's active management of the state's first wolf harvest.  As of October 22, 2009, 12 of the state's 75 wolf quota had been harvested.  Montana has established a "Wolf Hunting Season Status" web page, which is updated each weekday.  To check the web page, go to http://fwp.mt.gov/hunting/planahunt/wolfStatus.html .  For the full Press Release on the closure from the Montana, Fish, Wildlife & Parks website, please refer to  http://fwp.mt.gov/news/article_8554.aspx


SCI Announces Third Annual Continuing Legal Education Course For Lawyers


SCI's Litigation Department, in cooperation with co-sponsor, the State Bar of Nevada, will be sponsoring its third annual Continuing Legal Education course for lawyers at the SCI annual convention in 2010.  The course will be held on Friday, Jan. 22, 2010, from 1 to 4:15 p.m.  at the Atlantis Casino Resort Spa in Reno, Nevada.  Stay tuned for additional details in upcoming Crosshairs.  If you have any questions, please direct them to Anna M. Seidman at aseidman@safariclub.org.


Remove the Green Filter And . . .


Perhaps you saw the recent Reuters article "U.S. hunters, anglers lobby for climate bill," which disingenuously insinuates that most hunting-conservation groups support so-called comprehensive global-warming legislation. This recent push by some hunter-conservation groups to join the global-warming debate, as it has been explained to me, is tactical… Needless to say, a pro-conservation agenda does not coincide with a conventionally green agenda. Consider that the National Rifle Association and Safari Club International have argued against claims that the polar bear is in danger from global warming and have opposed the recent U.S. Fish and Wildlife Service rule change to ban the importation of legally hunted Canadian polar-bear skins. Hunter-conservationists understand that such regulatory efforts are self-defeating. Polar-bear hunting has given local native populations an economic incentive to coexist with polar bears, and hunters' money has added millions of dollars to polar-bear conservation. Studies have shown that polar-bear populations have been growing for decades — including the hunted populations. Ending the importation of polar-bear skins harms polar-bear conservation. (Source: National Review Online) Read the rest of Frank Minitner's article HERE.