October 25, 2010 "In The Crosshairs"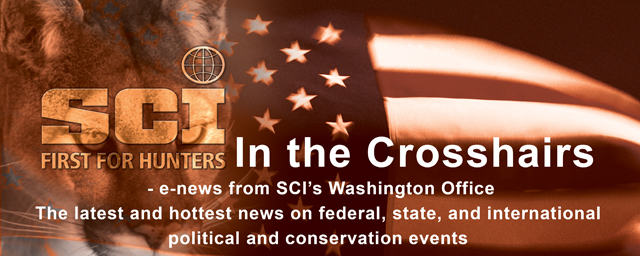 October 25, 2010


Hunters Are Ready To Defend Our Rights At The Ballot Box


"As we all know, the midterm elections could be a major turning point in the direction of this country.  Federal spending, jobs, the economy and health care are topics at the top of the national mind, but a recent Safari Club International poll shows that sportsmen and women will also have a significant impact on the November elections – precisely because hunting is a major economic powerhouse in the U.S. economy.  Hunters are standing ready to protect their sport, and the jobs it brings to rural economies, in the voting booth.  Our poll also shows that the sportsmen's community is more interested in these elections than ever before, and hunters stand ready to vote on Nov. 2nd."
 Read more of Safari Club President Larry Rudolph's Op-Ed at http://bit.ly/SCIElectionPoll.


SCI Fights For The Right To Hunt, Fish In Arizona


The state constitutional right to hunt and fish will be on the Arizona ballot Nov 2 and SCI is fully committed to ensure the hunting heritage of all Arizonans is protected. SCI has committed to television commercials and online media advocacy to encourage citizens to Vote YES on Proposition 109. Please watch SCI President Larry Rudolph's important message on Arizona Ballot Proposition 109: http://www.youtube.com/user/SCIFirstForHunters#p/u/1/tmu53jJ9ukA.
Anti-hunting organizations like the Humane Society of the United States (HSUS) are aggressively attacking Proposition 109 in Arizona with a commitment of $250,000. Help Safari Club International to protect our hunting heritage in Arizona today by donating to the Hunter Defense Fund. www.safariclub.org/hunterdefense/.


Nine In 10 Sportsmen Are "Very" Likely To Vote In Upcoming Elections


Washington, DC – Nine in 10 sportsmen and women are "very" likely to vote in the upcoming mid-term elections according to a poll released today from Safari Club International.   Further, 40% of sportsmen say they are "very" interested in the upcoming elections suggesting sportsmen's participation in the November election is likely to be significant.  "Hunters are standing ready to protect their sport, the jobs and economic benefits it brings to rural communities, in the voting booth this year.  Our poll shows that the sportsmen's community is more interested in these elections than ever before, and hunters stand ready to vote on Nov. 2," said Safari Club President Larry Rudolph. http://bit.ly/bUKAyj.


Remington Arms Launches Model 700 Website


Last week, Remington Arms Company launched a new website to combat a CNBC TV report on their model 700 rifle.  Remington's response about the Model 700's lengthy service record for American sportsmen and women can be found at http://Remington700.tv.


SCI Foundation Fall e-Newsletters


SCIF Education Sables e-Newsletter is now available online.  Please click here. It features Chapter Leaders training at AWLS, AWLS 2010 Programs, Sables Governing Board Planning Meeting, Sables 2011 Luncheon Show & Auction and much more. http://bit.ly/cQAVJJ.
SCIF Humanitarian Services October 2010 Quarterly Newsletter is now available. Please click here.  The newsletter features chapter and individual members' projects for Disabled Hunters, SafariCare/SafariWish, Sensory Safari and Sportsmen Against Hunger programs. Share this newsletter by forwarding to friends and family. Thermal-bound hard copies of the newsletter (published each January, April, July and October) may requested by contacting SCIF Humanitarian Services at (520) 620-1220, ext. 480. http://bit.ly/dc1TU9.


Black Bear Study Underway In Missouri


"SPRINGFIELD MO – For several decades, Missouri's bears have been something of a mystery. Numerous sightings in recent years have provided clear evidence that black bears live in this state. However, when it came to specific details about those bears (how many live here, are they year-round residents, is successful reproduction occurring, etc.), things weren't so clear. Missouri Department of Conservation (MDC) wildlife experts hope a multi-year study that started this fall will provide answers to many of their questions. The study, which is being funded through the U.S. Fish & Wildlife Service's Wildlife Restoration program with help from Safari Club International, will provide information about the movement patterns, population densities, habitat preferences and overall numbers of Missouri bears." (Source: Missouri Dept. of Conservation Press Release) Full Article: http://bit.ly/b077lQ.


Sportsmen, NASCAR, Country Music Join Forces


"Oct 15, 2010 (Lexington, NC) - The Congressional Sportsmen's Foundation (CSF), along with NASCAR legend and CSF Board of Directors member Richard Childress and country music star Craig Morgan celebrated America's traditions of hunting, fishing, stock car racing and country music at Richard Childress Vineyards in Lexington, North Carolina… Title sponsors for the event were ATK and Shell. Sponsor of the outdoor activities was Bass Pro Shops, dinner was sponsored by Safari Club International, and dessert sponsor was Sporting Classics magazine." (Congressional Sportsmen's Foundation Press Release) Full article: http://bit.ly/9U5e73.


No Silver Bullet For CWD, At Least Not Yet


"Hunters and wildlife managers eager to hear the promise of a vaccine to rid North America's deer and elk herds of chronic wasting disease (CWD) were met with a shot of reality at a recent Wisconsin Department of Natural Resources (WI DNR) meeting, reports the Wildlife Management Institute. Following weeks of public speculation, researchers and managers from the Canadian Pan-Provincial Vaccine Enterprise (PREVENT) and Vaccine and Infectious Disease Organization and International Vaccine Center (VIDO-InterVac) traveled to the WI DNR headquarters in order to clear up rumors on the nature and status of their CWD research." (WMI Newsletter) Full article:  http://bit.ly/d9zNB5.


NJ Bear Permit Application Period Open Until Oct. 30


"The NJDEP Division of Fish and Wildlife reminds hunters that the black bear permit lottery application period is now open and closes on October 30. Applicants must have a current, valid NJ firearm hunting license to apply. Hunters who have not yet completed a Bear Hunting Education Seminar can apply for a permit but must have completed a seminar in order to claim an awarded permit or purchase an over-the-counter leftover permit. For Bear Hunting Education Seminar information visit http://www.njfishandwildlife.com/news/2010/bearseminarinfo.htm...  The award notification and permit pickup period for black bear permits begins the week of November 15, 2010. Black bear permits awarded in the lottery will be held in reserve until the end of the season, December 11, 2010. Over-the-counter issuance of leftover permits begins on Monday, November 22 at 10:00 a.m. and will continue until the season ends or the permit quota is reached."


Canadian Seal Ban Challenge Receives Clarification By EU Court


Canadian plaintiffs welcomed a favourable ruling from the European General Court regarding their challenge to the European Union's ban on seal products. "Inuit, who are central to this case, are pleased with this week's indications by the General Court that Inuit and non-Inuit plaintiffs can continue to place seal products on the EU market without interruption from the regulation," stated Canadian National Inuit leader Mary Simon, president of Inuit Tapiriit Kanatami.  "The news from the Court indicates that trade and further manufacturing of seal products within the EU can continue for the time being, unfettered by the current Regulation", said Rob Cahill, executive director or the Fur Institute of Canada. SCI's delegation to the CITES meetings in Doha, earlier this year, worked closely with Canada's Inuit on issues, particularly the defeated proposal by the US government to "up-list" polar bears. Read more at http://bit.ly/ccCqHK.