OCT, 2011 "In The Crosshairs"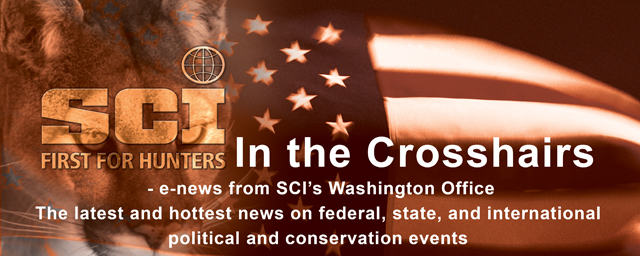 Oct 27, 2011


Join SCI At Our Largest Convention Ever – Mandalay Bay and Resort in Las Vegas, NV
The SCI 40th Hunters' Convention is just months away, and SCI members need to get registered TODAY! SCI is looking forward to amazing evening entertainment provided by country music superstars Martina McBride and Trace Adkins. Each year the SCI Hunters' Convention brings together the largest collection of international hunters and international outfitters, and the highest level of sporting rifles and shotguns. Book your rooms at the Mandalay Bay and register for the 40th Annual Hunters' Convention in Las Vegas, http://www.showsci.com/.


SCI Foundation Closes in on One Million Dollar Investment in Lion Conservation, Research
Safari Club International Foundation (SCI Foundation) has announced that it is close to hitting an unprecedented milestone by contributing nearly $1,000,000 to African lion projects for conservation and research. "SCI Foundation has continually been a leader in lion conservation in collaboration with the African lion range states," said SCI Foundation President Joe Hosmer. "Our specific research efforts have provided the best available information on the status of lions, which hopefully will be used by the range states to ensure well managed populations." http://bit.ly/omKxcc.

SCI Seeks Owners and Hunters of U.S. Captive Herds of Scimitar-Horned Oryx, Dama Gazelle and Addax
SCI's attorneys are seeking assistance with the lawsuit SCI recently filed to challenge the U.S. Fish and Wildlife Service's 2005 decision to classify captive populations of the scimitar-horned oryx, dama gazelle and addax as endangered. SCI is working with several owners of herds of one or more of the three species to prepare declarations that demonstrate SCI's and SCI members' interest in these species and the harm that SCI and its members have suffered and will continue to suffer due to the restrictions that come with an endangered species classification. If you own a herd of one or more of the three antelope species and would be willing to provide SCI with a sworn statement to help us present our case to the court, please contact SCI's Director of Litigation, Anna Seidman, aseidman@safariclub.org or 202-543-8733. SCI's legal team is also looking for SCI members who have concrete plans to hunt members of one or more of the three species from a U.S. captive herd in the future. If you have a hunt planned for a scimitar-horned oryx, dama gazelle or addax within the next year and would be willing to provide a sworn statement that SCI can file with the court, please contact Anna Seidman at the e-mail address or telephone number listed above.

SCI Attorneys – Time to Make Your Convention Plans
SCI's Fifth Annual Wildlife Law Continuing Legal Education Course, "Current Issues in Domestic and International Hunting and Wildlife Law – 2012" will take place at the SCI Convention in Las Vegas on Friday, February 3, 2012, from 1:00 to 5:15 P.M. This year's the course will include four hours of legal education and will address domestic and international issues pertaining to sustainable use conservation, hunting, firearms, and importation law. In addition, the course will offer one hour of ethics education. As in past years, the registration fee for the course will include admission to the SCI Convention for the day of the course. Registration will be open to all attorneys (including those not yet members of SCI). Registration is being handled by the course's co-sponsor, the State Bar of Nevada. To register on-line for the course, go to http://www.legalspan.com/nvbar/catalog.asp?ItemID=20111024-166130-111256. Please direct all questions to Anna Seidman, SCI Director of Litigation, aseidman@safariclub.org or 202-543-8733.

Court Strikes Blow to Sustainable-Use Conservation of Polar Bears
The U.S. District Court for the District of Columbia recently ruled against SCI's challenges to the U.S. Fish and Wildlife Service's 2008 polar bear import ban. The FWS imposed the ban when it listed the polar bear as threatened under the Endangered Species Act. This import ban has dried up the critical conservation benefits in Canada created by U.S. hunters, who bring much needed funds to remote arctic communities. These funds help make the bear even more valuable to the local people and governments, who then support sustainable-use conservation of the polar bears. In his October 18, 2011 Opinion upholding the ban, the Judge seemed determined to agree with the Service's decision no matter what. The Court simply ignored several of SCI's strongest arguments against the legality of the import ban. SCI is confident that the battle to restore polar bear imports and the conservation benefits that flow from them is far from over. SCI is considering its appeal options.

Canada Snap Shots: A Scan of Recent Canadian Hunting-Related News
PETA produces an ad that calls a shark attack 'payback'; no wonder a Canadian government web site has defined some animal-rights groups as terrorists. Read the full SCI-Canada Report by going to http://bit.ly/scZg62.