October 30, 2007 "In The Crosshairs"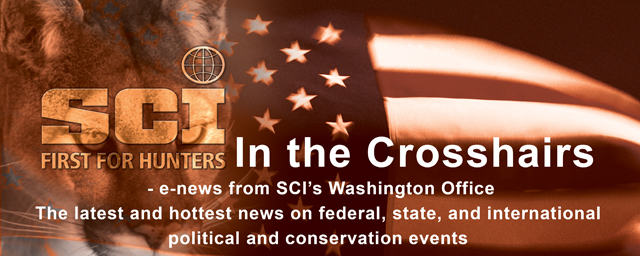 October 30, 2007

 
Senate Agriculture Panel Approves 2007 Farm Bill


"The Senate Agriculture Committee approved a five-year farm bill [last] Thursday that includes a new subsidy proposal advocated by Chairman Tom Harkin, D-Iowa. The massive $283 billion reauthorization of farm payments, conservation programs and nutrition supports was approved by voice vote after a two-day markup. It includes a new Average Crop Revenue program, an optional subsidy that would tie some payments to farmers to state crop revenue targets, while trimming others. Harkin and co-author Sherrod Brown, D-Ohio, said the program would offer farmers in some regions better protection against the risks inherent in farming, resulting in lower crop insurance premiums. That would mean an overall savings to the government, which partially subsidizes those premiums, they argued. But the plan immediately came under fire from some farm groups and the crop insurance industry, which said it would be prohibitive for some farmers and take business away from insurers. To mollify the opposition, the committee adopted an amendment by Pat Roberts, R-Kan., to require farmers opting into the new program to continue participating for the life of the farm bill. The amendment also would reduce the number of acres on which farmers could collect payments and keep insurance premium rates where they are today, meaning crop insurers would preserve their bottom line." (Source: CQ Today)

 
Lion Hunting Closure in Botswana


The hunting season has just ended in Botswana, but SCI has learned that all lion hunting in the future has been suspended by the government. According to sources, the suspension has nothing to do with trophy hunting. The main problem is the unsustainable killing of lions that depredate livestock. SCI has organized and will be attending the annual African Wildlife Consultative Forum, which takes place in two weeks in Mozambique. Wildlife officials from Botswana and many other African nations, along with representatives of the hunting industry, will be attending this year's meeting to coordinate and discuss issues relevant to the hunting industry. The closure of hunting for lions in Botswana will be discussed and we hope to have more information for you at that time.

 
SCI Speaks Out at New Jersey Sportsmen's Rally


Assistant Governmental Affairs Manager Nelson Freeman spoke to a crowd of over 500 sportsmen and women in Monmouth, New Jersey on Sunday to decry pending legislation that would change the face of hunting in New Jersey. Assembly bill A-3275 and Senate bill S-2041 would change the New Jersey Fish and Game Council from a broad range of hunters, farmers and conservationists to a council of political appointees, chosen by anti-hunting Governor Jon Corzine. The event was hosted by the New Jersey Outdoor Alliance and brought together sportsmen and women from all over the state. Freeman spoke on SCI's role in trying to save the black bear hunt that the Governor stopped in 2006.

 
New Committee to Address Wildlife Impacts of Wind Turbines


"Secretary of the Interior Dirk Kempthorne named 22 individuals to serve on a special Wind Turbine Guidelines Advisory Committee, formed under the Federal Advisory Committee Act. The members will advise the Secretary and the U.S. Fish and Wildlife Service on measures to avoid or minimize impacts to wildlife and their habitats from land-based wind energy facilities. Members of the Committee named today represent the varied interests associated with wind energy development and wildlife management. The Committee will function in accordance with the Federal Advisory Committee Act and report to the Secretary of the Interior through the Director of the U.S. Fish and Wildlife Service. It will function solely as an advisory body, providing recommendations on effective measures to protect wildlife resources and coordinating the review and evaluation of facilities by state, tribal, local, and federal agencies. To learn more about the Interior Department's wind initiatives, please see http://www.doi.gov/initiatives/wind.html. To review the Service's Interim Guidelines on Avoiding and Minimizing Wildlife Impacts from Wind Turbines as well as links to the Energy Department's National Renewable Energy Laboratory, please click here." The full release can be seen here. (Source: DOI)

 
Maryland DNR Announces Final 2007 Black Bear Hunt Numbers


The oft-criticized Maryland bear hunt came to a close last week and the final numbers have been released. The hunt was officially closed Thursday, October 25, at 9:00 p.m. "The 2007 black bear season opened Monday, October 22, one half-hour before sunrise in Garrett and Allegany Counties. Despite challenging weather conditions throughout the two-county hunting area, 51 bears were reported to official check stations as of 9 p.m. on October 25. The harvest objective for the 2007 bear hunt was 50 to 70 bears. The average estimated live weight of the bears taken this year was 174 lbs" and the largest bear was a 615 lb. male. For more information about Maryland's black bears visit www.DNR.MD.gov/Wildlife. (Source: MD DNR)

 
South Africa Airlink Update


In the October 4th edition of In the Crosshairs, SCI informed readers that South African Airlink would be not be able to handle firearms at some of their smaller regional airports. This only includes a handful of the airports and does not affect their handling of firearms that go to international destinations. Please be aware that this is SA Airlink and not South African Airways. The following is the original announcement about South African Airlink: SCI has learned that SA Airlink recently limited the number of their airports that will handle firearm transportation due to new South African regulations on handling procedures effective November 1. Their policy states that SA Airlink will stop the transportation of firearms effective November. However in an official statement by aviation security manager, Mac Makkink said "We recognize that the hunting industry, a valuable tourist attraction and economic factor, is an important user of our airline. We will therefore attempt to accommodate hunters by transporting their rifles to destinations where they can be legally handled." From November 1, only hunting rifles will be transported to and from OR Tambo International, Johannesburg, Cape Town Durban, Port Elizabeth, Kimberly, Polokwane, Phalaborwa, Kruger Mpumalanga International Airport and Nelspruit. They also stated that until November 1, they will continue to transport firearms to all their destinations excluding Mafikeng, Mthatha, Phalaborwa and Pietermaritzburg. For more information, click here.

 
The Next Lead Battle


"Arizona animal advocates are now pushing the Arizona Game and Fish Commission to issue a ban on lead ammo. The Center for Biological Diversity, now says with the California law on the books, Arizona becomes "the next step in our campaign." Arizona officials haven't responded, and one source says they don't plan to. In response, Sandy Bahr, the Sierra Club's Grand Canyon chapter spokesperson, told the Arizona Republic the Sierra Club will formally petition the commissioner by early November if they don't get a response. Bahr also says they have not ruled out litigation. In the meanwhile, Arizona isn't ignoring lead ammunition. The state issues coupons lead-free ammunition for those hunting in condor territory, and continues an education program to educate hunters of the threat lead poses to condors." (Source: Outdoor Wire)

 
Outfitter Sentenced


"An outfitter who admitted to cheating hunters, forging licenses and evading state taxes was sentenced to 10 years in jail [in September] in one of New Mexico's biggest cases of poaching and wildlife-related fraud. Thirteenth Judicial District Court Judge Camille Olguin also sentenced Adrian Romero, 35, to five years probation following his jail term, and ordered him to pay almost $200,000 in restitution to 28 hunters whom he and his wife, Henrietta Romero, swindled in their illegal hunting and outfitting operation from 2002 to 2004. The Romero's pleaded guilty in October 2006 to a combined 10 felony charges, including racketeering, forgery, tax evasion and embezzlement. Henrietta Romero, 33, was sentenced Oct. 30 to five years probation as part of a plea agreement. The Romero's were indicted in January 2006 on 66 felony charges related to the operation of their business, Non-Typical Outfitters. The indictments were the result of a 1 ½-year investigation by the Department of Game and Fish and the New Mexico Taxation and Revenue Department." (Source: New Mexico Department of Game and Fish).
HAPPY HALLOWEEN