October 31, 2008 "In The Crosshairs"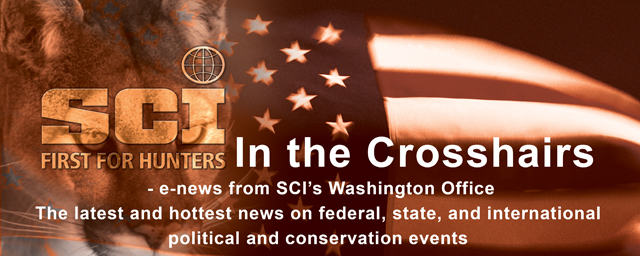 October 31, 2008

 U.S. FWS REOPENS PUBLIC COMMENT PERIOD ON 2007 PROPOSAL TO DELIST NORTHERN ROCKY MOUNTAIN POPULATION OF GRAY WOLVES
The U.S. Fish and Wildlife Service has reopened the public comment period on its proposal to delist the gray wolves of the northern Rocky Mountains. The public will have until November 28, 2008, to submit their comments to the Federal Rulemaking Portal at http://www.regulations.gov< or via U.S. mail or hand delivery to: Public Comments Processing, Attn: RIN 1018-Au53; Division of Policy and Directives Management; U.S. Fish and Wildlife Service; 4401 N. Fairfax Drive, Suite 222; Arlington, VA 22203. The comment opportunity, was published in the Federal Register on October 28, 2008. The FWS is seeking additional information on a variety of topics related to the delisting. More details are available in the Federal Register notice which can be accessed from the Service's northern Rocky Mountains wolf website: http://westerngraywolf.fws.gov. Read the FWS release here.

 
Judge upholds Michigan's ban on deer baiting, feeding to battle chronic wasting disease

"LANSING -- A judge Thursday let stand a ban on feeding and baiting deer in Michigan's Lower Peninsula, ruling the state had authority to issue the emergency rule after its first case of chronic wasting disease was detected…The decision was a blow for farmers and store owners who sued because they're being hurt financially by the ban. Hunters place piles of bait -- beets, carrots, corn, apples and other produce -- in areas to attract deer…After hearing arguments, Ingham County Circuit Judge Joyce Draganchuk acknowledged that a number of people earn a living by growing and selling the bait. But she said the Michigan Department of Natural Resources based its decision on 'sound scientific management principles.'… 'It did it for the purpose of preserving deer and elk herd so that those who make their living from it may continue to do so in the future,' Draganchuk said of the ban imposed Aug. 26. It's effective for six months and could be extended." (Source: www.MLive.com).

 
1st Auction of Ivory in Decade Held in Namibia


"WINDHOEK, Namibia (AP) — The first ivory auction in a decade sold over 7 tons of tusks to Chinese and Japanese bidders Tuesday, raising more than $1 million for elephant conservation…The sale took place under a special exemption to the international ban on trade in ivory…Last year the Convention on International Trade in Endangered Species ruled that Botswana, Namibia, South Africa and Zimbabwe could make a one-time sale of 108 tons of government ivory stocks…Some environmentalists have condemned the sales, fearing it will encourage smuggling and poaching…Tuesday's auction, held behind closed doors in the capital, was monitored by Willem Wijnstekers, CITES Secretary General. In all, 7.2 tons of ivory were sold, fetching a total of $1.3 million at an average price of $164 per kilogram (2.2 pounds)…Proceeds will go to the Game Product Trust Fund created in 1999 to promote conservation in communities where elephants range. Most of Namibia's elephants are found outside protected areas and have to compete for land and resources with communities, which often leads to conflict between people and the animals… 'Without a way of benefiting from elephants, elephants can only be seen as a liability or loss to rural communities, who lose significant subsistence crops and even human lives,' Leon Jooste, deputy minister of environment and tourism, told reporters." (Source: AP Online) You can read the full AP article here.

 
Wyoming Adopts Emergency Rule to Modify State's Wolf Management

Wyoming Governor Dave Freudenthal and Wyoming Game and Fish Commissioner Jerry Galles have adopted emergency rule changes to address concerns that prompted a Montana District Court to invalidate the delisting of Northern Rocky Mountain wolves. The emergency rule responds to Montana federal District Court Judge Molloy's concerns that Wyoming's wolf management laws did not present a clear picture of how the state would respond to a decrease in wolf numbers on federal lands. The emergency Rule, effective for 120 days, commits the state to maintaining at least 15 breeding pairs within Wyoming's Wolf Trophy Game Management Area, and to increase the number of breeding pairs outside of federal lands, if the number of breeding pairs on National Park Lands diminishes below eight breeding pairs.

 
Wyoming Takes Comment on Revised Wolf Management Plan


The Wyoming Game and Fish Department has released a draft revised wolf management plan and is taking comment on the revisions until November 10, 2008 on the plan. In addition, the state will be holding two public meetings to discuss the revised plan and to accept public comments. The first meeting will be held in Cody, Wyoming on November 5, 2008, at the Holiday Inn, 1701 Sheridan Avenue, and the second meeting will be held in Lander, Wyoming on November 6, 2008 at the Lander Community Center, 950 Buena Vista Drive. Both meetings will run from 7:00 P.M. to 9:00 P.M. Written comments may also be submitted by mail or fax to "Wolf Plan Comments, Attn: Bea Pepper, Wyoming Game and Fish Department, 5400 Bishop Blvd., Cheyenne, Wyoming 82006, Fax: (307) 777-4650." In the revised plan, Wyoming has committed to maintaining at least 15 breeding pairs of wolves and 150 individual wolves in Wyoming's established Trophy Game Management Area. In addition, the plan explains Wyoming's strategies if wolf numbers on federal lands drop below eight breeding pairs.

 
Encourage Other SCI Members to Sign-Up for Crosshairs


"In the Crosshairs" is one of SCI's most effective communication tools to inform members of issues of concern from around the world that effect hunting, hunters and wildlife conservation. If you know of Safari Club members or chapter members who do not currently receive "In the Crosshairs", please encourage them to sign up. Members should send their email to Nelson Freeman at crosshairs@safariclub.org.