November 3, 2008 "In The Crosshairs"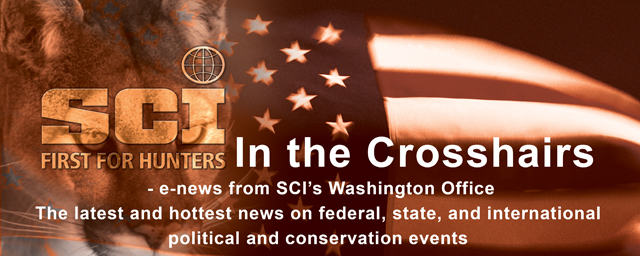 November 3, 2008

 
Have Gun, Will Travel: Economy Only Grazes Hunting


"NEW YORK (Associated Press) - Have gun, will travel - even if the economy's shot…In the heart of South Dakota's pheasant-hunting country, license sales have been strong this fall despite gasoline prices near $3 a gallon and a looming recession. Ditto for hunting license sales in New York, Utah and Colorado. The leading retailers of outdoor gear, meanwhile, say sales of shotguns, ammunition and warm camouflage clothes aren't too bad considering the economy's headwinds…Hunting's popularity has waned slightly in recent years, and American families are tightening their belts as a recession looms, but businesses catering to hunters say the sport's outlook remains relatively healthy during these hard economic times." (Source: CNNMoney Online) Read the full article on the economics of hunting here.


 DNR Schedules Bobcat Trapping in Lower Peninsula


"TRAVERSE CITY, Mich. (AP) — Bobcat trapping will resume in Michigan's Lower Peninsula for the first time in three years, a practice that touched off a legal battle between trappers and bear hunters…The Department of Natural Resources on Wednesday set the season for Dec. 10-20 in an area covering most of the northern Lower Peninsula. Bobcat trapping had been illegal there for many years until the state permitted it in 2004 and 2005…But it was discontinued after that because of a lawsuit filed by the Michigan Bear Hunters Association, which contends there aren't enough bobcats in the Lower Peninsula to allow trapping. The animals can be trapped in season across the Upper Peninsula…Hunting bobcats is allowed in the Lower Peninsula. But the bear hunters group says trapping bobcats is a more effective method of taking them than hunting…Earlier this month, Ingham County Circuit Judge Thomas L. Brown sided with the DNR, allowing trapping to resume in the disputed area." (Source: www.Mlive.com) You may read the rest of the article here.

 
Uganda: Displaced First By War, Now By Elephants


"Marauding elephants in northern Uganda have added to the challenges faced by civilians trying to rebuild their lives in the wake of 20 years of civil war, destroying their crops and prompting some to return to displaced people's (IDP) camps they had only recently left… 'The villagers are scared of the elephants; some of them have sought refuge in huts they had left in the [IDP] camps,' John Bosco Okullo, a local leader in Amuru District told IRIN… Most affected are hundreds of returnees from six IDP camps - Goma, Anaka, Purongo, Ongako, Corner Nwoya, and Aler, all in Amuru District - whose crops have also been eaten by wildebeest roaming the villages in search of water and pasture…Some of the returnees have had narrow escapes from attacks by wildebeest competing for the same land that the villagers are returning to." (Source: AllAfrica.com) To read more about Uganda's elephants please go here.

 
New Jersey Pro-Hunting Bill Passes Senate, Moves to Assembly


Today, Thursday, October 23, the New Jersey Senate voted 32 to 6 to pass S802, legislation that authorizes bow hunting on Sundays during the respective deer season dates set by the State Fish and Game Code. The bill now heads to the Assembly for consideration. State Senators Stephen Sweeney (D-3) and Kevin O'Toole (D-40) sponsored this NRA-backed bill along with co-sponsors State Senators Jeff Van Drew (D-1) and Steven Oroho (R-24)…This bill will help expand and solidify sportsmen's rights to enjoy New Jersey's rich hunting heritage." (Source: www.NRA-ILA.org) Read the full article at http://www.nraila.org/Legislation/Read.aspx?ID=4220.

 
Namibia: Country Bans Media at Ivory Auction


"Namibia raised eyebrows yesterday when it banned the media and observers from a once-off ivory auction held under the auspices of the United Nations Convention on International Trade in Endangered Species (Cites)…No explanation was given for the news blackout…Newspaper The Namibian said the environment ministry had kept the auction under wraps and quoted sources as saying Chinese and Japanese bidders had arrived in Windhoek on Sunday to view the ivory stocks…Yesterday, in the first of four sales, $1,1m was raised in the sale of 7,2 tons of ivory, the first lot of a total 106 tons on offer…Namibia had its auction yesterday, Botswana will have its tomorrow and Zimbabwe and SA would have theirs on November 3 and 6 respectively. It is a once-off sale, with the next due in nine years." (Source: AllAfrica.com) Read the full article about the ivory sales here.

 
November 4th is ELECTION DAY


SCI members, please remember that tomorrow, November 4th is election day all across the United States. If you have not already voted, please make sure you know where you will be voting tomorrow. Contact your local county election board to find out which polling locations are in your area. Every vote will count in this critical election so encourage your fellow hunters to get out and vote as well.