November 7 2007 "In The Crosshairs"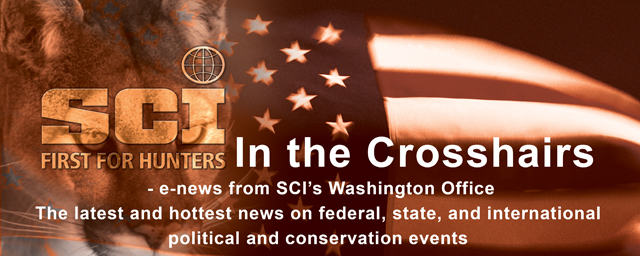 November 7, 2007

 
Additional Restrictions on Hunting in Zimbabwe?


SCI has learned that the U.S. State Department is planning new actions designed to discourage U.S. hunting revenues from being used to support the efforts of Zimbabwe President Robert Mugabe. In 2003, the State Department published a list of individuals with whom U.S. citizens were prohibited from engaging in business, and in 2005, the State Department expanded that list. According to a recent edition of The Hunting Report, "the State Department was going to be releasing soon a new list of Targeted Individuals with whom it is illegal under current sanctions for Americans to do business." As soon as that new list is released, SCI will post it on our website. As mentioned in a previous In the Crosshairs, SCI is sponsoring the annual African Wildlife Consultative Forum (AWCF), which takes place this week in Mozambique. Wildlife officials from many African nations, along with representatives of the hunting industry, will be attending this year's meeting to coordinate and discuss issues relevant to the hunting industry so we hope to have more information on this topic at a later time.

 
2006 National Survey of Fishing, Hunting and Wildlife-Associated Recreation Released

"The U.S. Fish and Wildlife today released the complete 2006 National Survey of Fishing, Hunting, and Wildlife-Associated Recreation. The report serves as the baseline for examining how Americans are spending their time and money outdoors. The National Survey of Fishing, Hunting and Wildlife-Associated Recreation has been conducted every five years since 1955 and is one of the nation's most important wildlife-related recreation databases. It is considered to be the definitive source of information concerning participation and expenditures associated with hunting, fishing and other forms of wildlife-related recreation nationwide. The 2006 Survey shows that 87.5 million U.S. residents 16 years and older participated in wildlife-related recreation – a six percent increase from 2001. The number of hunters and anglers fell from 37.8 million in 2001 to 33.9 million in 2006. The most recent survey also showed an eight percent increase in the number of wildlife-watchers since 2001 but little change in total expenditures for that activity. This report provides a broader and more in-depth look at the data than the Preliminary Findings report issued in May 2007. The full Survey – and additional reports and earlier Surveys – can be downloaded here." (Source: USFWS)

 
Mining Bill / Climate Change Bill / Farm Bill


An update on some bills being watched by SCI in Washington, D.C.: "The House voted 244-166 to send Rep. Nick Rahall's (D-Va.) effort to reform the 1872 hardrock mining law to the Senate, where it will have a much tougher time moving forward. Rahall's H.R. 2262 proposes the first changes to the law since President Ulysses S. Grant signed it 135 years ago. Rahall's bill would establish first-ever royalties on hardrock minerals to fund the cleanup of abandoned mines. The bill would impose an 8 percent royalty on the net smelter return of minerals on new claims and a 4 percent royalty on existing claims filed under the law. The royalty system would collect an estimated $30 million to $70 million for cleanup of abandoned mines on federal lands." President Bush has threatened to veto the bill. Also on the Hill, an Environment and Public Works sub-committee approved by a 4-3 vote the Lieberman Warner S. 2191, 'America's Climate Security Act'. The bill co-sponsors, Sens. Joe Lieberman and John Warner were joined by Sens. Bernie Sanders, John Barrasso, and Johnny Isakson. Senator Boxer was present during the session and stated that she hopes to do a full EPW committee mark-up as soon as possible. And in Farm Bill news, "amendment fights are shaping up in the Senate over whether to shift some of the farm bill's investment in crop subsidies toward conservation or other areas." SCI will keep you posted. (Source: E&E News Daily)

 
Uganda Lifts Leopard Hunt Ban


Below is a follow-up story from the CITES meetings in the Netherlands earlier this year. SCI attended those meetings and reported these events at that time. At CITES, the Republic of Uganda requested the body to allow the hunting of Uganda's leopard population 1) for the exclusive purpose of sport hunting for skins for personal use to be exported as personal effects; and 2) with an annual export quota of 28 leopards for the whole country. According to the story below, Uganda seems to be moving forward.
"An international scientific body has approved Uganda's proposal to lift the 1979 ban on Leopard hunting, the commissioner for Wildlife Conservation at the Ministry of Tourism Trade and Industry has said. This means tourists in Uganda can now sport hunt 28 leopards per year. Mr Justus Tindigarukayo-Kashagire, who was speaking at a public dialogue at Makerere University on Thursday, presented a paper on the "Implications of sport hunting on the status of leopards in Uganda". The Convention on International Trade in Endangered Species of Wild Fauna and Flora (CITES) gave the green light after a presentation of the proposal to lift the ban by officials from the Ministry of Tourism, Trade and Industry and Uganda Wildlife Authority. CITES is an international agreement between governments to ensure that international trade in specimens of wild animals and plants does not threaten their survival. Mr. Mapesa said sport hunting of leopards would make them more valuable rather than being poisoned or killed by the farmers and left to rot. Tourists will also pay for sport hunting the leopards." (Source: The Monitor / AllAfrica.com)

 
Physically Challenged Asked to Apply to Special Deer Management Hunt

A special deer management hunt will be held on Middle Island near St. Mary's, West Virginia on Wednesday, Dec. 12 and Saturday, Dec. 15. The hunt is needed to control the number of deer on the island and improve wildlife habitat. This special hunt will include the use of muzzleloaders and archery. Hunter selection and stand locations will be by lottery. While all hunters are encouraged to apply, three of the accessible stands are available for physically challenged hunters. If you are physically challenged and would like to participate in this hunt, or for complete details about this hunt in general, visit http://www.fws.gov/northeast/ohioriverislands, or call (304) 375-2923.

 
Excise Tax Contributions Top $3 Billion


"The latest report of Firearms and Ammunition Excise Tax Collections released by the Department of the Treasury indicates that firearm and ammunition manufacturers paid more than $76.6 million in the second calendar quarter, up 36 percent over the same time period in 2006, and bringing the 15-year cumulative industry excise tax contribution to more than $3 billion. The second-quarter increase was driven by strong handgun sales, up 44.8 percent, long-gun sales, up 37 percent, and ammo sales, up 29.2 percent. It is projected that $715.5 million in sales was generated in the quarter, not including retail markup or final retail sales. Excise taxes are calculated as a percentage of wholesale receipts, paid quarterly by firearm and ammunition manufacturers, and earmarked for state wildlife conservation and habitat restoration programs." (Source: The Shooting Wire)