November 7, 2008 "In The Crosshairs"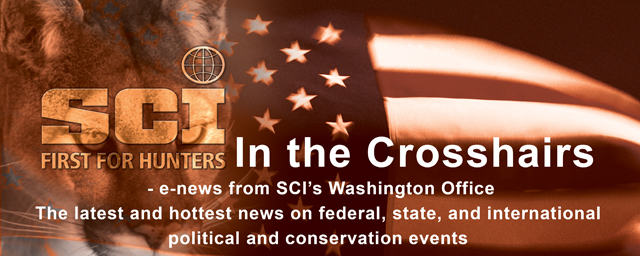 November 7, 2008

 
Fears of a Dem Crackdown Lead to Boom in Gun Sales


"MIDLOTHIAN, Va. – When 10-year-old Austin Smith heard Barack Obama had been elected president, he had one question: Does this mean I won't get a new gun for Christmas?...That brought his mother, the camouflage-clad Rachel Smith, to Bob Moates Sports Shop on Thursday, where she was picking out that special 20-gauge shotgun — one of at least five weapons she plans to buy before Obama takes office in January…Like Smith, gun enthusiasts nationwide are stocking up on firearms out of fears that the combination of an Obama administration and a Democrat-dominated Congress will result in tough new gun laws." (Source: Yahoo News Online) Read the full article here.

 
Measure promotes right to hunt, fish


"OKLAHOMA CITY — Senate Republican leader Glenn Coffee of Oklahoma City believes hunting and fishing are important parts of Oklahoma's heritage. In sponsoring State Question 742, he said he thought it was time to make it a right…The measure would add a new section to the Oklahoma Constitution giving 'all people of this state the right to hunt, trap, fish and take game and fish,' subject to reasonable regulation." (Source: World Tribune Online) Read the full article here.

 
Argentina Changes Regulations on Hunting of Indigenous Species


SCI recently learned that on October 8, 2008 Argentina's Ministry of Environment and Sustainable Development enacted Resolution 1624/2008 prohibiting the "inter-jurisdictional transportation and removal from the country" of puma hunting trophies. This Resolution effectively bans the export of puma trophies from Argentina. Any pending applications for the export of puma trophies submitted prior to the law's enactment are not affected. As SCI learns more about this new law, we will provide further clarification to our members.
If you have any concerns about previous hunts or future puma hunts in Argentina please contact Crosshairs@safariclub.org.

 
Outdoor enthusiasts celebrate approval of Minnesota amendment that will raise state sales tax

"MINNEAPOLIS - Joe Duggan has spent his adult life hunting and fishing, and he's seen a lot of changes. Often not for the better…So he's hoping the constitutional amendment Minnesota voters approved Tuesday will make it easier to find places to hunt and ensure a healthy supply of game and fish for generations to come…Duggan, 57, is a vice president of Pheasants Forever, one of more than 350 groups that supported the Clean Water, Wildlife, Cultural Heritage and Natural Areas Amendment, which will raise the sales tax by three-eighths of 1 percent starting July 1." (Source: Minneapolis Star Tribune) Read the full article here.

 
Botswana: Country Sells 43.3 Tons of Ivory


"Botswana sold 43.3 tonnes of its ivory stockpile to Chinese and Japanese bidders last Friday, Business Today is informed…The desk officer of Convention on International Trade in Endangered Species (CITES) in the Ministry of Environment, Wildlife and Tourism, Diana Chimidza, says Botswana had a total of 43.6 tonnes of ivory to sell…Although the information was still scanty due to on-going computerisation of the data, Chimidza said 21 Japanese and 13 Chinese bidders took part in the sale, which saw Chinese bidders buy the bulk of the ivory, though Chimidza could not say exactly how much.She said prices varied according to quality and that full details about the sale will be released by tomorrow (Thursday). Friday's sale was part of a series of elephant ivory auctions being held in the region for the first time in a decade." (Source: AllAfrica.com) Read the full article here.