November 15, 2010 "In The Crosshairs"
November 15, 2010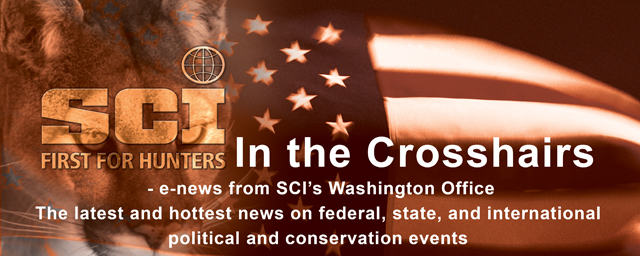 Join us online! The Safari Times October and November 2010 issues are now posted for online so you have the opportunity to test out the new interactive online version. Beginning with the December 2010 issue members will be able to choose whether they want to receive their Safari Times in our new interactive online format or continue to receive a print version. Only members who choose to discontinue print delivery will receive the new interactive online version. We encourage all members to subscribe to Safari Times online. Not only will you receive the Times weeks before the print version, but you will help reduce SCI's printing and shipping costs. These savings will be directed to mission programs like hunter advocacy, wildlife conservation and outdoor education. It is a simple way to help support SCI's missions! It's easy to opt into the online subscription with no added charge by going to the SCI website at www.safariclub.org/times or you may call 1-888-486-8724 and opt for online delivery today!

Wildlife Body Suspends Sport Hunting
"INVESTORS in sport hunting in Uganda's game parks have up to January next year to stop shooting wild animals for fun. This follows a resolution from the Uganda Wildlife Authority (UWA) to cancel hunting concessions offered years ago to the wildlife reserves. 'We are concerned about the dwindling numbers of wild animals in the wildlife reserves. Hunting is prohibited,' said Mark Kamanzi, the acting director of UWA. 'Instead of allowing animals to breed through game farming, the hunters were being offered hunting quotas (allocated areas),' said Kamanzi. Other sources said the board agreed to cancel the hunting concessions in a recent meeting following concerns that animal populations in wildlife reserves were low and that concessionaires were shooting them down." (Source: New Vision Online) www.newvision.co.ug

Are You Planning To Attend The 2011 SCI Annual Hunters' Convention?
The 2011 SCI Annual Hunters' Convention in Reno, Nevada is January 26-29. If you or your friends haven't already registered to attend, do so TODAY at www.ShowSCI.com. SCI is bringing its members the best show in the organization's history. With over 1,200 exhibitors, the SCI Annual Convention is the #1 event for hunters every year, whether you're booking the finest hunt of a lifetime or ordering your personally customized dream rifle. Join SCI in Reno, Nevada again this year and learn more about what you and your family can enjoy at www.ShowSCI.com.

Shrinking N.L. Caribou Herd Leads To Tougher Hunting Restrictions
"ST. JOHN'S, N.L. - The Newfoundland and Labrador government has brought in tough restrictions on caribou hunting in light of a serious decline in the size of the George River herd in Labrador. A recently completed census has put the size of the herd at about 74,000 animals, down from 385,000 in 2001 and 776,000 in 1993. Environment and Conservation Minister Charlene Johnson said Tuesday that the 'current liberal hunting regulations are not sustainable' and the census illustrates the need for immediate conservation measures." (Source: Winnipeg Free Press) http://www.winnipegfreepress.com.

California DFG Proposing To Open State Game Refuges To Hunting
SCI has recently learned that California is reviewing its State Game Refuge Policy to determine whether to eliminate most of these refuge designations, which would increase hunting opportunities. Currently, hunting is prohibited in these California State Game Refuges. Thus, the primary result of eliminating these designations will be that these large land areas will be opened to hunting. Anti-hunting and protectionist groups have already begun opposing this rule change, so it is vital that the California Department of Fish and Game hear from the hunting community. National SCI will be filing comments; however, it is far more important that local members and chapters show their support for this proposal to the California Department of Fish and Game.

Grant Awarded To Wood Bison Restoration Project
"(Juneau) - The Alaska Department of Fish and Game, Division of Wildlife Conservation, has been awarded a grant of $152,320 from the Wildlife Conservation Society (WCS) to help complete the first reintroduction of wood bison to the wild in Interior Alaska. Department staff plans to use the money to help develop a cooperative management plan, set up a temporary corral and move hay and supplies to the first release site in the lower Innoko River area, and transport bison to the release site." (Source: Alaska Department of Fish and Game Press Release) http://bit.ly/cvUYao.

SCI Canada Office Publishes Newsletter
For all those interested in the chapter development of Safari Club International in Canada please click here to view the 2nd Edition of your SCI-Canada Newsletter.

EPA Denies Petition Seeking Ban On Lead Based Fishing Products
"November 4, 2010 (Washington, DC) – The U.S. Environmental Protection Agency (EPA) today denied a petition calling for a ban on the manufacture and use of lead based fishing gear. The Center for Biological Diversity, the American Bird Conservancy, the Association of Avian Veterinarians, Project Gutpile and Public Employees for Environmental Responsibility filed the petition on August 3 to ban the production and sale of lead based ammunition and fishing tackle under the Toxic Substance Control Act (TSCA) of 1976." (Source: Congressional Sportsmen's Foundation Press Release) Learn more at http://bit.ly/caxZfZ.

SCI To Hold Fourth Annual Continuing Legal Education Course For Lawyers At Convention in Reno
Registration will soon be open for SCI's Fourth Annual CLE Course. The course will be held on Friday, January 28, 2011 at the Atlantis Casino Resort Spa and will provide attendees with three hours of CLE credit on a variety of topics concerning domestic and international wildlife, hunting, firearms and importation legal issues and developments. More details will follow in future Crosshairs. Stay tuned!