NOV, 2011 "In The Crosshairs"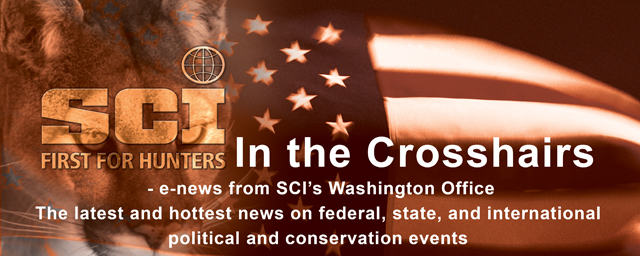 Nov 16, 2011

CONGRESSIONAL ACTION ALERT
SCI Members:
Tomorrow, November 17th, the House Committee on Natural Resources will be voting on H.R 2834, the Recreational Fishing and Hunting Heritage Opportunities Act! This vital piece of legislation would require fishing, hunting and recreational shooting to be included in all federal land planning documents and would fix numerous inconsistencies in federal law that could threaten hunting in the future. This bill has the strong support of SCI and millions of sportsmen across the country. SCI needs your help to get this bill signed into law.
This bill is even more vital in light of the recent push by the administration to remove sportsmen from public land! The administration is trying to close millions of acres of public lands to recreational shooters and this would likely reduce public land hunting opportunities throughout the west.
U.S. News article: "Obama Pushes Shooters Off Public Lands"
Please contact your congressman to urge them to support this bipartisan sportsmen's bill!
Follow this link to contact your congressman.