NOV, 2011 "In The Crosshairs"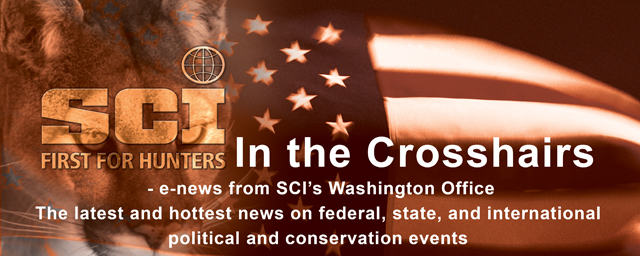 Nov 17, 2011

CONGRESSIONAL ACTION ALERT
For Immediate Release: November 17, 2011
Washington, DC - Safari Club International strongly opposes the draft shooting sports policy that was recently released by the BLM. This draft policy is very likely to diminish shooting access to public lands and could lead to reduced hunting opportunities on BLM lands. It was released to the Wildlife and Hunting Heritage Conservation Council who also have strongly opposed the policy stating it will "have the practical effect of moving recreational shooting off public lands."
"Sportsmen have repeatedly sought to collaborate with the federal agencies and have been greeted with a proposed Bureau of Land Management Recreational Shooting policy that is a slap in the face to shooters and hunters everywhere," stated SCI President Kevin Anderson. "This new policy could lead to a ban of recreational shooting on millions of acres of public land, and reduce hunting opportunities. The policy is also an affront to the foundation of the Executive Order 13443: Facilitation of Hunting Heritage and Wildlife Conservation, the federal advisory committee charter for the Wildlife Hunting Heritage Conservation Council and the Memorandum of Understanding between 42 sportsmen's groups and the federal agencies on Recreational Sport shooting."
SCI finds the reason for this draft policy even more disturbing. BLM believes that sport shooting is not compatible with changing demographics and wants to prioritize "urbanites" over long-time users. Frank Jenks, a natural resource specialist with the BLM is quoted in a recent U.S. News and World Reports Article that "It's not so much a safety issue. It's a social conflict issue," and that urbanites "freak out" when they hear shooting on public lands.
SCI believes that public lands are held in trust for the public and that BLM should manage its lands under its multiple-use mandate and not bow to radical environmental pressure. "Sportsmen will not sit quietly as this administration pushes them off of our public lands and curtails traditional recreational activities", Anderson concluded.
If you would like to help SCI oppose this unprecedented power grab please consider donating to the SCI's Hunter Defense Fund.
Contributions to the Hunter Defense Fund will help us oppose these government overreaches and Protect the Freedom to Hunt!