November 20, 2009 "In The Crosshairs"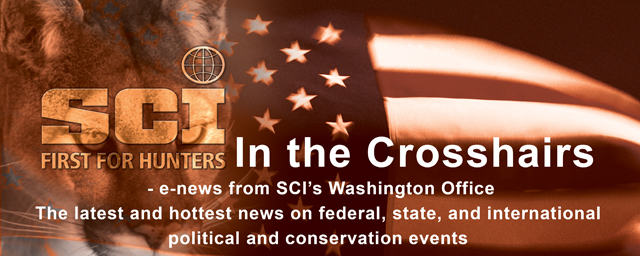 November 20, 2009


SCIF Receives Top Four-Star Rating By Charity Navigator For Third Consecutive Year

Safari Club International Foundation (SCIF) has again received the highest possible rating from Charity Navigator (CN), the independent charity evaluation service, for the third consecutive year.  Charity Navigator is a respected guide to charitable organizations in the United States. In determining its rating, CN considers growth in the organization's ability to raise capital for its charitable purposes, and the efficiency with which its resources are spent. A high rating from CN shows that an organization is effective at attracting donations and at making sure that most of the money is spent on charitable purposes rather than overhead.
"We are proud to announce Safari Club International Foundation has earned our Four-Star rating for its ability to efficiently manage and grow its finances," said Ken Berger, President and Chief Executive Officer of CN, in a letter to SCIF. "Only 13% of the charities we rate have received at least 3 consecutive 4-star evaluations, indicating that Safari Club International Foundation consistently executes its mission in a fiscally responsible way, and outperforms most other charities in America. This "exceptional" designation from Charity Navigator differentiates Safari Club International Foundation from its peers and demonstrates to the public it is worthy of their trust." MORE.


SCI's Defense Of Wolf Delisting Joined By NRA


Safari Club International welcomes the National Rifle Association to its defense of the Northern Rocky Mountain wolf delisting.  On November 17th, Judge Donald Molloy of the federal district court in Montana granted the NRA's motion to intervene in collaboration with SCI.  The anti-hunting groups that brought the lawsuit, led by Defenders of Wildlife and the Greater Yellowstone Coalition, have already filed their opening briefs.  SCI and NRA will soon file a joint brief to support the delisting of Montana and Idaho's wolves.  SCI and NRA collaborated in the past in defense of wolf delistings in the Northern Rocky Mountains and the Western Great Lakes
The delisting has enabled Montana and Idaho to hold their first hunts of their recovered wolf populations.  Montana's season closed after hunters successfully harvested 72 of the state's conservatively planned 75 wolf harvest quota. Read more about Montana's decision HERE.  In Idaho, the wolf season continues.  Hunters have taken 108 of the state's 220 wolf quota. Read more about Idaho's actions HERE.


Migratory Eagles Studied For Lead Ingestion


"New research on the impacts of lead bullet fragments in hunter-killed meat could help scientists determine whether Jackson Hole's gut piles are poisoning eagles from other regions.  So far, biologists with Craighead Beringia South have captured three bald eagles and fitted them with transmitters that will enable them to track the movements of the birds once a day. The group plans to attach seven more transmitters for the study in the coming weeks.  The new research comes after previous studies that show ravens and eagles have significantly higher concentrations of lead in their blood during hunting season compared to other times of the year." (Source: Jackson Hole News & Guide) Read the full story here.


Expert: Banning Hunting Is a Mistake


Gaborone — An expert on Friday warned that the banning of hunting in preference to photographic safaris could have a devastating effect on the environment and the wildlife it is expected to preserve.  (Source: AllAfrica.com Online) Read the full article HERE.