November 21, 2007 "In The Crosshairs"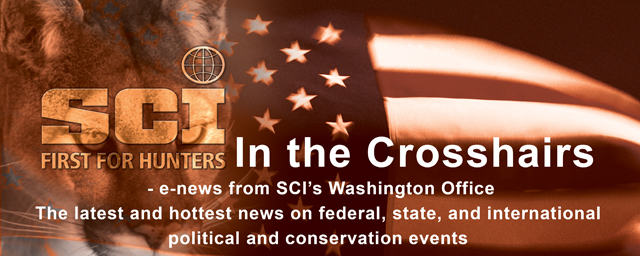 November 21, 2007

 
U.S. Supreme Court to Tackle D.C. Gun Case


In what could be a landmark case on the meaning of the 2nd Amendment, the U.S. Supreme Court will review a Court of Appeals decision that held that the ban on guns in Washington, D.C. is unconstitutional. This pits those who think this right applies to all citizens versus those who feel that it only applies to state sponsored militias. "The U.S. Supreme Court granted a review of a decision from March by the United States Court of Appeals for the District of Columbia in Parker, et al., v. District of Columbia (Circuit docket 04-7041) -- a case that upheld the striking down of the District's ban on private ownership of handguns while asserting that the Second Amendment provides an individual right to keep and bear arms. The case is now known as District of Columbia v. Heller. The mayor of Washington, D.C., Adrian M. Fenty, filed the appeal to the U.S. Supreme Court, setting the stage for the high court to rule. According to FBI statistics, Washington D.C., with its gun ban, ranks as one of the most dangerous cities in the United States and maintains one of the highest per-capita murder rates in the country. The Heller case will be the first time since 1939 that the Supreme Court has addressed the Second Amendment." SCI will keep you posted on the outcome. (Source: NSSF)

 
Government of Canada Re-introduces Bill to Abolish the Long-Gun Registry

"On November 16, in the House of Commons, the Honourable Stockwell Day, Minister of Public Safety, re-introduced important legislative amendments to eliminate the requirement for Canadians to register their non-restricted firearms. These proposed amendments will support the Government's overall strategy to tackle violent crime and keep families and communities safe. This bill would repeal the requirement for businesses and individuals to register non-restricted long-guns; and require firearms retailers to record all sales transactions of non-restricted firearms, as was the case prior to the imposition of the long-gun registry. Gun control measures in Canada continue to include the requirement for gun owners to undergo a background check, pass a firearms safety training course, and hold a valid firearms licence before being able to acquire and possess firearms and to acquire ammunition. These requirements, in addition to enhanced screening measures announced in Budget 2007, will help to maintain public safety for all Canadians. Individuals will also continue to be required to register prohibited and restricted firearms, such as handguns." (Source: OFAH)

 
Botswana Lions and Tanzania Fees - Update from the African Wildlife Consultative Forum

The SCI sponsored African Wildlife Consultative Forum finished up on Friday, November 16, in Pemba, Mozambique. This meeting brought together government officials, outfitters and others in the hunting industry from all over southern Africa. Botswana's zero lion quota remains in effect at this time, however there was positive discussion between government officials and hunting industry representatives. The government said that it had to reduce the overall harvest of lions because of increased killing of lions that are causing agricultural damage. Tanzania's fee increases also remain in effect, although SCI was informed that talks between industry and government are going on at high levels. The Tanzania PH organizations represented at the AWCF emphasized that although they would like support for their position that the increases are unconstitutional, the solutions to the situation will only be found internally and direct foreign pressure will likely be received unfavorably. On other issues, demand for elephant ivory is increasing in internal markets within China, the most significant user of ivory. Poaching and illegal shipments appear to be occurring in response to the demand. Increase in illegal take of rhino horn is also occurring and alleged sport hunting has been implicated in the illegal trade. SCI will review the situation. Tanzania, Mozambique, Malawi, Zambia and Namibia requested assistance from international hunting organizations for developing national lion strategies. This issue may be critical for sustainable use of lions since Kenya proposed listing lions at CITES 14 and may do so again at CITES 15.

 
SCI Offers New Wildlife Law Course for Lawyers


SCI, in coordination the State Bar of Nevada, will offer a Continuing Legal Education course entitled "Principles and Controversies Regarding Wildlife Management and Use." The CLE Course will take place at the Safari Club International Convention in Reno on Thursday, January 24, 2008 from 8:45 A.M. until 12:00 P.M. SCI's litigators, recognized in their community for their expertise in legal matters concerning the Endangered Species Act, the National Wildlife Refuge System Improvement Act, the National Environmental Policy Act, the Migratory Bird Treaty Act, and other wildlife laws, will team with counsel from the U.S. Fish and Wildlife Service and the Association of Fish and Wildlife Agencies to present the three hour course for lawyers. They will draw from their experiences in litigation and regulatory actions that include the delisting of wolves and grizzly bears, black bear hunting in New Jersey, challenges to hunting throughout the National Wildlife Refuge System, the exclusion of mute swans from Migratory Bird Treaty Act protections, and other cases in federal and state courts around the country. The presenters will offer attendees the fundamentals and nuances of current wildlife law issues. The course will provide valuable information to both novices and seasoned wildlife and environmental law practitioners.
SCI Litigation Counsel Anna Seidman and Doug Burdin will be joined by Margaret Hopkins, Counsel to the Director of the U.S. Fish and Wildlife Service, and Carol Bambery, General Counsel to the Association of Fish and Wildlife Agencies. Topics for discussion include species recovery under the Endangered Species Act, tension between federal and state management of wildlife, the use of the ESA for confronting global climate change, NEPA as a sword against wildlife management efforts and other topics of concern to environmental legal practices. For more information about the course and registration, go to www.sci-dc.org/wildlifelawcle or contact Anna M. Seidman in the Washington, D.C. office at aseidman@sci-dc.org.

 
SCI-Alaska Gears Up to Fight Hunting Ban


SCI's Alaska chapters are organizing with other sportsmen's groups throughout the state to help fight a ban on aerial hunting already placed on the 2008 ballot by anti-hunting groups committed to using the ballot box to advance their anti-hunting agenda. This is similar to a fight in 2004, where SCI members played a critical role in defeating a ballot measure to ban bear baiting. SCI chapters in Alaska received funding and support from other SCI chapters from around the country for that initiative. For the new campaign, SCI's Alaska chapters have teamed up with Pac/West Communications and have begun to create the components of a campaign and will soon be looking to raise money. Pac/West has asked for early contributions at this time which can be sent to Alaskans for Professional Wildlife Management, P.O. Box 4053, Palmer, AK 99645. SCI will keep you posted as this campaign progresses over the next year. (Source: APWM)

 
Officials Allege Violations at Hunting Ranges


"Virginia wildlife officials have joined a multistate investigation into the illegal buying, selling and possession of foxes and coyotes for use on private training preserves where hunters pay to run their foxhounds. After surprise inspections Sunday of 41 training preserves, Virginia game officials temporarily closed 31 for alleged violations of the permits that allowed the organizations to keep the animals on their properties. Some of the violations appear to involve only minor and inadvertent lapses in record-keeping, but others could result in state or federal criminal charges against the operators. Many of the preserves are mom-and-pop operations across rural Virginia where fox hunters pay a small fee to train their dogs in fenced compounds that range in size from 100 acres to almost 1,000 acres. The object is generally not to kill the fox but to follow the chase by listening to the pack of baying hounds. But evidently so many foxes had been dying at some training preserves that officials became concerned about their conditions and worried that an interstate fox trade had sprung up. Officers in Alabama's Wildlife and Freshwater Fisheries Division, which began an investigation two years ago that now spans the Southeast, said they arrested 18 people [recently] in Alabama as part of "Operation Foxote" and seized 55 foxes, 25 coyotes, two bobcats, 33 cardinals and one moonshine still." (Source: Washington Post)

 
Correction to UK Hunting Story


In the 11-14-07 edition of In the Crosshairs, we copied a story from the U.K. about the possible reversal of their longstanding hunting ban. To clarify, the story was referring only to the current ban on hunting foxes with hounds while on horseback. Hunting for birds, called 'shooting'; for deer, called 'stalking'; and for ducks and geese on the fore shore, called 'wildfowling', are still legal throughout the U.K. at various times in each country. Contact your local outfitter for more information. Crosshairs apologizes for any confusion this may have caused and will follow up if we receive additional information.
Have a Safe and Wonderful Thanksgiving Holiday Weekend!