NOV, 2011 "In The Crosshairs"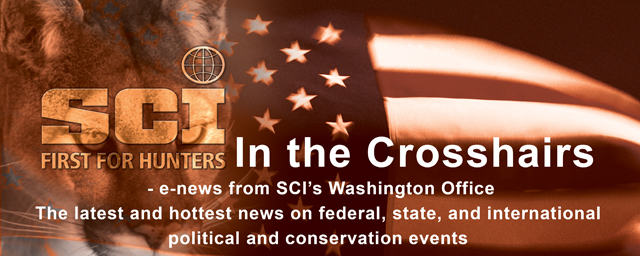 Nov 23, 2011

BLM Retracts Draft Shooting Sports Policy
Sportsmen's Voice Heard By Administration
November 23, 2011 - Washington, DC: Safari Club International has just learned that the Secretary of the Department of the Interior has instructed the Bureau of Land Management (BLM) to cease from implementing their Draft Shooting Sports Policy. The BLM's Draft Shooting Sports Policy was roundly criticized by the hunting community because it indicated that BLM believes sport shooting is not compatible with changing demographics and wants to prioritize "urbanites" over long-time users. SCI members can view the Secretary's memorandum attached to this email.
SCI would like to thank the hundreds of members who graciously donated to the Hunter Defense Fund. Through your contributions, SCI was able to continue applying political pressure on the BLM to retract their anti-sport shooting policy. SCI hopes that a pro-shooting policy can be adopted that will facilitate improved shooting opportunities across the 245 million acres administered by the BLM.
If you are interested in making a contribution to Safari Club International's Hunter Defense Fund to support our continued fight to protect hunting please Donate Today