November 26, 2008 "In The Crosshairs"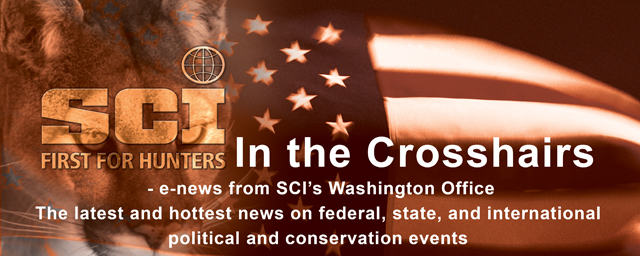 November 26, 2008

 
Opportunity for Hunters to Give Others a Happy Thanksgiving


In this season of giving, Sportsmen and women can give something back by taking part in the SCIF Sportsmen Against Hunger Program. The Sportsmen Against Hunger Program encourages hunters to donate extra game meat to local food banks that provide much needed meat and protein to those less fortunate in our communities. Many food banks have noted a decrease in the amount of charitable giving this season and donating game meat will help bridge a void for others during this critical time. Many SCI chapters are currently conducting Sportsmen Against Hunger feasts around the country. Contact your local chapter if you are interested in learning more about the program and volunteer opportunities in your area. Learn more about the Sportsmen Against Hunger Program and find a list of food banks that accept game meats at SCI Foundation. Please consider volunteering or donating venison to your local food bank this Thanksgiving Season.

 
Americans Love Bison, Don't Know the Risks They Face


"NEW YORK, New York, November 24, 2008 (ENS) - Americans are out of touch with the fact that the American bison, or buffalo, is in trouble as a wild species, but they do love them as an important symbol of their country, and as a meal on the dinner table…The American Bison Society aims to achieve ecological restoration in the next 100 years by encouraging government agencies, conservation groups, ranchers, and others to do all they can to restore the bison's ecological role as an important species…The national survey asked 2,000 Americans more than 50 questions about bison to gauge public awareness about this iconic species, as conservationists grapple with how to best restore populations to the American West and elsewhere…More than 74 percent of those surveyed believe that bison are an extremely important living symbol of the American West, and more than half view the bison as emblematic as a symbol of America as whole." (Source: Environmental News Service Online) Please click on the title to read the full article. Learn more about SCI Foundation's work to restore Wood Bison populations in Alaska go here.

 
7th AWCF Concludes, Common Objectives Realized for Lion Management

For the past seven years, the Safari Club International Foundation has sponsored the African Wildlife Consultative Forum (AWCF). Participants in the AWCF include government officials, NGO's and other individuals. The AWCF provides a unique opportunity for these participants to enhance communication among East and Southern African countries, to obtain updates on current wildlife management practices and conservation issues, and to assist each other in developing solutions to common problems. This year, the AWCF focused on conservation of the African lion and approaches to lion management. Several case studies were presented on current lion research and human-wildlife conflict mitigation. Learn more about SCIF's 7th AWCF in your upcoming edition of Safari Times and upcoming edition of the African Sporting Gazette. Click Here to view photographs of SCIF Staff and AWCF Participants.

 
Hunters Pay for Wildlife Conservation


"In a recent commentary, the Humane Society of the United States attempted to condemn substantive wildlife scientific studies and data with no more than an emotional plea.
Pam Rogers, Kentucky state director for HSUS, cherry-picked numbers and reassembled them to fit the HSUS's anti-hunter/animal rights agenda. She misled readers into thinking there may 'be as few as 89 bears in the entire state.'…That's not even close to being an accurate statement…She plucked that number from an extremely conservative 2007 low-end population estimate for a small study area of three counties, and implied that it is a statewide estimate. In fact, biologists estimate that by 2009, the bear population will exceed several hundred in just those three counties. Since 2002, department personnel have actually laid hands on 98 individual bears in this area…The Kentucky Department of Fish and Wildlife Resources (KDFWR) takes its mission to conserve and enhance wildlife resources very seriously. We are charged with the sound management of all of Kentucky's wildlife. Our management practices are based on decades of scientific study, and as a result, wildlife in our state has flourished. Many species previously extirpated or in decline have returned to healthy numbers." (Source: www.kentucky.com Editorial) Please read the rest of this Op-Ed piece by going to http://www.kentucky.com/589/story/603613.html.

 
Zimbabwe: Cholera Outbreak Kills 294


"The World Health Organization said Friday that 294 people had died in a cholera outbreak in Zimbabwe, fostered by the country's collapsing health care system. Fadela Chaib, an organization spokeswoman, said 6,072 cases of cholera had been reported since August, with a surge in the past two weeks. Poorly maintained sewerage systems and a lack of clean water have allowed the waterborne intestinal disease to thrive. The deepening political and economic crisis in Zimbabwe has crippled the country's health system. The W.H.O. warned that the outbreak was likely to continue as water and sanitation conditions were worsening. The aid group Doctors Without Borders has warned that 1.4 million people are at risk." (Source: NY Times Online). To view this article online please go to http://www.nytimes.com/2008/11/22/world/africa/22briefs-CHOLERAOUTBR_BRF.html?_r=1&oref=slogin.
Health concerns like this one should be heeded by SCI members when traveling abroad. If you have questions about health risks in countries from around the world, please visit the U.S. Center for Disease Control travel reference website.
The U.S. State Department also issues travel warnings to adequately notify individuals of situations of concern in various foreign countries. You may view the latest U.S. Travel Warnings at http://travel.state.gov/travel/cis_pa_tw/tw/tw_1764.html.

 
A More Dangerous Game, Bears On The Golf Course, Deer On The Windshield, Wolves On The Walk Back Home

"THE TWO WOLVES emerged like specters from the tree line and crossed a field of snow. From that moment, and even after everything that followed, no one disputed their penetrating beauty. Silver on white…Two men watched them approach. The men—a pilot named Todd Svarckopf and an aviation worker named Chris Van Galder—worked at Points North Landing, an outpost that serves local mining camps in Saskatchewan province, about 750 miles north of the U.S. border. On this particular day in November 2005 a low cloud ceiling prevented aerial surveys for signs of uranium, so the bored men had struck out, walking toward a nearby junkyard to kill a few hours looking at a collection of abandoned airplanes…They had crossed the camp's snow-covered airstrip and started across the moss-sprung landscape when the wolves appeared. One darker, one lighter. The darker one approached Svarckopf. He yelled at it, and it retreated a few steps… 'Whatever we do,' the pilot told Van Galder, standing nearby, 'we don't turn and run.'" (Source: Sports Illustrated Online, by Matthew Teague) Please read the rest of this article by going here.


Budweiser Conservationist of the Year – Voting ends Nov 30th


Please take the time to vote for one of these SCI members and make sure to encourage your family, friends and co-workers to do the same. To vote for Cliff McDonald or Phil Taunton, please go to the Budweiser website at www.budweiser.com. After entering the site by inserting your birth date, you then click on the Budweiser button and from the dropdown list, choose "Great Outdoors." Click the "Vote for Conservationist of the Year" button. Locate either Cliff McDonald or Phil Taunton's bio and vote for your choice. Alternatively, you can vote by mailing a 3" X 5" card or paper to Budweiser. Cards should be addressed to "2009 Budweiser Conservationist of the Year; P.O. Box 750088, El Paso, TX 88575-0088." The card should include your name, age, address and the name of the candidate for whom you are voting. The voting deadline is Nov. 30. Persons voting must be 21 years old or older and there is a limit of one vote per person.