November 30, 2007 "In The Crosshairs"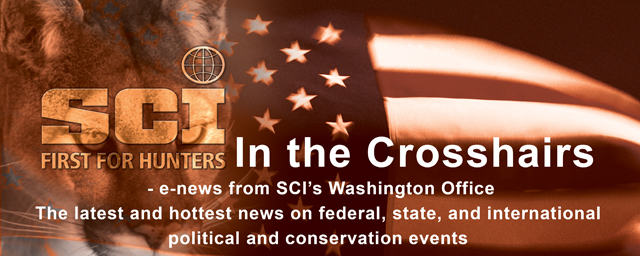 November 30, 2007

 
Tanzania Fee Increase Issue Resolved?


SCI sources out of Tanzania, and a recent article in the Hunting Report, indicate that some sort of compromise has been reached between the Tanzanian government and the outfitter organizations in that country. Crosshairs doesn't have any more concrete details at this time but we urge all international hunters headed to Tanzania to contact their outfitters for a full update. When more details become available, we will let you know.

 
Conflicting Reports on Farm Bill


While one report out of D.C. says that "Senate leaders are near an agreement that would limit amendments to the 2007 farm bill, meaning the measure could be back on the floor as early as next week" other sources are saying that politicians are getting frustrated with the process and "would extend the current farm bill for one year," (meaning no changes to the current law). Some "Democrats want to be able to offer at least five amendments to the [Farm Bill] legislation ( HR 2419 ), and Republicans would be given time for 10 amendments. If Majority Leader Harry Reid, D-Nevada and Minority Leader Mitch McConnell, R-Kentucky, succeed in reaching an agreement on amendments, one proposal likely to see floor action is a proposal by Sen. Richard G. Lugar, R-Indiana, to make deep cuts to farm subsidies in favor of a broader crop insurance program." However, "Senate Agriculture Committee Chairman Tom Harkin, D-Iowa, suggested that if the bill fails to get cloture before the end of the year, it might be better to wait until the next Congress, after next year's elections." SCI will keep you posted. (Source: CQ Today )

 
SCI at NASC Annual Legislator Summit


SCI President-Elect, Merle Shepard, and D.C. staff member Nelson Freeman attended the National Assembly of Sportsmen's Caucuses 4th Annual State Legislator Summit at the Bass Pro Shops Big Cedar Lodge in Branson, Missouri. This year's meeting, which ended today, was attended by over 40 state legislators from around the nation. NASC announced the creation of four new state caucuses in Utah, Montana, Alaska and Arizona, bringing the total number to 34. Key sportsmen's topics at the summit included the Presidential Hunting Executive Order, funding for state fish and game agencies, and general firearm issues. Past NASC meetings have brought legislators together with the conservation industry to share and promote ideas, such as the apprentice hunting program, which is now law in over 10 states nationwide. SCI has been a partner with NASC since its inception.

 
SCI Files Comments Opposing Expansion of California Lead Ammunition Ban


SCI has filed two sets of comments opposing any regulatory expansion of the statutory lead ammunition ban in condor "range," recently enacted by the State of California. The statutory ban covers big game and coyote hunting. The California Fish and Game Commission is considering whether to adopt a regulatory lead ammunition ban for nongame bird and mammal (other than coyote) hunting. (Although not "game," California law allows the hunting of these species, subject to method of take and other regulations.) As the environmental document the State prepared demonstrates, these types of hunting have not been proven to adversely impact the condor. SCI also argued that the Commission must define non-lead ammunition to allow trace amounts of lead. Testimony given to the Commission indicates that all "non-lead ammunition" contains trace lead amounts. A strict definition requiring absolutely no lead content would effectively end big game and coyote hunting in the expansive area of California classified as condor "range" (roughly 1/3 of the State). The Commission may vote on the regulatory ban as early as December 7, 2007.

 
Notes From the Upcoming SCI Convention


Comedic icon Dana Carvey, listed as one of the top 100 comedians of all-time, may be calling to personally invite you to join him during the grand opening dinner program of the 36th Annual Hunters' convention on Wednesday, January 23, 2008 in Reno, Nevada. His performance that night will rock the house with laughter. Don't wait until he harasses you on the telephone! Join SCI and Dana by registering for the 2008 convention now.
Pre-convention attendance numbers are at highest levels in the 36-year history of the show! The all-new on-line registration found on SCI's website has been a great tool for members to use for early purchase of registration and event tickets. On average, 31% of the registrations have been handled through the on-line process. On the website you can view the show floor, search for exhibitor locations and plan your way around the event. Get on-line to view the Auction Preview Guide and Evening Auction guide where you can browse over 1,100 auction items including over 400 hunts as well as find out what time they will be selling.
The registration phone agents are extremely busy throughout the holiday season taking calls from members and those joining SCI in order to attend the show. Don't wait! Call 888-746-9724 or go on-line to www.safariclub.org to pre-register while there is still time. Pre-registration prices end December 14. The last day to register by phone or mail is January 11. The website registration will remain open through January 16. After that walk-up registrations are taken on-site starting Wednesday, January 23, 2008 at 7:00 a.m. Don't miss this amazing convention, come to Reno and "Own the Adventure".

 
Canada Sets Aside Vast Northern Wilderness


"Canada's government set aside 25 million acres of wilderness -- 11 times the size of Yellowstone National Park -- for conservation, a move that environmentalists called one of North America's most important acts of nature preservation. The land in Canada's Northwest Territories is in three huge tracts that will be used to create a national park, a national wilderness area and a conservation area administered by native groups under treaty rights. The areas are wild, scenic and remote. They have been eyed with increasing interest by diamond, uranium, and oil and gas developers, and the action by Canada's ministries of environment and Indian affairs will prevent mining, drilling and most timber-cutting in the areas. Native groups, environmentalists and others have been working to designate the land for years. They reached a tentative deal on the national park in 2006, but yesterday's action formally withdraws the land from development. The 6.5 million-acre national park will be created on the eastern edge of Great Slave Lake, a pristine, glacier-carved body of water that is prowled by grizzlies and caribou and remains frozen eight months a year. About 400 members of the Lutsel K'e Dene tribe live there. Farther west, a 3.7 million-acre national wildlife area will be created in a region called the Ramparts, where towering stone cliffs line the Mackenzie River and key wetlands border the Ramparts River. Buffering Great Slave Park will be a 15 million-acre conservation area administered by the Akaitcho native tribe." (Source: Washington Post)

 
Report Shows National Wildlife Refuges Provide Economic Boost


"Recreational use on national wildlife refuges generated almost $1.7 billion in total economic activity during fiscal year 2006, according to a new report released by the U.S. Fish and Wildlife Service. The report, titled 'Banking on Nature 2006: The Economic Benefits to Local Communities of National Wildlife Refuge Visitation' was compiled by Service economists. According to the study, nearly 35 million people visited national wildlife refuges in 2006, supporting almost 27,000 private sector jobs and producing about $543 million in employment income. In addition, recreational spending on refuges generated nearly $185.3 million in tax revenue at the local, county, state and federal level. About 87 percent of refuge visitors travel from outside the local area. Using findings from 80 national wildlife refuges considered typical in terms of the nation's recreational interests and spending habits, the report analyzed recreational participation in and expenditures for freshwater fishing, saltwater fishing, migratory bird hunting, small game hunting, big game hunting and non-consumptive activities, including wildlife observation. Calculation of the total economic activity included money spent for food and refreshments, lodging at motels, cabins, lodges or campgrounds, and transportation." (Source: USFWS)

 
Expedition Safari Television Presents Special Episode


A very special episode of SCI's Expedition Safari premieres this Saturday morning on the Versus network. Miles Miller, a young hunter with cerebral palsy, travels from his home state of Missouri to the Rocky Mountains of Colorado to chase his dream of hunting elk. The episode also features SCIF's Pathfinder Program for disabled hunters. The reaction of young Miles to his first elk is an emotional experience unlike anything ever seen on any other hunting show. Show times have changed from recent weeks, so log on to www.sciexpeditionsafari.com for show times and to find Versus in your area.