December 4, 2009 "In The Crosshairs"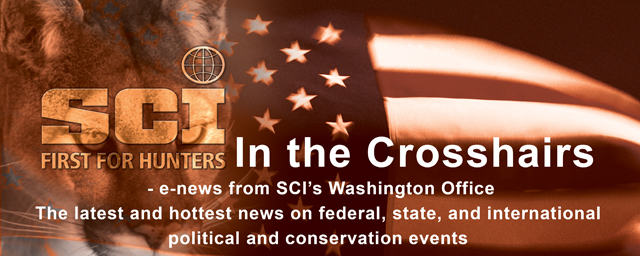 December 4, 2009


Follow Safari Club International On Facebook.com And Twitter.com!


SCI would like to welcome and encourage all members to begin following Safari Club International on www.facebook.com and www.twitter.com. These two venues will provide YOU, as a member of SCI, all the latest information and updates to tell the SCI story to those who are not yet members. Because it is free for everyone to join and participate in the SCI Facebook and Twitter pages, we encourage you to share these links with all your hunting friends! Please click HERE to view the Facebook.com page and click HERE to view the Twitter.com page.


United Airlines Policy Prohibits Antlers In Checked Bags


Make sure your hunting season plans are not hampered by unfair antler restrictions currently imposed by United Airlines. At the present time, United Airlines is prohibiting you from traveling with antlers as part of your checked baggage. Flying with antlers has been and is still acceptable for nearly every other airline operating in North America. Members should plan accordingly to ensure their antlers arrive home safely or consider other airlines. Read more about United's current policy here.
SCI is in negotiations with United Airlines, seeking to change their policy that prohibits individuals from flying with antlers as part of their checked baggage.  United is in the process of creating a partnership with FedEx to provide door to door pick-up and delivery of properly packaged antlers within the continental 48 states. SCI provided acceptable dimension requirements and handling procedures, explained that the majority of antlers as baggage will originate in Canada and that MANY SCI members have incurred considerable expense to ship antlers back to the lower 48 states.  Until just recently, United had not yet posted their antler restriction policy publicly. Currently though, United and FedEx do not yet have the capacity to provide door to door delivery from Canada to the US, the biggest markets for antlers as baggage. Please inform other traveling hunters about United's policy and SCI will be sure to continue pushing United and FedEx to allow delivery of antlers originating in Canada.


UPDATE: Zimbabwe Hunting Season Remains Open


SCI has received confirmation yesterday disputing the rumor that Zimbabwe had closed hunting for the 2009 and 2010 seasons.  SCI communicated with the Zimbabwean government and learned that hunting for the remainder of the 2009 and for 2010 will continue while Zimbabwe engages in enhanced measures to curb poaching.  Zimbabwe's government, responding to allegations that some 2009 hunting permits were being forged, are now taking extra precautions to confirm that all government issued hunting permits are in fact legitimate. Moving forward into next year, the government will create new government permits that have better forgery security. Below is an excerpt from the Zimbabwean Wildlife Authorities office that verifies the status of hunting for the 2009 and 2010 seasons.
"We advise that the suspension was solely  for the purpose of verifying the authenticity of the permits.  There have been several allegation of illegal hunts taking place in the country using forged permits.  This may result in clients not being able to export their trophies from Zimbabwe which in turn may discredit hunting in the country.  As a result it was felt prudent that all permits used for hunting this season should have their authenticity verified, hence this exercise.  In addition this exercise would put the Authority in a position where it can confidently comment on the legality or illegality of the hunts.  All illegal hunts will then be published and perpetrators brought to book.  Furthermore the current permit system will be reviewed to add more security features to reduce or avoid the use of forged permits.  We advise clients that hunting in Zimbabwe has not been stopped but that potential clients should assist in the verification process.  This can be done through our offices by contacting the Business Development Manager responsible for hunting who is Mr. Tawanda Chipere, available on tchipere@zimparks.co.zw  or telephone +263 912 420 496 or + 263 4 792731 direct line." - Dr. Mtsambiwa, Director General, Zimbabwe Parks and Wildlife Management Authority.


SCI Hunters' Convention Registration Deadline Approaching


SCI reminds you that the deadline for early registration for the SCI Annual Hunters' Convention is Saturday, December 12th.  The $50 you save with early registration can be used to purchase luncheon and dinner tickets, participate in daily auctions or spent on many of the show specials offered by exhibitors.  If you have been putting off your purchase, NOW is the time to visit www.showsci.com before prices go up.


Registration for Wildlife Law CLE Course Now Open


SCI's Litigation Department is now taking registrations for its third annual Continuing Legal Education Course, scheduled for January 22, 2009, from 1:00 P.M. – 4:15 P.M.  The course, co-sponsored by the State Bar of Nevada, will be held during SCI's Annual Convention in Reno, Nevada at the Atlantis Casino Resort Spa, 3800 S. Virginia Street, Reno, Nevada   89502.  The fee of $139.00 will cover the three hour continuing legal education course, written materials, single same day admission to SCI's convention on Friday, January 22, 2009, and a social hour following the course.  You may register for the course with SCI by filling out the registration form and by mailing, faxing, or e-mailing it to SCI, c/o Anna M. Seidman, 501 2nd Street NE, Washington, D.C.  20002, Fax: 202-543-1205, E-mail: aseidman@safariclub.org.  If you are paying by check, please make your check out to The State Bar of Nevada. SCI will seek CLE credit approval from the state bars of all attendees. If you have any questions, please contact Anna Seidman at 202-543-8733.


SCI Files Comments In Support Of Elk Hunting Outside Of Wind Cave National Park To Manage Herd

SCI filed comments in support of a National Park Service plan to enhance elk hunting outside of Wind Cave National Park as a way to reduce the size of the herd inside the Park, where hunting is not allowed.  The Service will use various means of increasing the elk hunting outside the Park, including selective fencing and herding.  SCI's only criticism of the plan was the selection of roundups instead of using skilled volunteers from the hunting community as the second choice for culling the herd.  SCI expect a final record of decision from the Park Service within the next month or two.


SCI Moves Ahead With Defense of Northern Rocky Mountain Wolf Delisting


SCI's Litigation Department filed its initial brief on December 2, 2009, to support the U.S. Fish and Wildlife Service's decision to delist the wolves of Montana and Idaho.  The brief endorses the FWS's confidence in Montana and Idaho's ability to manage their wolves, the strength of the science documenting the wolves' recovery and the intent of Congress to give the FWS the authority to specify which portions of a species' range no longer require federal protection.  The NRA has joined SCI in its intervention in the litigation.  Briefing will continue in the case through early next year.  SCI will continue to keep you posted on this case and also on the status of the Western Great Lakes wolves as information becomes available.