December 11, 2007 "In The Crosshairs"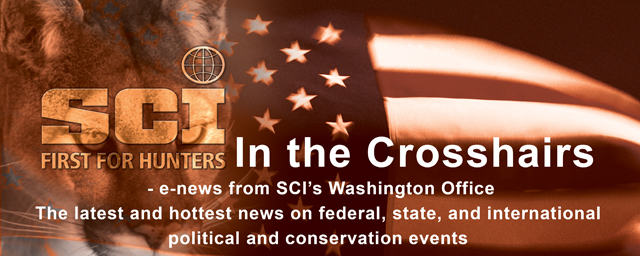 December 11, 2007

 
Rocky Mountain National Park to Allow "Qualified Volunteers" to Help Cull Elk Herds

Safari Club International, and other organizations that promote sustainable use wildlife management, have scored a significant victory for wildlife management in the National Park system.
An elk management plan released this week for Rocky Mountain National Park has approved the use of "qualified volunteers" as agents to help park personnel cull excessive elk herds that have plagued the park's ecosystem. Because the plan specifies that the volunteers will have to be "certified in firearms training, be specially trained in wildlife culling," and pass a proficiency test, SCI expects that these "qualified volunteers" will come from the hunting community.
This major step in wildlife management marks the first time that the National Park Service has given its blessing to the use of qualified volunteers as "authorized agents" for culling purposes in a National Park (other than when required to do so by Congress, such as in Grand Teton National Park).
The use of unpaid volunteers should allow the Park Service to save on the new estimated cost of $6.1 million for the culling program over the next 20 years. Additionally, most of the meat from the culled elk will be donated to area food banks and other charities. SCI's Sportsmen Against Hunger program, active in Colorado and the rest of the United States and around the world, has provided harvested meat to food banks and other charities for 18 years.
SCI has long advocated the use of hunters for NPS wildlife management, has written extensive comments in support of this approach and has lobbied on Capitol Hill in support of bills that would authorize the use of members of the hunting community to cull excessive elk herds on National Parks.
"This is a tremendous step forward," said SCI President Dennis Anderson. "Hunters have long been at the forefront of wildlife and habitat conservation. Now, as qualified volunteers, members of the hunting community will be able to continue this proud tradition by assisting the Park Service in managing excessive elk herds in Rocky Mountain National Park. With savings of public funds and better assurance that the meat will be properly utilized, using members of the hunting community is a 'win-win' situation."
The Plan does not call for the use of contraceptives to manage the herds, although it authorizes a study of the effectiveness of a multi-year fertility control agent. Contraceptives have not been demonstrated to be effective at controlling populations of wild, free-ranging elk. Only hunting and culling have proven to be efficient and cost-effective.
Within the next 30 days, the Park Service will make a final decision on the elk management plan, likely adopting a culling program using Park Service personnel and authorized agents, including qualified volunteers from the hunting community.

 
Cambodia Plans Hunting Safaris for VIP Tourists

"Cambodia is considering laying on hunting safaris for well-heeled foreign tourists in its remote jungle-clad northeast, to the consternation of green groups who say it could be a recipe for disaster. Officials said on Tuesday a Spanish firm called Nsok Safaris had already drawn up plans for a five-star jungle camp to house hunters after trophies on a list of 30 mammals, birds and reptiles in a 100,000-hectare (250,000-acre) forest reserve. The area, in Mondulkiri and Rattanakiri provinces, is home to several indigenous hill-tribes whose first main contact with the outside world was during the Vietnam War when their territory was crossed by the myriad paths of the Ho Chi Minh trail. Dany Chheang, deputy director of the Agriculture Ministry's Wildlife Protection Office, said allowing foreigners to pay to shoot game was far better for conservation than having poachers take it illegally. 'The money we net will be invested in preserving the animals and forest. It is better for sustainable development than letting local hunters deal with cheap black markets.' He did not say what the 30 approved species were. The forest area is thought to be one of southeast Asia's last wildernesses and is home to wild elephants and tigers." (Source: Reuters)

 
Latest Hunting and Fishing Survey Information Now Available


AnglerSurvey.com and HunterSurvey.com have released their year end survey figures. At the link below, you can find basic and attitudinal information on fishing equipment and techniques, environmental impacts of hunting and fishing, gas prices, global warming, shooting ranges, the current crop of presidential candidates and more. The link to all the surveys can be found here.