December 11, 2009 "In The Crosshairs"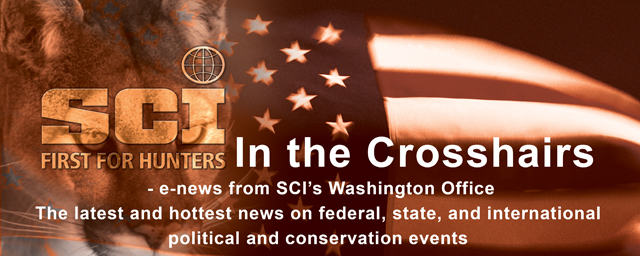 December 11, 2009


SCI Hunters' Convention Registration Deadline Approaching


SCI reminds you that the deadline for early registration for the SCI Annual Hunters' Convention is Saturday, Dec. 12th.  The $50 you save with early registration can be used to purchase luncheon and dinner tickets, participate in daily auctions or spent on many of the show specials offered by exhibitors.  If you have been putting off your purchase, NOW is the time to visit www.showsci.com before prices go up.


Wildlife Conservation Stamp Endorsed By SCI


Washington, DC – Safari Club International (SCI) commends the House of Representatives for passing HR 1454, the Multinational Species Conservation Funds Semipostal Stamp Act of 2009. This key conservation legislation was introduced and championed by Congressional Sportsmen's Caucus member Rep. Henry Brown (R-SC).   The Multinational Species Conservation Funds Semipostal Stamp Act would directly benefit some of the most cost effective conservation programs administered by the U.S. Fish and Wildlife Service. (more)


SCI Moves to Join Lawsuit to Defend Necessary Wild Horse Roundup in Nevada

On Thursday December 10, SCI and SCIF filed for intervenor status in the D.C. District Court to join the Bureau of Land Management in defending its decision to round up about 2,400 excess feral horses from the Calico Mountains Complex in Nevada. An animal rights group filed the suit and has asked the Court to halt the much needed roundup scheduled to begin December 28.  The Complex currently is home to approximately three to five times as many horses as the Bureau has determined is the appropriate management level.  These excess horses cause great harm to the ecosystem, including the vegetation, water sources, and other wildlife.  SCI members and others hunt many of the species, such as mule deer, pronghorn antelope, and sage grouse, adversely affected by the wild horse overpopulation.  SCI will attend the hearing on the injunction request scheduled for December 16.


Follow Safari Club International On Facebook.com And Twitter.com!


SCI would like to welcome and encourage all members to begin following Safari Club International on www.facebook.com and www.twitter.com. These two venues will provide YOU, as a member of SCI, all the latest information and updates to tell the SCI story to those who are not yet members. Because it is free for everyone to join and participate in the SCI Facebook and Twitter pages, we encourage you to share these links with all your hunting friends! Please click HERE to view the Facebook.com page and click HERE to view the Twitter.com page.


Share The SCI Experience With Non-Members TODAY


Safari Club International is offering a FREE trial offer to hunters everywhere. SCI is First for Hunters, standing up to protect the freedom to hunt while promoting wildlife conservation worldwide.  As members of SCI it is vital that we continue to grow our ranks. Please help SCI reach out to individuals who have never been a part of our institution. To lead our community as First for Hunters, new members must join to continue our Fight to Defend our Hunting Heritage. Share this FREE TRIAL with friends who have never joined TODAY.
http://www.scifirstforhunters.org/join/eAssociate-free-trial/


Congress: Passengers Can Bring Guns On Amtrak Trains


On Tuesday night Congressional negotiators reached an agreement that the final version of a transportation bill would include an amendment that restores the right of Amtrak travelers to pack their firearms in checked baggage. (more)


Registration for Wildlife Law CLE Course Now Open


SCI's Litigation Department is now taking registrations for its third annual Continuing Legal Education Course, scheduled for January 22, 2009, from 1:00 P.M. – 4:15 P.M.  The course, co-sponsored by the State Bar of Nevada, will be held during SCI's Annual Convention in Reno, Nevada at the Atlantis Casino Resort Spa, 3800 S. Virginia Street, Reno, Nevada   89502.  The fee of $139.00 will cover the three hour continuing legal education course, written materials, single same day admission to SCI's convention on Friday, January 22, 2009, and a social hour following the course.  You may register for the course with SCI by filling out the registration form and by mailing, faxing, or e-mailing it to SCI, c/o Anna M. Seidman, 501 2nd Street NE, Washington, D.C.  20002, Fax: 202-543-1205, E-mail: aseidman@safariclub.org.  If you are paying by check, please make your check out to The State Bar of Nevada. SCI will seek CLE credit approval from the state bars of all attendees. If you have any questions, please contact Anna Seidman at 202-543-8733.