December 13, 2010 "In The Crosshairs"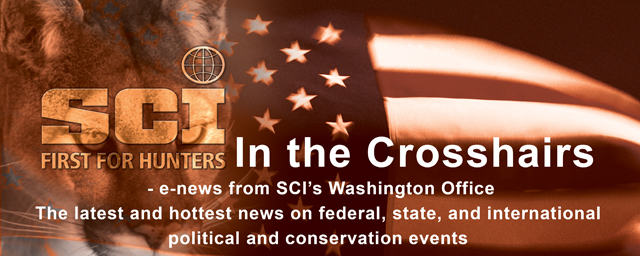 December 13, 2010


SCI Represents Hunting Community In Defense Of New Jersey Bear Hunt


Washington, D.C. – When New Jersey finalized policies in November authorizing a bear hunt, Safari Club International (SCI) and the New Jersey State Federation of Sportsmen's Clubs (Federation) prepared to defend against what was sure to be a last minute challenge to the hunt.  Just weeks before the hunt was scheduled to begin on Dec. 6, anti-hunting groups filed a lawsuit and asked the court to stop the hunt.  SCI and the Federation quickly filed papers to intervene in the case and oppose the anti-hunting groups' request for an injunction to stop the hunt.  First, the lower appellate court and then the State Supreme Court rejected the anti-hunting groups' request for an emergency injunction.  The hunt began as scheduled last Monday and continued as planned until it ended on Saturday.  A total of 589 bears were harvested, well within the predicted harvest of 500-700 bears.  Despite protests from anti-hunting advocates, the hunt appears to have been a success.  The Animal Protection League of New Jersey and the Bear Education and Research Group have vowed to continue their lawsuit to try to stop next year's hunt.  SCI and the Federation will continue to represent hunters' interests in the case.  Read more at http://bit.ly/gBqWiT.


Plan Your 2011 SCI Annual Hunters' Convention Today


Your immediate action is required to ensure you get the flight of your choice to Reno. Book your airfare NOW! At this moment, great flights are still available to Reno for The Ultimate Hunters' Market®. Earlier in the year, several airlines had agreed to add wider bodied jets or additional segments to existing routes to accommodate the expected increase in travel to Reno in January. These airlines are constantly evaluating market, and are looking to maximize efficiency. If they don't see an increase in booking they will eliminate unused seats – if you do not act now! Do not wait until closer to convention and find out those seats are gone.  Learn more about the travel options to Reno by going to http://bit.ly/dSxLKv or by clicking HERE.


Are You Planning To Attend The 2011 SCI Annual Hunters' Convention?


The 2011 SCI Annual Hunters' Convention in Reno, Nevada is Jan. 26-29. If you or your friends haven't already registered to attend, do so TODAY at www.ShowSCI.com.  SCI is bringing its members the best show in the organization's history. With over 1,200 exhibitors, the SCI Annual Convention is the #1 event for hunters every year, whether you're booking the finest hunt of a lifetime or ordering your personally customized dream rifle. Join SCI in Reno, Nevada again this year and learn more about what you and your family can enjoy at www.ShowSCI.com.


Hunters Paying $150,000 To Kill An Endangered Rhino May Save The Species


"In June 1996 a game rancher named John Hume paid about $200,000 for three pairs of endangered black rhinos from the wildlife department of the South African province of KwaZulu-Natal. Among them was a male who would come to be called 'Number 65,' and whose death would play a central role in the debate about conservation." (Source: Bloomberg News Online) Read more by clicking HEREor http://bit.ly/eeq8pM.
"Brendan Borrell's piece on Bloomberg news tackles rhino trophy hunting by the horns. As previous visitors to our website and Facebook pages will know by now, Save the Rhino International is in favor of the sustainable use of wildlife, including culling, cropping and trophy hunting, provided it is carefully managed so that wildlife populations as a whole are not harmed and that the proceeds are directed back into conservation. You can read more about the arguments on either side by following the links listed under May 2010 on our partnership with Safari Club International, here."  (Source: Save The Rhino Trust) Read the full article HEREor by clicking http://bit.ly/hgWkoT.


SCI, SCI Foundation Announce New COO


Tucson, AZ - Safari Club International (SCI) and Safari Club International Foundation (SCIF) are proud to announce Kevin Scott as the new Chief Operations Officer (COO) for the SCI & SCIF worldwide organizations. Scott started his duties as the COO of SCI and SCIF on Dec. 3, 2010. Learn more about Kevin's role at SCI and SCI Foundation by going to http://bit.ly/eZbA4Y.


Information Concerning Jaguar Conservation In Peru


SCI would like to provide some documents from the government of Peru concerning the commercial hunting of jaguars.  According to documents received by SCI, the hunting of jaguars within Peru is illegal. Please see the following document: HERE or http://bit.ly/fxpmVp.


Pneumonia Hits Western Bighorn Herds


Over the past year, bighorn sheep in 11 herds in Montana, Nevada, Washington, Wyoming and Utah caught pneumonia. More than 1,000 — or about half in the affected herds — succumbed or were culled, with Montana alone losing about 10 percent of its bighorns. (Source: Eastern Oregonian Online) Read more at http://bit.ly/gp4flQ.


Registration For SCI's Fourth Annual Continuing Legal Education Course Is Now Open

Join us for "Current Issues in Domestic and International Wildlife and Hunting Law" on Friday, January 28, 2011 from 2:00 P.M. – 5:15 P.M. at the Atlantis Casino Resort Spa, 3800 S. Virginia Street, Reno, Nevada.  Registration fee of $139.00 (same price as last year) includes seminar (3.0 hours of CLE credit – no Ethics), written materials, and single, same-day admission to the SCI Convention.  Use State Bar of Nevada's on-line registration. Go to: http://www.legalspan.com/nvbar/catalog.asp?ItemID=20101118-166130-124419. 


SCI Defends Use of Traditional Ammunition in Arizona Strip


SCI filed a brief last week in Federal court in Arizona to help defend the continued use of traditional lead ammunition in a large federal land unit north of the Grand Canyon.  In planning documents, the Bureau of Land Management continued to allow the State of Arizona to decide what types of ammunition could be used for the high quality hunting in the Arizona Strip.  The State encourages the use of non-lead ammunition but does not require it.  The Center for Biological Diversity sued to force the Bureau to ban all traditional lead ammunition use in the Strip.  The Center also is trying to limit the use of off-road vehicles, which many hunters use for access and game retrieval in the Strip.  SCI's brief described the adverse impact of the Centers requested relief and argued why the government made the correct decision in deferring to the State.  The NRA is also participating in the case, working with SCI.  Briefing in the case will continue throughout the winter, with a possible decision next spring.