December 14, 2007 "In The Crosshairs"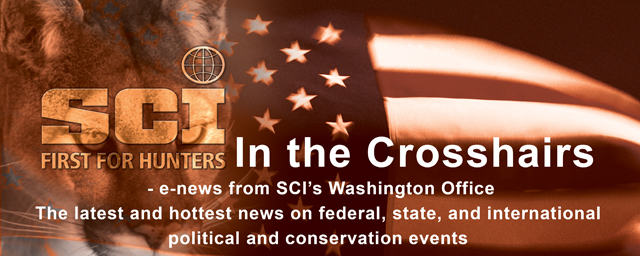 December 14, 2007

 
RSA Excludes Lions from New Regulations – For Now


Marthinus van Schalkwyk, The Minister of Environmental Affairs and Tourism, has announced amendments to the upcoming regulations in South Africa. The implementation of these regulations was originally delayed due to concerns raised by the provincial authorities but are now scheduled to go into effect on February 1, 2008. The big change affecting international hunters is that the definition for large predators has been changed to temporarily exclude lions pending the outcome of the South African Predator Breeders Association court case against the Minister. "In a spirit of cooperative governance and in ensuring that all views and opinions from all affected parties are heard, we felt it necessary to engage in this thorough consultative process with these stakeholders before the implementation phase of the regulations could begin" said van Schalkwyk. "We have now ensured that possible gaps and loop holes are closed and agreed upon by all to ensure that we present to the industry water tight regulations." For a full description of the amendments, please click here or visit www.safariclub.org under International Affairs/Africa.

 
Farm Bill Headed for Senate Passage


"After weeks of stalemate, the Senate is prepared to pass the 2007 farm bill on Friday [December 14]. Senators may take up a handful of amendments, and a vote on final passage is expected to follow. Majority Leader HarryReid, D-Nev., made a last-minute decision to invoke cloture on the five-year, $286 billion measure (HR2419) on Thursday night, and the motion to limit debate succeeded 78-12. As a result, only amendments ruled germane by the parliamentarian will be in order on Friday. That process was continuing late Thursday." SCI has tracked this process because of billions of dollars spent on conservation needs, which appear to remain intact at this time. Also, it seems that Open Fields language was included in the bill. This would encourage land owners to voluntarily make their land available for access by the public, something SCI has lobbied on for a long time. SCI will keep you posted. (Source: CQ)

 
Alaska Campaign Moving Forward


Alaska's predator populations, including wolves, continue to expand while moose and caribou herds are being decimated. Alaska's newspapers have repeatedly covered stories of wolf packs killing local dogs. Alaska is trying to get these predator populations under control, but animal rights extremists have placed a measure on the ballot that would ban aerial predator management. These management programs are strictly regulated and only used in very selective circumstances. The Alaskans for Professional Wildlife Management (APWM) are preparing to wage an aggressive and winning campaign to defeat this dangerous and well-funded ballot measure.This group of sportsmen, including many SCI members, needs your help to stop this measure and its potential devastating consequence to wildlife. Visit APWM's website at www.ProtectMoose.com and please send a campaign contributionto Alaskans for Professional Wildlife Management, P.O. Box4053, Palmer,AK 99645.

 
SCI Files Comments Calling for Enhanced Hunting in New River Gorge National River in West Virginia

SCItoday filed two sets of comments in support of continued or enhanced hunting opportunities within the New River Gorge National River in West Virginia.The National Park Service is developing a General Management Plan for the unit that will cover management for the next 15-20 years.Hunting on NRGNR is an important cultural and recreational activity, in addition to food source, for local residents and visitors.Service documents acknowledge that hunting also is important to wildlife management and habitat preservation.In establishing the unitin 1978, Congress authorized the Service to allow the longstanding hunting activities to continue.In their comments, SCI called on the Service to fully explain how hunting will be continued in each of the management alternatives it considers.SCI also signed onto a more general letter filed by the American Wildlife Conservation Partners, a consortium of over 45 conservation organizations in the United States, including SCI, Ducks Unlimited, and others.The next step in the process for the Park Service is the development of a draft environmental impact statement/general management plan.This document could take over a year to prepare and the public will then have an opportunity to comment on that document.

 
Bird Flu Confirmed in Saudi Arabia


"Saudi Arabia's agriculture ministry recently confirmed that more than three million birds have been culled or are in the process of being destroyed following an outbreak of bird flu. The ministry said new cases of bird flu had been detected in farms west and south of Riyadh. The ministry has singled out migrant birds as the source of the disease, and stressed again…the need to refrain from hunting them." (Source www.iol.co.za )

 
Animal Rights Groups Merging


Born Free USA and the Animal Protection Institute have merged forces to become (the poorly named) Born Free USA United with Animal Protection Institute. Both groups have worked on issues like fur, animal cruelty and testing, and exotic pets, and against hunting interests on issues such as trapping, the international wildlife trade, and others. SCI has battled both groups in international wildlife circles and in the courts. Their new website claims they "stand ready to become a dynamic force for animals in need in the US and around the world." SCI will be ready too.