DEC, 2011 "In The Crosshairs"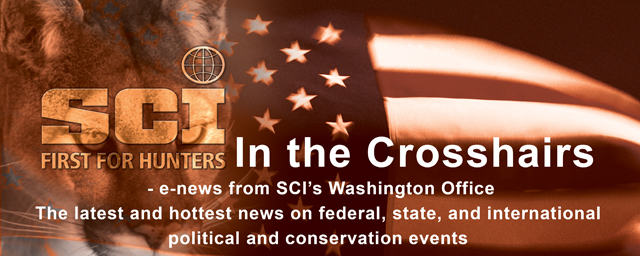 Dec 16, 2011

Safari Club International (SCI) has learned that, within the next few weeks, the U.S. Fish and Wildlife Service expects to publish a final version of the rule regarding the fate of the scimitar-horned oryx, dama gazelle and addax. The new rule will impose some form of permit requirements on the take of these three species, but at this time we are not certain what type of requirements will be imposed. We do not expect that the rule will take effect immediately. It is likely that the new permit requirements will not become effective until at least 30 days following the date of publication. If we obtain more information on this issue, SCI members will be notified immediately.
SCI is already involved in a litigation battle against the U.S. Fish and Wildlife Service. We have gone to court to challenge the endangered species classification of the three antelope species. If it were not for their endangered status, the FWS would have no authority to require permits for these three species. SCI also intends to do whatever we can to prevent the FWS from implementing these new permit requirements and to prevent the listing status of these species from undermining the great conservation successes that our members and others have achieved for these animals. SCI has contacted numerous members of Congress to ask them to direct the FWS to postpone any changes in regulations.
We understand the significance of this new rule for our members who own, raise, breed and sell hunts for these animals. With this in mind, we hope that you will take whatever measures you can to prevent the FWS's new rule from erasing the accomplishments that U.S. ranchers have made in the conservation of these important antelope species.
About the Hunters' Defense Fund:
Safari Club International Hunters' Defense Fund supports the important advocacy, conservation and legal work keeping hunters afield and promoting hunting worldwide. Donations to the Hunters' Defense Fund have a direct impact on our freedom to hunt, wildlife conservation policy and important legislative, regulatory and legal issues. DONATE NOW: www.safariclub.org/hunterdefense