December 19, 2008 "In The Crosshairs"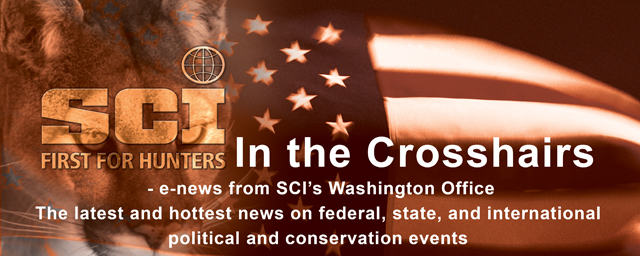 December 19, 2008

 
Register Today For SCI's 2009 Annual Hunters' Convention and Have a Chance to Get Your Hunt of a Lifetime

Ask any member who has attended the SCI Convention, and you will likely hear, "Sensational, you have to go! It is the Ultimate Hunters' Market and it's a knockout!" The allure of SCI's 2008 Annual Convention attracted over 22,000 attendees. This hunters' paradise has everything the mind can dream of and occupies over 650,000 square feet of exhibit space. Six continents are under one roof; members come to book hunts, rendezvous with old friends and shop for the latest guns and hunting equipment. That only scratches the surface of products available at SCI's Annual Hunters' Convention. Learn more about SCI's Annual Hunters' Convention by going to http://www.showsci.com/.

 
SCI Commends Choice of Salazar for Interior Secretary


Safari Club International (SCI) today expressed its support for President-Elect Barack Obama's choice of Colorado Senator Ken Salazar as his Administration's next Interior Secretary. Senator Salazar is currently a member of the Congressional Sportsmen's Caucus and has been a consistent pro-sportsman vote since he came to Washington, D.C. in 2004. With this appointment, President-Elect Obama has made the logical choice of an Interior Secretary who understands the sportsmen's legacy of hunting and conservation on America's public lands. Please read SCI's press release at http://www.safariclub.org/articles/index.cfm?action=view&Article_ID=3408.

 
SCI Foundation and The Salvation Army Team Up for 2009 Sportsmen Against Hunger Feed the Hungry Feast

On Tuesday evening, Jan. 20, 2009, some 1,200 homeless, under-housed, and hungry people from the Reno, Nevada area will again enjoy a feast of ground venison and all the accoutrements thanks to over 500 pounds of meat donated by hunters attending Safari Club International's 37th Annual Hunters' Convention in Reno. This Sportsmen Against Hunger contribution of wild game meat by SCI's Northern Nevada Chapter is an example of how the 18-year-old SCI Foundation program shares nature's bounty worldwide. The Sportsmen Against Hunger Feed the Hungry Feast, held in conjunction with The Salvation Army, will take place downtown, courtesy of the Reno Events Center on the corner of Fourth and Center Streets, and with the help of sponsors including C & M Food Distributing, Model Dairy, SportServices, Truckee Sour Dough, Carson Valley Inn, SYSCO, and the Washoe County Sheriff's Dept. SCIF's 45-foot Sensory Safari trailer, which provides a tactile exploration of wildlife, will also be on hand for participants and volunteers to experience, thanks to the generosity of the SCI Redding Regional Chapter in California. Please read SCI's press release on the Sportsmen Against Hunger event at the 2009 convention here.

 
FWS Increases Inspection Fees, Sets New Requirements for Wildlife Trade

"The U.S. Fish and Wildlife Service is increasing inspection fees for import and export of wildlife, and wildlife products, in order to recover more of the costs of inspecting shipments from those who use these services. The Service is also adding new fees for certain types of shipments and eliminating some exemptions from import/export license and inspection fee requirements. The changes are documented in a final rule that was published today in the Federal Register. The Service will implement the new fees and requirements on January 8, 2009." Please click here to learn more about the new fees.

 
L.A. Council Tightens Gun, Ammunition Laws


The City Council of Los Angeles, California approved a package of gun control laws Wednesday (12/16), which included banning the sale of .50 caliber or larger ammunition. The stated goal of the ban is to "further reduc[e] the city's gun and gang violence." However, little if any of the violent crime committed in Los Angeles or the United States is caused by guns or ammunition of .50 caliber or larger. C.D. Michel, a Long Beach attorney who represents the National Rifle Assn. and the California Rifle & Pistol Assn., stated that the law is "about trying to look like you're doing something [about violent crime] when you're not really doing anything." He also said that his clients were likely to sue over the new laws governing ammunition sales and vendors because they either conflict with or are duplicated by state law. Hunters should be aware that this ban affects not only .50BMG ammunition, but also popular big game hunting calibers such as the .500, the .505 Gibbs, and the .577. Read the full article at http://www.latimes.com/news/local/la-me-guns18-2008dec18,0,3132923.story.

 
Liberalized Hunting Season Proves Success of Elk Project


"When Kentucky wildlife officials released a handful of elk in the eastern mountains in 1997 to kick off an ambitious, long-term restoration project, its success was anything but certain. At the time only two states east of the Mississippi River had established free-ranging elk herds: Pennsylvania had a few hundred elk and Michigan about 3,000. But John Phillips was thinking big. Then the deer program coordinator and large-animal specialist for the Kentucky Department of Fish and Wildlife Resources, he became the agency's elk specialist by default and was one of the architects of the restoration program that has soared beyond anyone's expectations. During the early years a couple thousand elk were transported from several Western states to Eastern Kentucky. They quickly adapted to the rich habitat, and the herd has grown to about 9,000. As a result, the Fish and Wildlife Commission recently voted to increase the number of elk tags offered for the 2009-10 hunting season to 1,000, including 250 bull tags. This year 400 tags were available. Ten were offered in 2001, the first year of legal hunting." (Source: Courier-Jounal.com) You may read the full article on Kentucky's Elk reintroduction success here.

 
Antis Back Off Threat to Sue over Great Dismal Swamp Bear Hunt


SCI was ready for the lawsuit that never came. After threatening to sue the U.S. Fish and Wildlife Service over a planned bear hunt at the Great Dismal Swamp National Wildlife Refuge in southern Virginia, several anti-hunting groups never filed the lawsuit. Two years ago, when the FWS first held a bear hunt at the Swamp, these groups sued and lost. SCI closely monitored that lawsuit. When these groups threatened to sue again this year, SCI sprang into action. First we obtained documents concerning the environmental planning process for the hunt. Then we consulted with Refuge personnel about the hunt and threatened lawsuit. Then we analyzed the legal issues. Finally, as the hunt neared, we contacted two SCI members who had drawn a tag and could provide us declarations to allow SCI to participate in any lawsuit. Fortunately, the lawsuit never materialized and the Refuge held the hunt on December 12-13. While the Refuge reports that no bears were taken, it was still an exciting opportunity for the hunters of Virginia and North Carolina. SCI will continue to monitor future bear hunts in the Refuge.

 
SCI's Expedition Safari Nominated for Golden Moose Award


SCI's Expedition Safari has been nominated for an Outdoor Channel Golden Moose Award. You can vote for the "Fan Favorite" categories for show and host at www.outdoorchannel.com/GMA.aspx and enter a drawing for a $500 prize. Look for "SCI Expedition Safari" and "SCI Expedition Safari/Mike Rogers, Jr." in the dropdown options. For more information on the show, log on to www.sciexpeditionsafari.com.

 
SCI's Big Game Records Featured in Outdoor Life Galleries


SCI's big game records are featured in the first of many galleries on the popular Outdoor Life website. Outdoor Life praises SCI's extensive data as a wonderful resource online and in printed record books. Click here to access the photo gallery. Click here to access SCI Big Game Records and to learn more about the world's most used scoring system.