DEC, 2011 "In The Crosshairs"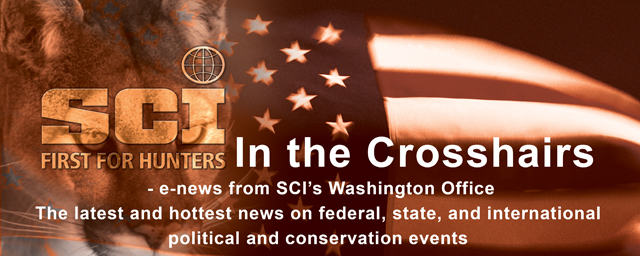 December 20, 2011

SCI Annual Convention Achieving Unprecedented Growth
Safari Club International's (SCI) 40th Annual Hunters' Convention, taking place February 1-4th, 2012, is on pace to be the most successful Convention in the history of the organization. SCI member registrations are 20% ahead of 2011's convention to date and SCI will be bringing 13% more exhibitors than in any other year. The total convention exhibit hall is over 50% larger than in 2011, offering over one million square feet of the world's most spectacular hunts, finest guns and greatest taxidermy. Read more HERE or http://bit.ly/tHW5bc.

Register Today For SCI Record Book Measuring, Hand Gun and Bow Hunting Seminars
Have you always wanted to become an SCI measurer or take your measuring skills to the next level? Sign up to become an Official or Master Measurer at SCI's 40th Annual Hunters Convention: http://bit.ly/MasterMeasurerSeminar2012.
Sign up for the handgun hunting seminar at SCI's 40th Annual Hunters Convention Friday, February 3rd at 2:30 pm. Don't miss out on door prizes and a chance to visit with some of the most experienced handgun hunters around. Sign up by clicking here: http://bit.ly/HandgunHunterSeminar2012.
Reserve your spot today for the bow hunters seminar hosted by Tom Miranda at SCI's 40th Annual Hunters Convention Friday, February 3rd at 10:30 am. Tom will discuss his most memorable hunts and his journey for the World Hunting Awards Ring. Sign up by clicking here: http://bit.ly/TomMirandaSeminar2012.

Support SCI Foundation Programs Through 2012 Convention Events
A deer hunter's "Dream Hunt" will be auctioned Saturday Feb. 4 at the SCI Annual Hunters' Convention Banquet. The donated hunts include one trophy whitetail at the world renowned Sanctuary Ranch in Standwood, Michigan and one trophy mule deer at Rancho Hunting of Sonora, Mexico. All proceeds from this hunt auction are dedicated to SCI Foundation youth hunter education programs.
The 2012 Education Sables Annual Luncheon Show & Auction will be on Feb. 3 with entertainment by the "Kokomo Show." Live and silent auctions will be held throughout the luncheon. Proceeds from the luncheon auctions will support the conservation education programs of the SCI Foundation. Register today for the Education Sables Annual Luncheon at www.showsci.com.

Register Now for SCI's Fifth Annual Wildlife Law CLE Course for Lawyers
Registration is now open for "Current Issues in Domestic and International Wildlife and Hunting Law – 2012." SCI, in collaboration with the State Bar of Nevada, is sponsoring its annual Continuing Legal Education Course at the Safari Club International Annual Hunters' Convention. This year's course will take place on Friday, February 3, 2012, 1:00 P.M. – 5:15 P.M, at the Mandalay Bay Convention Center, Las Vegas, Nevada. The registration fee for the course is $239.00 and includes same day admission to SCI's Convention. The course has been approved by the State Bar of Nevada for 4 hours of CLE credit, including one hour of Ethics credit. (SCI will assist all attendees to secure CLE credit in states other than Nevada). Course topics include 1) Update on Recent Rulings, Filings, Legislation, Regulation and Policies Related to Wildlife Conservation and Outdoor Recreation Law; 2) Drafting a Contract for an International Hunt; 3) Hunting Criminal Law Update; 4) The ESA and CITES Future for the African Lion; 5) Trophy Importation and the Avoidance of Forfeiture; and 6) Ethics for the Wildlife Lawyer. To register, please use the following link to the Nevada State Bar's CLE registration page: http://bit.ly/SafariClub-CLE-2012. If you have any questions or problems with registration, please contact: Anna Seidman, SCI Director of Litigation, at 202-543-8733 or aseidman@safariclub.org.

Join SCI-PAC for the 2012 Luncheon - Special Guest: Wayne LaPierre, NRA Executive Vice President
Please Save the Date for this year's SCI-PAC Luncheon on Saturday, February 4, 2012 at Mandalay Bay Resort & Casino in Las Vegas, NV. We are excited to announce Wayne LaPierre, Executive Vice President of the National Rifle Association, as our Guest Speaker. Table Sponsors are asked to contribute $1,500 and Single Tickets are $100. The price will increase for individual tickets after December 19th so hurry now to reserve your seat. Click here to view the official invitation and order form. Return your order form along with your check or credit card information to Kathy Butler, Safari Club International, 4800 Gates Pass Road, Tucson, AZ 85745, Fax: (520) 617-1430 and/or kbutler@safariclub.org. Checks should be made payable to SCI-PAC.

SCI Takes Polar Bear Importation to the Court of Appeals
SCI has continued its fight to restore polar bear importation by appealing the U.S. District Court's adverse decision in our polar bear import case. On October 17, 2011, the Federal District Court for the District of Columbia upheld the U.S. Fish and Wildlife Service's 2008 decision to ban the importation of polar bears from Canada. Upon listing the polar bear as a threatened species, the FWS determined that previously authorized imports from Canada were now banned under the Marine Mammal Protection Act. SCI's appeal of the import ban ruling follows on the heels of SCI's appeal in August 2011 of the same Court's decision upholding the listing of the polar bear as threatened. These appeals will proceed independently of each other.

SCI Defends Twin Peaks Wild Horse Gather
Since 2010, SCI has been involved in defending against a case brought by In Defense of Animals ("IDOA") to challenge the Bureau of Land Management's gather of about 1,800 wild horses and burros in the Twin Peaks Horse Management Area in northeast California/northwest Nevada. IDOA's preliminary attempt to halt the gather failed and the BLM successfully gathered the horses. Now, SCI is fighting IDOA's efforts to have the gather declared illegal and the gathered horses returned to the range. On December 8, 2011, SCI filed a substantive brief in defense of the gather. SCI will file another brief in late January and attend a court hearing in Sacramento on February 23, 2012.