December 21, 2007 "In The Crosshairs"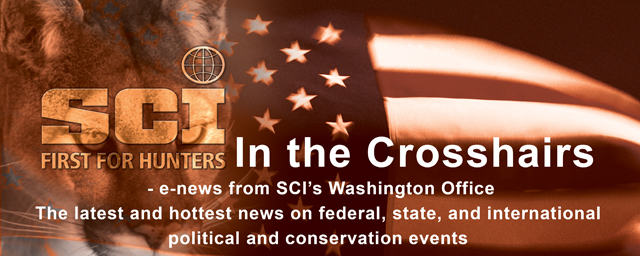 December 21, 2007

 
End of the Year Action on The Hill


After many weeks of back and forth negotiations, the House and Senate passed omnibus appropriations legislation aimed at keeping the federal government moving into the new year. At press time, there was no indication on whether the President would sign or veto, although reports indicate that enough of a compromise was reached to satisfy all parties.
The results for hunters were mixed. Language was added to the Interior Appropriations bill that would not limit funding "for the importation of polar bears taken in sports hunts." This was a significant victory for SCI, its conservation partners, and our Congressional friends on the Hill, earlier in the year. On the down side, legislation to prohibit the eradication of elk and other 'invasive species' on Santa Rosa Island off of California's coast did not happen. This was due in most part to Sen. Feinstein's (D-CA) language in the current Interior Appropriations bill that repealed an earlier law supported by SCI and will now allow the Park Service to continue with their 'culling' program in an effort to return that island to its 'native habitat'. Essentially, hunting will no longer be allowed.
Another area of interest involved language included via the Foreign Relations committee by Nita Lowey (D-NY) that would have denied funding from the U.S. Agency for International Development (USAID) for any country that allowed sport or trophy hunting. That language was removed and was changed to say that USAID shall consult with the various "Appropriations Committees on its conservation programs in Africa involving hunting." This was a mixed blessing for hunters. The original language was eliminated but now all funding must go thru the various appropriations committees who may or may not be friendly to our cause. This was of obvious interest to SCI due to the conservation work and sportsmen's dollars that flow overseas. Also in that same language was a statement "restricting assistance to any international organization (including the United Nations) that requires the registration of or taxes a gun owned by a citizen of the United States."
Finally, the Farm Bill passed the Senate last week and will head to the House / Senate conference in mid-January with the White House up in the air on signing the bill at this time. A continuing resolution was passed on December 13 until a new bill can be signed.

 
Multinational Species Funds


One other piece of legislation that got mixed reviews was a bill for the funding of the multinational species accounts. These accounts help manage and conserve species around the world. SCI has been a proponent of increased funding and has also applied for conservation grants through this system in the past. While overall funding went up approximately $1.5 million from fiscal year 2007, the increases were not what was lobbied for or what was expected. This could have consequences on some overseas conservation programs funded by the government and supported by SCI and other conservation organizations. Early language indicated that funding for the neo-tropical migratory bird account increased almost $500,000 to roughly $4.43 million; the Rhinos and Tigers account and the Great Apes account were funded at $1.97 million each; African and Asian elephant accounts were funded at $1,477,500 each and the marine turtle account was funded at $985,000. See page 14 of the following link for more details: http://www.rules.house.gov/110_fy08_omni.htm.

 
News from Mongolia


News from an SCI source out of Mongolia indicates that the Government of Mongolia has closed the Altai argali (Ovis ovis ammon) hunt due to a sharp decrease of the argali population, brought about by a severe winter. Also, the Mongolian Government will cut by 30% the total number of argali and ibex tags as compared to last year. SCI is trying to find out more information and will report back to our members at that time.

 
Master Measuring Classes in Reno


The SCI Trophy Records Department will be offering two measuring classes for SCI members to become certified as official and master measurers. The courses have been conveniently set up to accommodate SCI's faithful exhibitors. The master measurers course will be taught on Tuesday, January 22nd from 8:00AM – 12:00 Noon. The official measurers course will be offered on Saturday, January 26th, from 8:00AM – 12:00 Noon. To register please go to www.safariclub.org and select the Trophy Records icon followed by clicking on the measurers seminar calendar or call 520-620-1220 and ask for Michael Roqueni.
HAPPY HOLIDAYS
From the SCI/F Washington, D.C. Staff