December 22, 2010 "In The Crosshairs"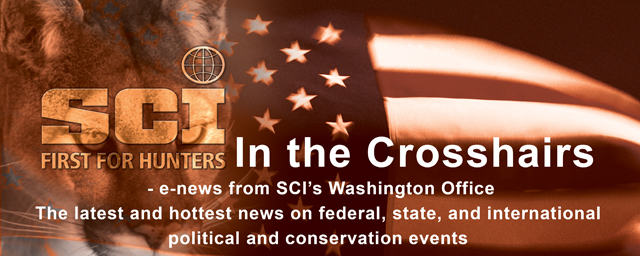 December 22, 2010


Joseph Hosmer Named Safari Club International Foundation President


Tucson, Arizona - Joseph Hosmer was unanimously selected as President of Safari Club International Foundation (SCIF) at the first meeting of SCIF's new board of directors.  With the seating of the new board and naming of its first President, SCIF has undergone a historic realignment that will greatly increase the Foundation's effectiveness to create a permanent endowment for wildlife conservation & research, wildlife education initiatives and humanitarian endeavors worldwide. (Source: Safari Club International) Read the full press release at http://bit.ly/fqQMf0.


Plan Your 2011 SCI Annual Hunters' Convention Today


Santa called and told us to remind you to REGISTER NOW for the 2011 SCI Annual Hunters' Convention. He knows it's something you want so pick up the phone and call 1-888-746-9724 or visit www.ShowSCI.com. The 2011 SCI Annual Hunters' Convention in Reno, Nevada is Jan. 26-29.  SCI is bringing its members the very best show in the organization's history. With over 1,200 exhibitors, the SCI Annual Convention is the #1 event for hunters every year, whether you're booking the finest hunt of a lifetime or ordering your personally customized dream rifle. Join SCI in Reno, Nevada again this year and learn more about what you and your family can enjoy at www.ShowSCI.com.


SCIF Sables e-Newsletter Now Available, Convention Preview


Sables Education e Newsletter is available HERE.  Check out live auction items as well as the Super Silent Auction, 4-day silent auction and day auction items donated to raise money for Sables Education programs.  Hunts, guns, furs, artwork, and more can be bought at the Sables Luncheon Show and Auction in Reno on Jan. 28, 2011.  Enjoy the entertainment of Matt Lewis as Elvis.  Sing and dance to the music of the "King."  Donations to Sables are dedicated to support SCIF Education programs.  See you in Reno! bit.ly/hkjO6n.


SCIF Conservation Awards Announcement


Safari Club International Foundation is requesting nominations for 2011 Conservation Awards candidates to be announced in May 2011.  These awards include SCIF International Conservationist of the Year, SCIF Conservation Artist of the Year, SCIF Conservation Officer of the Year. Please see the award criteria HERE or by going to http://bit.ly/fZBK0n.


State Sportsman Leaders Support Pro-Sportsmen Agenda At Annual Summit


Dec. 15, 2010 (Washington, D.C.) – State legislative leaders from across the nation gathered last week at the annual National Assembly of Sportsmen's Caucuses (NASC) Sportsman-Legislator Summit to discuss an ambitious agenda to address hunting, angling, trapping, and conservation issues in state capitals across the country. For the seventh consecutive year, the National Shooting Sports Foundation served as 2010 title sponsor. Altria and Safari Club International served as host sponsors. (Congressional Sportsmen's Foundation press release) Read more at http://bit.ly/fQKqNx.


Sweden To Go Ahead With Wolf Hunt In 2011


"Despite severe criticism from the World Wildlife Fund (WWF) over this year's wolf hunt, Swedish authorities announced Friday that hunters will be allowed to hunt and kill 20 wolves next year.  The Swedish Environmental Protection Agency (SEPA) said licensed hunters will be able to shoot 20 wolves between Jan. 15 and Feb. 15 this season, down from the 27 that were allowed last season.  The SEPA decided last year to limit the population of wolves in the country to 210 animals, spread out in 20 packs, and with 20 new pups born each year over a five year period. To keep the population under control, it issues hunting permits in regions where the wolves have recently reproduced." (Source: Red Orbit Online) Read more HEREor at http://bit.ly/iaj27j.


The War On Rhinos: More Thoughts On Horn Trade, Traditional Oriental Medicine

(Opinion piece by Gerhard Damm) "The slaughter of rhinos continues virtually unabated – there is hardly a day when we don't read or hear about new gruesome discoveries. What can be done to prevent that South Africa, once the cradle of rebirth of the rhino, eventually becomes its final graveyard? Is legalized trade the answer? Such an approach certainly has its merits, since it would deal with a considerable stockpile of privately and government owned rhino horn. Without an outlet, such stocks do not only become the target of criminal elements (like at Thaba Manzi Game Lodge near Bela Bela just a couple of weeks ago), but also incur prohibitively high costs. The destruction of horn stocks is a too simplistic solution, and as wasteful as Kenya's ivory burning ceremony years ago." (Source: African Indaba Newsletter Volume 8, Issue 6 November - December 2010) Read more HERE.


Ninth Circuit Deals A Blow To Kofa Bighorn Sheep Conservation


On Dece. 21, 2010, the Ninth Circuit Court of Appeals ruled that the U.S. Fish and Wildlife Service violated the Wilderness Act by restoring two artificial water developments for bighorn sheep conservation in wilderness areas in the Kofa National Wildlife Refuge.  Reversing an Arizona federal district court ruling in favor of the Service, the Ninth Circuit determined that the FWS had not adequately explained why the water developments were necessary for bighorn sheep conservation.  The appellate court remanded the case to the district court to decide how the FWS should remedy its violation.  SCI, in coordination with the NRA, the State of Arizona, USSAF and other Arizona hunting and conservation groups, are intervenors in the litigation, helping to defend the Service's actions.  SCI and NRA will continue to participate in the case to defend hunting and conservation opportunities for the Kofa bighorn sheep population.  To learn more about this case, other SCI litigation efforts and wildlife related hunting laws, plan to participate in SCI's Wildlife Law Continuing Legal Education Course for lawyers on January 28, 2011 at the SCI Convention, by registering with the Nevada State Bar athttp://www.legalspan.com/nvbar/catalog.asp?ItemID=20101118-166130-124419, or by attending the Litigation Department Open House at the SCI Convention on Wednesday, January 26, 2011 in RSCC Room A4.  Direct any questions to Anna Seidman, Director of Litigation, aseidman@safariclub.org, 202-543-8733.


Forest Service Tackles Bighorn Problem


"It starts with coughing and sneezing, and usually ends in death.  Over the past year, bighorn sheep in 11 herds in Montana, Nevada, Washington, Wyoming and Utah caught pneumonia. More than 1,000—or about half of the affected herds—succumbed or were culled, with Montana alone losing about 10 percent of its bighorns." (Source: Missoula News Online) Read more at http://bit.ly/fEkfxn.