DEC, 2011 "In The Crosshairs"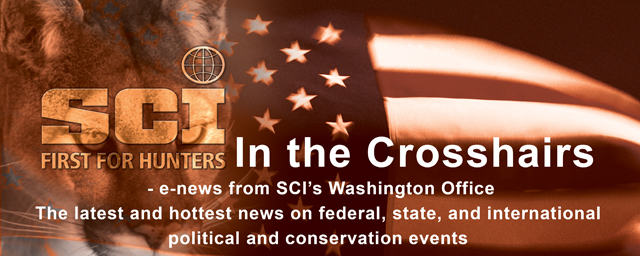 Yesterday the Secretary of the Interior, Ken Salazar, announced that the U.S. Fish and Wildlife Service (FWS) will be issuing a final rule removing gray wolves from the list of endangered and threatened species in Michigan, Minnesota and Wisconsin, and in portions of adjoining states. Safari Club International (SCI) lauds Secretary Salazar for again attempting to return these recovered wolves to state management.
This rule will become final 30 days after it is published in the Federal Register and at that point state game agencies will be tasked with the future management of gray wolves. There are over 4,000 wolves in the Western Great Lakes population segment, a number which far exceeds the species' recovery goals. The FWS and states achieved those wolf recovery goals over a decade ago.
This is the FWS's third attempt to delist these recovered wolves. The previous attempts were reversed after the delistings were challenged by anti-hunting groups and overturned by federal courts. "While the announcement of the delisting of wolves in the Western Great Lakes is a positive step, the FWS has attempted to delist these recovered wolves twice before, only to be thwarted by environmental radicals who used litigation as a weapon to the detriment of sportsmen and species," stated SCI President Kevin Anderson. "Safari Club fully expects the same environmental groups to once again employ costly and dilatory litigation tactics to attempt to stop this reasonable delisting of the recovered gray wolf."
SCI has gone to court to defend each previous attempt by the FWS to delist the Western Great Lakes wolves and will likely do so again in any future litigation challenge to this latest delisting. SCI has defended hunters in numerous court cases over wolves since 2001 and is the uncontested leader advocating for wolf delisting. SCI strongly supports returning wolf management to the states and successfully lobbied for federal legislation to prevent legal challenges to the delisting of recovered wolves in Montana and Idaho. SCI continues to advocate for the same legislative solution to be adopted to prevent legal challenges to the Western Great Lakes delisting.
"If the Endangered Species Act worked as intended, the delisting of recovered species would be as easy as listing them," stated SCI Chief Communications Officer Larry Rudolph. "SCI will continue to advocate for much needed ESA reforms so species, like the gray wolf, do not find themselves stuck on the endangered species list long after recovery is achieved."
If you would like to help SCI keep wolves delisted and oppose radical environmentalists please consider donating to the SCI's Hunter Defense Fund by clicking Here.
Contributions to the Hunter Defense Fund go directly to SCI's litigation and legislative efforts to Protect the Freedom to Hunt!