Feeding 250,000 Free Meals in Oklahoma! 
M.J. Mistelske
250,000… that's how many meals Tulsa's Salvation Army fed to needy people in 2008.
250,000… in just one year…just in Tulsa! To me, that's truly wonderful. Of course, it also indicates the incredible magnitude of the need…and that need is very dramatically on the rise.
So… what has this to do with our Oklahoma Station Chapter of SCI?
Over the last year, our chapter has been particularly and conspicuously active in education, wildlife conservation, and humanitarian initiatives. Early this summer, SCI's headquarters office in Tucson contacted us and offered the opportunity for us to place a commercial meat grinder where it would do a lot of good toward the feeding of needy people; SCI Foundation's Humanitarian Services staff felt that our chapter was a prime candidate—only one of many, I'm sure--for sharing in this special program…to our very good fortune!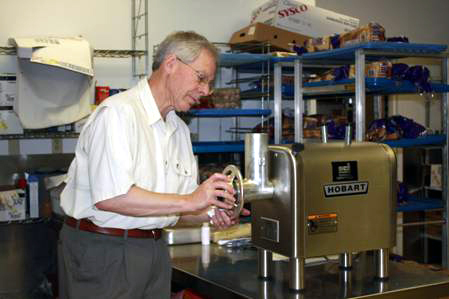 SCI Oklahoma Station Chapter president Mike Mistelske setting up the meat grinder donated by SCIF to The Salvation Army's Tulsa "Center of Hope"…which feeds 1,000 meals each day to people in need.
While there were a number of very deserving homes for our meat grinder, Tulsa's Salvation Army was selected. Their "Center of Hope" is currently feeding approximately 1,000 meals each day--and they've been doing this without a very large staff…and with no meat grinder. Center of Hope Director Arletta Robinson and Food Services Manager Mary Stake lead this massive program, and they were both ecstatic about the possibility of putting a commercial meat grinder in their kitchen!
On June 30, SCIF Humanitarian Services Committee chairman Gene Rurka and SCIF Sportsmen Against Hunger subcommittee chairman Steve Rilenge joined me at the Center of Hope to make the presentation. We were also joined by Rowdy and Paula Malchow of Oklahoma's "Windsong Adventures", who donated 200 pounds of their prime bison meat with which to initiate The Salvation Army's new grinder!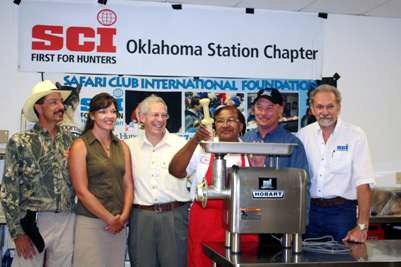 LEFT TO RIGHT:
Rowdy & Paula Malchow, owners of Windsong Adventures; Mike Mistelske, SCI Oklahoma Station Chapter President; Mary Stake, Food Services Manager of The Salvation Army's Tulsa "Center of Hope"; Steve Rilenge, chairman of SCIF's Sportsmen Against Hunger sub-committee; Gene Rurka, chairman of SCIF's Humanitarian Services Committee
The Salvation Army's "Center of Hope", one of 10 Salvation Army facilities in the Tulsa area, is home to their social services programs in the city of Tulsa. The Salvation Army has the largest-capacity emergency shelter in the community, with room to provide refuge to 500 people each night. An average of over 250 homeless individuals and families seek this service every day of the year. The Salvation Army also provides transitional housing for homeless individuals and families who are willing to work towards self-sufficiency through education and skills training; and emergency financial assistance for those who are having temporary difficulties in meeting their basic financial needs, e.g., utilities, prescriptions, and rent.
More information about The Salvation Army's operations in Tulsa can be found at: 
http://www.uss.salvationarmy.org/USS/www_uss_tulsa_ac.nsf.
For information about The Salvation Army's operations in your area, use their "Find a Center" feature on the following web page: http://www.uss.salvationarmy.org/uss/www_uss.nsf.
For information about all the hunting opportunities and other outdoor activities available at Rowdy and Paula Malchow's "Windsong Adventures" in eastern Oklahoma, their website is: www.windsongadventures.com. Rowdy & Paula are big SCI-OSC supporters; give them a call!
For more information about our SCI Foundation, visit: http://sci-foundation.org.
SCIF was recently acknowledged for its excellence as an association propelling America forward with innovative projects in education, skills training, standard-setting, business and social innovation, knowledge creation, citizenship, and community service. It was said of SCIF's Sportsmen Against Hunger program that, "It is an honor and an inspiration to showcase this activity as an example of the many contributions associations are making to advance American society".
Through our Sportsmen Against Hunger program, SCI members and chapters in the last five years alone have donated more than 1 million pounds of much-needed wild game meat to food shelves, soup kitchens and charities that serve hungry families. Especially in these tough economic times, the donation of over 400,000 pounds of wild game meat in 2008-2009 has made more of a difference than ever. Sportsmen Against Hunger is the original program from which other local and national wild game donation efforts gained their inspiration to launch.