Outdoors Show Host Newsom Dies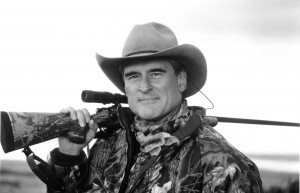 Paul Newsom, host of the long-running outdoors show "Paul Newsom's Great Outdoors," died Wednesday. Paul Newsom, host of the long-running outdoors show "Paul Newsom's Great Outdoors," died Wednesday.
Newsom, 64, died at his home in Bixby after a two-year battle with cancer. Funeral services will be Tuesday at 2 p.m. July 7, 2009, at Asbury Methodist Church in Tulsa.
Newsom was president of Newsom Productions, Inc., a full-service advertising, marketing and television production company established in 1985 with offices in Oklahoma City and Tulsa.
He also served as spokesman and appeared in television commercials for many Oklahoma-owned companies, such as Oklahoma Natural Gas, Jim Glover Dodge and Chevrolet and most recently AutoMax Hyundai.
A lifetime member of the National Rifle Association, Newsom's passions were hunting, shooting and training Labrador retrievers.
Newsom was past president of the Oklahoma Chapter of the National Wild Turkey Federation and the Oklahoma City Chapter of Ducks Unlimited.
"Paul Newsom's Great Outdoors" aired for more than 15 years.
Newsom also produced and hosted other outdoor shows including "Hunting the Country," "Outdoor Adventure Digest" and "The Camp Cook."
He was the former host of the NRA's radio show "The American Rifleman."
A graduate of Oklahoma City's Southeast High School, Newsom attended Murray State College< and Oklahoma State University.
He played football in college and later with the Oklahoma City Plainsmen semi-pro football team.
Paul was a member of the Oklahoma Station Chapter of Safari Club International and was a frequent lecturer to the chapter on subjects as varied as Turkey calling and understanding the Deer Rut. In addition, Paul served frequently as Master of Ceremonies at the chapters' Annual Convention and Banquets.
Paul will be sorely missed by all those who knew him personally, but he has left behind a legend of knowledge of wildlife that will endure forever through his documentaries, videos, and tapes together with his great pride for his native state (Oklahoma).