SCI-OSC Takes Part in VFW's "Salute to Veterans" 
M.J. Mistelske
The first meeting of Tulsa VFW Post 577 was held on January 4, 1921. Now, 88 years later, the post recently hosted Tulsa's 4th annual "Salute to Veterans" celebration.
Our chapter of SCI was there to help thank our veterans and to spread awareness of SCI and of the activities of SCI's Oklahoma Station Chapter.
OSC director Dennis Elliott and I spent the 100+ degree afternoon talking with interested veterans and their spouses and friends. Discussions centered on the important role which SCI plays in protecting our hunting heritage, emphasizing the relevance to hunting right here in Oklahoma today—& the relevance to being able to take our kids hunting tomorrow.
Dennis and I also continued to spread the word about the African hunt which our chapter has organized for an Oklahoma Purple Heart veteran. I've been meeting with various VFW and American Legion posts and communicating with other veterans' organizations on this subject. We will continue to accept applications for this special hunt until mid-October.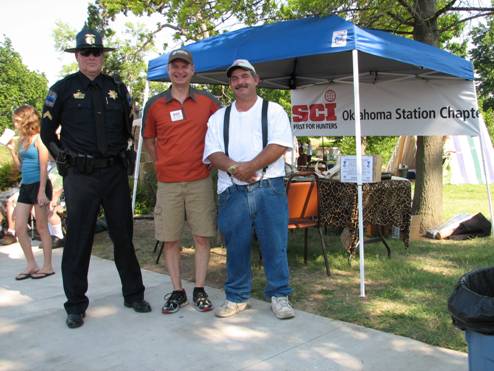 OSC at the VFW "Salute to Veterans" in Tulsa. From left to right: Security chief, Dan Fuller;
SCI-OSC director, Dennis Elliott; three-term VFW Post Commander, Michael Miller
Tulsa's VFW Post 577 is one of the very oldest of the 9,000 VFW posts worldwide.
The Veterans of Foreign Wars of the United States traces its roots back to the Philippine Insurrection (1899-1902), when veterans returning home wounded or sick were not provided medical care or pensions. Some banded together and founded local organizations to secure rights and benefits for their service. Thus was born the Veterans of Foreign Wars of the United States. The VFW now numbers some 1.6 million members.