The Sportsmen's Voice  

March 1, 2007
Volume 5, Issue 4
Wildlife Professionals Migrate to Washington in Support of State Wildlife Funding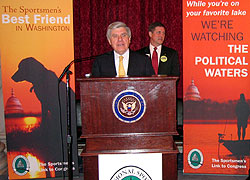 Wildlife professionals from around the country migrated to Capitol Hill yesterday morning to meet with members of the Congressional Sportsmen's Caucus at a briefing sponsored by the Congressional Sportsmen's Foundation and the Association of Fish and Wildlife Agencies. The briefing was part of the annual Teaming with Wildlife Fly-In organized to raise awareness for the need of federal funding for the State Wildlife Grants Program.
Members of the Sportsmen's Caucus have been staunch supporters of the State Wildlife Grants Program since it was created by Congress in 2000. "It is not always easy to find money for wildlife programs in tight fiscal times, but time and time again the Caucus has been willing to do the heavy lifting in securing funding for this program," commented Jeff Crane, CSF President. "Working with our allies in the Caucus, we are proud of the funding that the State Wildlife Grants Program has received, and I hope that this year the program expands to do even more good for wildlife conservation."
"The Congressional Sportsmen's Caucus has been a key supporter and we look forward to accomplishing the short and long term funding needs of state wildlife programs," stated Ed Parker, President of the Association of Fish and Wildlife Agencies and Chief of the Bureau of Natural Resources for the Connecticut Department of Environmental Protection.
The Teaming with Wildlife coalition recognized the Caucus's leadership at the briefing for their support of State Wildlife Grants. Members of the Caucus that were honored with awards included Senators Ben Nelson (D-NE) and Mike Crapo (R-ID), along with Representatives Ron Kind (D-WI), Robin Hayes (R-NC), John Dingell (D-MI), Wayne Gilchrest (R-MD), Jim Saxton (R-NJ) and Mike Thompson (D-CA). Read more...
Sportsmen's Caucus Members Introduce Endangered Species Reform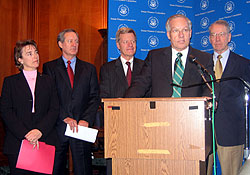 Calling a press conference, five members of the Congressional Sportsmen's Caucus announced the introduction of "The Endangered Species Recovery Act of 2007" yesterday. Senate Caucus Co-Chairs Senators Mike Crapo (R-ID) and Max Baucus (D-MT), along with Caucus Senators Blanche Lincoln (D-AR), Chuck Grassley (R-IA) and Wayne Allard (R-CO), announced that the legislation would provide tax incentives for landowners who help endangered species. By focusing on four major voluntary tax incentive components, instead of attempting to reform the current ESA laws, the bill would remain in the hands of the Senate Finance Committee. Those incentive components are habitat easement credits, habitat restoration credits, deductions and market mechanisms.Senator Crapo, calling the legislation an important bridge builder between many diverse groups, singled out the support from the sportsmen's community by noting that, "Over 36 hunting and fishing groups under the lead of the Congressional Sportsmen's Foundation have already shown support for this legislation."
CSF President Jeff Crane addressed the press conference, pointing out that, "America's 40 million-plus hunters and fishermen founded the conservation model in North America and still are the backbone of wildlife conservation." Crane thanked the Caucus members present for their leadership on this bill and in general on issues of concern to sportsmen in the U.S. Senate, and pledged that the sportsmen's community will continue to work with them on passage of this legislation.
Summing up the interest of hunters and anglers, Sen. Baucus said, "This legislation helps protect species, but also helps protect open space…this helps all of those who enjoy hunting and fishing."
NWTF State Chapter Presidents Show Support for State Caucuses
Turning out to show support and learn more about opportunities to work closely with allied legislators, nearly half of the National Wild Turkey Federation State Chapter Presidents attended a NASC reception in their honor, followed by a morning partnership meeting at the NWTF 31st Annual Convention & Sport Show last week. More than 25 state chapters have previously pledged financial support to assist their state sportsmen's caucuses with educational events or sportsmen's outreach opportunities. Recognizing NWTF's leadership role in supporting the NASC effort, State Caucus Manager Aaron Hobbs said, "NWTF's state chapters have been instrumental in working with sportsmen's caucuses around the country, supporting both our legislator events and organizing support needed to pass pro-sportsmen's legislation."
Virginia Becomes 8th State to Pass No Net Loss of Hunting Lands
The Virginia General Assembly unanimously passed "No Net Loss" of public hunting lands legislation, an important step in guaranteeing that current levels of public lands available to sportsmen are maintained in the face of development and other strains on resources. Members of the Virginia Legislative Sportsmen's Caucus met with NASC staff earlier this year to discuss the NASC Issue Brief on other "No Net Loss" initiatives passed by states with sportsmen's caucuses. Currently, legislators in Minnesota, Pennsylvania and Tennessee have also introduced "No Net Loss" measures to protect public access to hunting land.
Voter Registration for Sportsmen at Issue in Five States
Providing sportsmen with voter registration opportunities is being discussed by lawmakers in Illinois, Michigan, Mississippi, Missouri and Tennessee. Originally presented and passed in Georgia in 2004, NASC has worked with other states to develop an Issue Brief promoting legislation that would allow hunters and anglers to register to vote or obtain appropriate materials to do so when they purchase their sporting licenses. Florida learned of this legislative initiative at the 2005 NASC annual meeting and successfully passed a similar voter registration bill for sportsmen in 2006.